Iceland tours for under 30s
Our Iceland tours for under 30s give you a rare fresh take on the culture and landscapes of a country that has been welcoming and entrancing visitors for a long time now.

From campsites that are favourites with Icelandic people and support fantastic tree-planting initiatives, to traditional barbecue dinners over the open fire and exploring an abandoned plane on a black-sand beach outside Reykjavik, these are Iceland tours that combine unique and fun activities with experiences that offer environmental and social insights.

"Many Icelanders spend their free time hiking and camping in their own country, so there are lots of campsites to choose from," says Faye Wilkinson from our partner Intrepid Travel. "Imagine pitching your tent in a secluded valley or chopping veggies under the late-night sunshine in the breathtaking highlands. Stuff like this really helps the groups bond, and can result in fantastic travel stories, as you get to experience camping in Iceland exactly as a local would do it."
Hot dogs & cool campers
There are more than twice as many sheep (800,000) as there are people (366,400) in Iceland. Hardly surprising then, that in an effort to prevent the sheep from one day seizing power, Icelanders choose to make their hot dogs from lamb. Grass-fed, hormone-free lamb, that is – often topped with onions and sweet mustard, and as at home on a family dinner table as it is in the hands of a ravenous late-night clubber in Reykjavik.
Yes, the humble hot dog is treated with the greatest of respect in the land of fire and ice, something you'll learn early on during our
under 30s vacations in Iceland
, where one of the many highlights of your stay will be joining local people for an open-fire barbecue in Thórsmörk (Thor's Valley).
Another aspect of these trips that sets them apart is that, instead of checking into hotels every evening, you can camp the whole way round. Sleeping under starry skies that are famously free of light pollution, the camaraderie of the campfire – bedding down under canvas is one of the most exciting, and affordable, ways to see Iceland.
"It's relatively remote off the main Ring Road, and the scenery there is stunning," says Faye about camping in Thórsmörk. "There are many hiking paths leading from the campground, most of them quite challenging as the terrain is mountainous. But we've had lots of feedback from travelers expressing an incredible sense of achievement – the amazing views and feeling of connection to nature."
Things to do on an under 30s tour to Iceland
Soak in a hot spring
There are over 40 natural hot springs dotted around the country, so you're definitely not limited to the (overflowing with coach groups) Blue Lagoon. One is the Secret Lagoon – disclaimer: not actually all that secret – which is the oldest natural pool in the country. It's filled by the Litli geyser, which pumps so diligently that it can fill the huge pool with warm, sulphur-rich water in just 24 hours. Whack on a swimsuit and prepare to get pinkened and relaxed.
Plant some trees
Soil erosion
 is among the biggest environmental problems that Iceland faces, caused by deforestation and overgrazing. When you stay on a campsite in the Hvolsvöllur Valley, you'll have the opportunity to get involved in a tree planting project created by the owners. Get your hands dirty, do your bit for the environment, build up a healthy appetite – what's not to love?
Hit the beach
The beach at Vik, a seaside village on the south coast of Iceland, is one of the most unusual you're likely to see. With black sand, basalt columns and some striking offshore rock formations, it's otherworldly in appearance and a fantastic photo opportunity.

Just along the coast, you come to Sólheimasandur, where you'll find the remains of an American navy plane that crash-landed on the beach in 1973. The plane's white, fossil-like frame stands out in ghostly fashion against Sólheimasandur's black sand.
Glacier trekking
Iceland's Vatnajökull glacier is enormous, making up some eight percent of the country's landmass. But like glaciers everywhere, it is in retreat due to a warming climate. With guided glacier treks on Vatnajökull you can learn about efforts to preserve it with reforestation, about historic volcanic activity in the area, and about the effects of melting glaciers worldwide caused by the climate crisis.
Eat & drink sustainably
'Participatory camping' means everyone gets involved with the cooking. On group trips to Iceland, a kitty is usually introduced so that food can be bought easily and in bulk – Icelandic restaurants are notoriously expensive, so self-catering when you're on the road makes a great deal of sense.

Campsites in Iceland are often operated by farming families who will either sell groups fresh fruit and vegetables grown in their fields, such as berries, turnips and potatoes, or include them in meals served in their restaurants. That's where you'll also get a chance to try an island-brewed schnapps or beer.
Our top Under 30s Vacation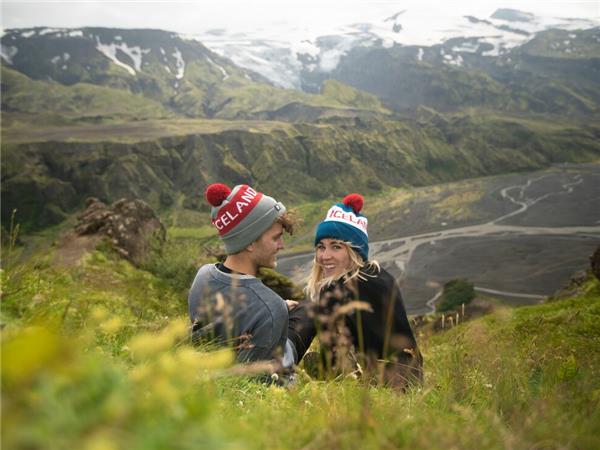 Unzip your tent to Iceland's greatest geysers and glaciers
From
US $

1564

to

US $

2070
7 days
ex flights
Small group travel:
2023: 25 Jun, 16 Jul, 23 Jul, 6 Aug, 13 Aug
2024: 23 Jun, 14 Jul, 21 Jul, 4 Aug, 11 Aug
If you'd like to chat about Under 30s or need help finding a vacation to suit you we're very happy to help.

What are Iceland tours for under 30s like?
Small groups
Most Iceland group tours are capped at 16 people, so you'll be on first name terms with almost everyone by the first morning. As you're together throughout, sharing experiences and tasks, strong friendships form rapidly and can last for many years afterwards. You'll have a dedicated tour leader with you throughout, handling the logistics as well as introducing you to local guides and feeding you nuggets of Icelandic info as you go.
Accommodation
Camping in Iceland isn't just a way of getting close to nature or saving money. It enables you to follow the road less travelled, spreading the financial benefits of tourism to rural communities that don't see a great deal of visitors compared to the busy spots.

Groups share the work of pitching and dismantling tents at family-run campsites, with every effort taken to leave the area pristine afterwards by collecting, sorting and recycling waste. You'll normally wash in farmhouses, however, as most of Icelandic householders use either geothermal or renewable energy to heat their water.
When to go
The best time to take an under 30s tour of Iceland is the summer months, between June and August. Long, sunny days are ideal for touring and camping, and while August is very much peak tourist (and peak cruise ship) season, for much of the time you'll be well away from the most crowded places. One thing worth remembering is a pair of sunglasses. In summer, the 'midnight sun' in Iceland can be disorientating at first, as you stagger out of Reykjavik bars late at night to find out it's still light outside.
What to pack
"Layers and good walking shoes are vital no matter what time of year it is," advises Faye. "As is a raincoat, even in summer. I learnt the hard way how unpredictable the Iceland weather can be when I got stuck in a hailstorm while exploring the Sólheimasandur plane wreck! Also, given the sun doesn't set for long in summer, an eye mask won't go amiss while sleeping in a tent."