Under 30s rail vacations in Europe

I thought that wherever possible from now on, this is how I'm going to do it.

"I remember the first time that I decided to take a train instead," says Scott Batchelor, from our 18-30 rail vacation specialists Euroventure. "I was traveling from Italy to France… going through the countryside and realising how much more beautiful it was to look out the window and see the environment slowly shifting. We were going through the Dolomites region; the mountains were just stunning outside. And I was thinking, 'You know what, if I was sitting boxed in with no leg room on a plane somewhere, I wouldn't be getting all this.' And I thought that wherever possible from now on, this is how I'm going to do it."

That's the consensus for many travelers on under 30 rail vacations in Europe. There are plenty of environmental reasons to travel by train, of course (a casual 75 percent cut in planet-warming carbon dioxide emissions, for instance), but really that's a mighty big bonus on top of discovering that traveling by rail is easy – and really, really fun. There's a reason why Interrailing around Europe in the 1970s was the original backpacking route.

"For me, it just all seems to fit together and really make sense," says Scott. "Because not only are you doing a good thing for the environment by taking a public mode of transport that creates fewer emissions, but you are getting a genuinely more positive experience out of traveling as well."
Where in the world?
Rail vacations run by our train travel specialists make you realise that trains can be an easier way to explore the world. Europe is the most popular stop, thanks to its expansive, effective network. You could
city-hop
between London, Amsterdam, Berlin and Vienna, or sink south to
sand-swept Portugal
. This is where traveling with a train specialist comes in handy: they'll swap the more unreliable timetables of the Balkans and Baltics for buses and ferries.
Scott prefers to focus on the countries that escape most Instagrammers' attention. Much of Europe makes it easy for you, with even tiny mountain villages equipped with a train station. "I was away for two-and-a-half weeks going through the Balkan countries on my last trip," says Scott. "I started in Greece and saw all of them along the way: Albania; Serbia; Kosovo; Croatia; Slovenia. I saw the whole works. And then I went from there up to Brussels, visited Luxembourg for a day, and came back to Manchester from there. It was an incredible trip."
Scott lives in England, where the Eurostar train to mainland Europe via the Channel Tunnel has revolutionised train travel. "I was just so impressed by the fact that I'd barely even noticed that we'd gone through the tunnel," says Scott. "Just coming out the other end and getting the text on my phone saying, 'Welcome to France.' That is a fantastic thing. We're so lucky to have that, and that really opens the door to the entire continent… It only makes sense, really, that we do travel in this way."

I couldn't imagine traveling by any other method in places like Switzerland. I feel like you'd really be missing out if you didn't.

Like road-tripping down Big Sur or backpacking around Thailand, the train journey is half the fun. You don't see much more than the caps of clouds when you're stuck up in the sky – and that's if you manage to arm-wrestle your way to a window seat.

Scott agrees: "Sometimes, you'll get such dramatic landscapes right outside the window, especially when you're going through countries like Switzerland. I couldn't imagine traveling by any other method in places like that. I feel like you'd really be missing out if you didn't."
Social & local
Under 30 rail vacations in Europe are small group vacations. Your fellow travelers will be a sociable bunch – perhaps solo travelers on their first backpacking trip; hopheads ready to take on Berlin's best breweries; or budding photographers and bloggers after the city's best-hidden views and streets. You'll get some activities and meals included, but not all, giving you the freedom to work to your budget and explore at your own speed.

Trains are more sociable by nature, too. You and your mates won't be seated at opposite ends of the plane. You can share a picnic on-board or sit around a table with a deck of cards and discover who's got the best (and worst) poker face. A growing number of young travelers want to break free from the confines of a bus and meet people on the rails. After all, in most European countries the trains are filled with local people on their way to work, to see their families, to funerals, weddings and music or religious festivals.

That's something that's really important to me now: meeting locals... just turning up and seeing who arrives in the carriage with you.

For Scott, meeting local people has become one of the best things about traveling by train. "To be honest," he says, "that's something that's really important to me now: meeting locals. Getting on night trains from Moldova to Romania, just turning up and seeing who arrives in the carriage with you – it's a really exciting part of the trip. And you do meet weird and wonderful characters along the way. It's a much more sociable, public way to go about traveling."
Our top Under 30s Vacation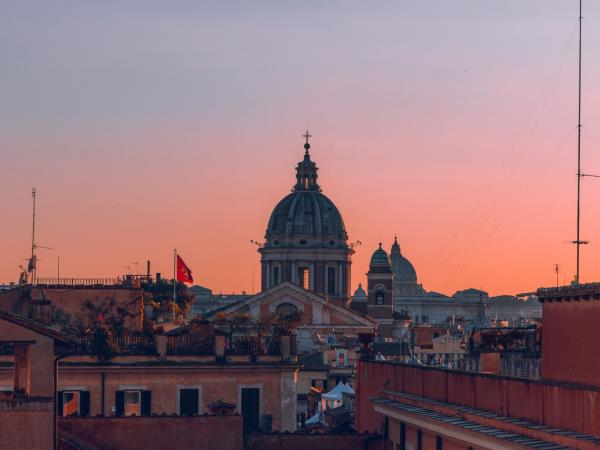 Tour through the best of Southern Europe in 3 weeks!
From
£

2139
21 days
ex flights
Small group travel:
2023: 13 Aug
If you'd like to chat about Under 30s or need help finding a vacation to suit you we're very happy to help.


Flying is very much a last resort now.

A breeze
Imagine. You arrive at an architectural masterpiece of a train station 20 minutes before departure time. There are no security lines and no 100ml liquid limits. You can crack open a beer and snack on chocolatey Sachertortes while rolling between Vienna and Budapest. Even the cosiest couchette in a sleeper train is worlds better than trying to snatch some shut-eye while sitting up on a packed flight.

It's all enough to change a frequent flier's ways. "I think the first time that I decided to make the switch was the best train trip for me," says Scott. "Classically, I was one of those people who would fly from destination to destination – even when sometimes I could've just got the bus or train instead... I remember it being a bit of a game changer when I realised that this is so much easier and it's better for the environment. Ever since then, I've been traveling as sustainably as possible. Flying is very much a last resort now."

Like many first-time train travelers, that first trip shifted Scott's perception of train vacations. "I think people's views get tainted by past experiences… and they just think, 'Oh, there's no way I would want to be messed about with a train cancellation if I was in the middle in Sweden.' When in reality you would very rarely have to deal with something like that and, if you did, the customer service really does back it up. I've had a train cancel on me before, and it took less than five minutes to find a representative, and then I was on a different train. So it's still very, very easy if things do go wrong."
Flygskam vs. tagskryt
With all these perks, the environmental impact of train travel is almost an afterthought that rail companies are only just starting to shout about. After all, for them low carbon travel is the norm.

But flygskam – flight shame; one of the trending words of 2019 – is a real issue for under 30s, says Scott. "They don't want to feel bad or receive the flak from other people by traveling by a method that's so disproportionately bad for the environment... They're thinking about that environmental aspect more around the age of 20-25… I think the publicity in the media has come a long way in recent months in terms of making sure people are switched on and engaged; that they're being considerate in their own personal choices when it comes to traveling."

We've just seen an increase in people traveling specifically because of the sustainability aspect.

Instead of
flygskam
, you can be one of the generation of new travelers who are all about the
tagskryt
:
train bragging
. Euroventure recently analysed the carbon emissions produced by their rail vacations. They discovered that their small group tours produced about 75 percent fewer carbon emissions than flying the same route.
"Some people will go because they've seen their friends go," says Scott. "Some people will go because they enjoy train travel. But we've just seen an increase in people traveling specifically because of the sustainability aspect, which we think is absolutely great."