Vacations for US Citizens to Cuba
For over 50 years Cuba was pretty much off limits to US citizens thanks to a 1962 trade embargo. Then, after Barack Obama's 2014 reestablishment of diplomatic relations with Cuba, travel restrictions loosened, and major airlines began offering direct flights from the US.

Donald Trump's administration then rolled back some of these changes making it harder for US citizens to travel to Cuba. In 2019, the US Treasury Department placed further restrictions on US citizens by halting educational 'people-to-people' chaperoned group tours run by US tour operators. Traveling to Cuba by cruise ship, private yacht and fishing vessel also became much harder for US citizens.


Commercial flights from the US continue to be permitted. Tours run by non-US vacation companies also continue to be permitted. Independent travel is also allowed as long as travelers stay in homestay accommodation - casas particulares - and support the Cuban community.

So, it's still perfectly possible for Americans to travel to Cuba – whether traveling on a tour or independently - as long as they support the Cuban community and use a non-US tour operator. What's more, US citizens will find a warm welcome and people keen to engage and share their stories on the street and in their own homes.

If you are worried about traveling to Cuba or just keen on finding out more information, please get in touch so we can put you in contact with one of our specialised Cuban tour operators.

If you'd like to chat about US Citizens in Cuba or need help finding a vacation to suit you we're very happy to help.

Choosing your category
As was the case under Obama, all US citizens visiting Cuba have to travel under one of
12 categories
; and while in Cuba they can't have dealings with businesses on the US State Department's
Cuba Restricted List
– all of which have links to Cuban military's business arm, Grupo de Administración Empresarial (GAESA). Official rules also state that they're required to document their trip to prove they were in Cuba for one of the 12 reasons.
If you're keen to travel around Cuba you'll need to book a vacation with a non-US tour operator under the 'Support for the Cuban People' category. This will ensure that the tour follows regulations, including a full schedule of cultural activities.
Visiting under the Support for the Cuban People category is a more flexible way to travel. You can visit Cuba independently or with the help of a non-US tour operator, as long as you use privately owned businesses (
casa particulares
and local restaurants, for example), and avoid transactions with businesses on the restricted list. Under this option, you'll be able to design an itinerary yourself, the activities you can take part in are more varied, and you don't need to travel in a chaperoned group - as was the case with people-to-people group tours.
Our US Citizens in Cuba Vacations
Taking an organised tour
While it's certainly possible to travel under your own steam, having a tour operator organise your trip is a far easier option, whether you want an individual tailor made tour or to travel in a small group. It'll help you avoid the hassle and uncertainty of designing your own compliant itinerary, as this is done for you – and the operator will help you sort out the required documentation, too. All of Responsible Travel's Cuba tour suppliers for US citizens offer trips under the Support for the Cuban People category.
Our top US Citizens in Cuba Vacation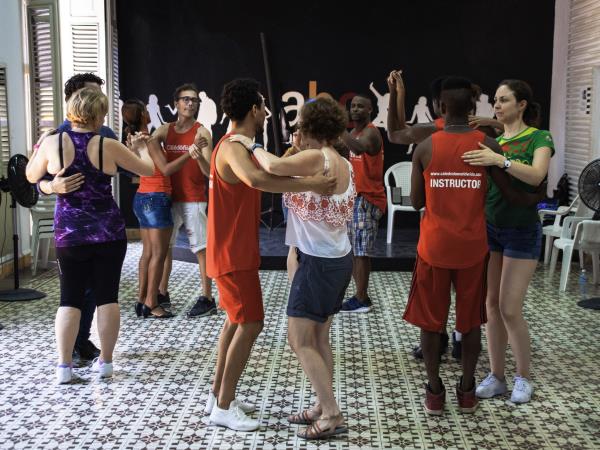 Learn to salsa with the pros in Santiago de Cuba, tuition, day trips and nights out
From
£

1650
15 days
ex flights
Small group travel:
2022: 16 Jan, 6 Feb, 13 Mar, 10 Apr, 8 May, 26 Jun, 17 Jul, 16 Oct, 6 Nov, 27 Nov, 18 Dec
Visas
Every US traveler needs a visa (known as a tourist card) issued by the Cuban government. You can either buy the tourist card in advance from an authorised US agency (your tour operator will be able to recommend one) or buy it at the airport when you check in for your flight to Cuba. As long as you've been traveling under an approved category there should be no problem having a Cuban stamp in your passport.
Flights & insurance
You can still buy direct flights from the US to Cuba. Airlines plying the route include JetBlue, American Airlines, Delta, United and Southwest. When buying your flight, you'll have to certify that your travel is authorised under one of the approved categories.
All overseas visitors to Cuba must have a travel insurance policy in place with sufficient cover for medical evacuation by air. Although some US health insurance policies cover you when you're abroad, you should buy separate health insurance for Cuba. In most cases your tour operator will be able to provide this for you or point you in the direction of a reliable supplier; alternatively, you can buy Cuban government medical insurance when you arrive at the airport.
Money
Cash is king in Cuba, and credit and debit cards issued by US banks, as well as American Express travelers' cheques, don't work here, so you'll need to bring money with you. If you're worried about carrying large amounts of cash, choosing an organised tour where all accommodation and activities and many meals are included can be an easier option.
The Cuban Convertible Peso (CUP) is a handy currency for US citizens as one CUP is equal to one US dollar. Do note, however, that there is a 10 percent charge on exchanging US dollars here, on top of the regular currency exchange fee.