Travel Information in Valencia Region
Travel to/in the region of Valencia: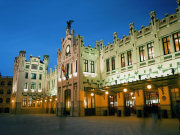 Traveling to and around the Region of Valencia is very easy. Its extensive road network and many railway services, with the Madrid-Valencia AVE high-speed train service, provide a perfect link with the international airports of El Altet in Alicante and Manises in Valencia, as well as the ports of Alicante, Valencia and Dénia.
Valencia, the capital of the Region, has a short-distance train network, departing from the Estación del Norte, which connects the city with 65 towns inland and along the coast in the provinces of Valencia and Castellón.
The Region is also well connected with the rest of Spain and many European countries by bus, departing from each city's Estación de Autobuses (mainly from Valencia).
Driving:
In Valencia vehicle traffic travels on the right-hand side. Drivers must hold a valid driving licence and be over eighteen. To rent a vehicle you must be 21 or over. Seat belts are compulsory both in the front and rear seats. The maximum speed is 110 km/h on motorways, 100 km/h on main roads, 90 km/h on other roads and 50km/h in urban areas.
Business hours:
Most banks are open from Monday to Friday between 8:30 a.m. and 2:30 p.m. Almost all shops open from 9:30 am - 2 pm and then from 5 pm to 8 pm, Monday to Saturday. On Saturdays, many small shops and Estancos close for the day at 2 pm. The exceptions to these hours are the major shopping malls, department stores and supermarkets that stay open from 10 am - 9 pm and sometimes 10 pm. Along the coast, in the high season, shops are generally open until well after 10 at night.
Language:
There are two official languages: Valenciano and Spanish.
Weather:
The climate is Mediterranean-type, characterised by warm and dry summers and mild winters, with about 320 sunny days in a year. Read more about
Valencia weather
Electricity:
Standard electrical voltage is 220-240 V AC, 50 Hz. An adapter, available in most hardware stores, is necessary.
Dialling code:
The international country calling code of Spain is +34
Emergency telephone number:
112 - all emergencies
Currency:
The currency used is the Euro €.
Local time:
- Standard: GMT + 1h or CET - Daylight Saving Time: GMT + 2 or CEST
Eating times:
People generally eat later than in other European countries: breakfast (7:30 and 10:00 a.m.) is similar to the continental style. Restaurants serve lunch between 1:00 p.m. and 3:00 p.m., and dinner from 8:30 p.m. until 10:30 p.m
Tipping:
Tips are not considered obligatory. However, if the service received is satisfactory, especially in bars and restaurants, a tip is often left.
Vacations:
- New Year: 1st January
- Good Friday and Easter Monday: (dates change every year)
- Labour Day: 1st May
- Sant Dionís: 9th October, Valencian Community National Day
- All Saints: 1st of November
- The Day of the Constitution: 6th of December
- The Feast of the Immaculate Conception: 8th of December
Responsible Travel would like to thank the Valencia Tourist Board for their sponsorship of this guide