Gippsland touring route
The region to the west of Melbourne may get the top billing in Victoria thanks to its world-famous Great Ocean Road, but there's plenty to see heading east as well on this tour of the diverse region of Gippsland. Everything from sweeping sandy beaches and wildlife-rich wetlands to historic ports and once-booming goldmining towns is waiting to be discovered here on this four-day itinerary – and all of it within easy reach of the Victorian capital.
On day one leave Melbourne behind and head southeast towards Australia's most southerly coast. Here you'll find the coastal community of San Remo, the gateway to
Phillip Island
and an attractive fishing village to boot. San Remo was named after the Italian Riviera community of the same name and is no slouch when it comes to living up to its namesake. Not only will you find some truly stunning coastal scenery here, but also a picturesque harbour and jetty and an array of independent village shops to explore. Time your visit to take in the daily pelican feeding at noon on the foreshore and don't miss a visit to the San Remo Fishermen's Cooperative for the freshest fish and seafood – the perfect lunch.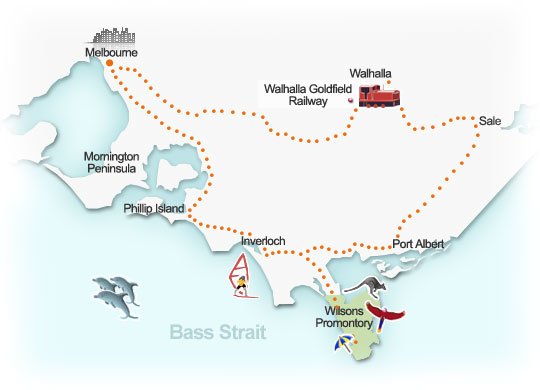 From here move on to Inverloch where the energetic can try their hand at windsurfing on sheltered Anderson Inlet or a spot of bushwalking in the surrounding unspoilt countryside.
Birdlovers will particularly enjoy low tide here, when the shallow sandy estuary is a popular feeding ground for numerous birds. Inverloch is just one hour's drive north of Wilson's Promontory national park, the southernmost tip of mainland Australia.
Commonly known as the Prom, this hook-shaped piece of land juts out into the Bass Strait and has a rocky coastline dotted with sandy beaches and sheltered coves. Spend your next two nights here, to allow a full day's exploration on day two.
There are numerous walks of various lengths around the Prom, all of which offer beautiful views of Victoria's largest area of coastal wilderness. Tidal River is the hub of all things Prom: it is the national park's only permanent camping ground (not to mention the only one with any facilities) and the starting point for several short walks. The most popular of these is the easy stroll along the Squeaky Beach Track (2km return) which crosses Tidal River before leading uphill through the trees to finish up on the appropriately named Squeaky Beach, a beach of pure quartz sand which squeaks as you step on it – an experience not to be missed. Wilson's Prom is a haven for all manner of native wildlife. Keep a lookout for kangaroos, especially at dusk, and watch out for rosellas, brightly coloured parrots which will appear at the merest hint of food and are happy to land on visitors – an unmissable photo opportunity.
On day three of your tour, depart Wilson's Prom and head north and east through central Gippsland to Port Albert, the first port to be established in the state of Victoria. Starting in the mid 19th-century this was the supply port for Gippsland's pioneers and welcomed ships from around the globe, including those on which thousands arrived on their way to the Goldfields to the north. Still a commercial port, Port Albert is also a popular jumping off point for fishing boats and there are numerous scenic and fishing trips departing from here. Consider taking a trip out to sea, especially if birdwatching is of interest, and don't leave town before a visit to the Port Albert Maritime Museum, which tells the story of this historic community.
Continue from Port Albert to Sale, the westernmost port of the Gippsland Lakes. There are numerous cafes and restaurants here, making it an ideal lunch stop, but the real reason to visit is to join a boat trip into the Gippsland Lakes Coastal Park, a narrow coastal reserve which is Australia's largest group of inland waterways. There is superlative fishing on the lakes here and numerous attractive swimming areas along the sheltered shore. Look out for birdlife too, including black swans, musk ducks and fairy terns, as well as the occasional dolphin.
On day four turn inland and head for the historic gold mining village of Walhalla. This was once one of Australia's richest towns and home to over 4,000 goldseekers, but today it is a sleepy mountainside community and home to less than 20 people.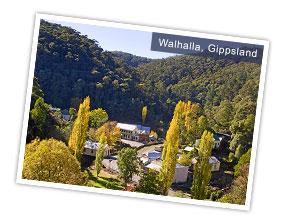 A three-kilometre vein of gold was discovered here in the 1860s bringing wealth to the town, evidence of which can be seen in the numerous attractive 19th-century buildings.
There's plenty to do in town: take a ride through the goldfields on the Walhalla Goldfield Railway to enjoy the rugged gorge scenery and, in spring, the blooming wildflowers, pan for gold in Stringers Creek and explore the lovingly restored historic area with its many heritage buildings.
After a thorough exploration return to Melbourne along the Princes Highway.

Find out about more
touring routes in Victoria