Gippsland, Victoria is home to some truly awe-inspiring natural sights. Located to the east of the city of Melbourne, this is a region of dramatic coastlines, lush rainforests and plentiful native wildlife. It is also an area rich with heritage, and everything from goldmining boomtowns to historic ports can be seen on a journey around this area.
Along the coast you'll find plenty of welcoming towns and villages, each with its own unique story.
The fishing community of San Remo is the perfect pitstop for seafood lovers and more than lives up to its Italian Riviera namesake. You'll find the San Remo Fisherman's Cooperative here, which serves up freshly caught fish and seafood on a terrace overlooking San Remo Channel and the bridge over to Phillip Island. Time your visit for noon and you'll be able to take part in one of the region's most exciting wildlife encounters, as up to 30 pelicans descend on the foreshore to be fed. San Remo is also the starting point for the six-kilometre George Bass Coastal Walk, which leads along the cliffs to Kilcunda, passing the historic coal bore at Bore Beach and Quarry Rocks, where the stone for the Melbourne business chambers was quarried.
Another popular seaside town for visitors is Inverloch, gateway to the protected waters of Anderson Inlet. This is where the Tarwin River enters the Bass Strait and is considered to be the most popular estuary in Victoria. Not only is this a fantastic place to view waterbirds, attracted to the area by the exposed sands at low tide, it is also an unbeatable place to try your hand at water sports including surfing and windsurfing. You can also enjoy bushwalking here, on one of the numerous boardwalks, which wind their way through the low-lying heathlands along the coastline.
Further east, the town of Port Albert was Victoria's first established port and acted as the supply port for all of Gippsland's pioneering first settlers in the 19th century. Thousands of enterprising goldminers passed through here during the gold rush and ships from as far afield as America and Europe docked in the port. Today Port Albert is still a commercial port but is used predominantly for recreation, especially fishing. Scenic boat tours, fishing trips and birdwatching excursions depart from here and there's also a fascinating museum with an extensive collection of artefacts, photographs and documents dating back to the founding of the town.
Close to Port Albert is the westernmost extension of the Gippsland Lakes, Australia's largest network of inland waterways. These lakes, lagoons and marshes cover more than 600 square kilometres and are separated from the Bass Strait by the coastal dunes known as Ninety Mile Beach. This entire area is a haven for wildlife and you're sure to see numerous species of birds, as well as pelicans and dolphins.
There are many walking trails around the lakes but by far the best way to see this area is by boat. Join a tour and explore the three main lakes of Lake King, Lake Victoria and Lake Wellington or take a water taxi out from the village of Paynesville to visit one of the many small islands. Raymond Island, located immediately offshore of Paynesville is the easiest to visit, and is home to koalas and more than 60 different bird species. Paynesville also offers windsurfing, jetskiing and waterskiing, and there are beautiful swimming spots at Eastern Beach and Lakes Entrance.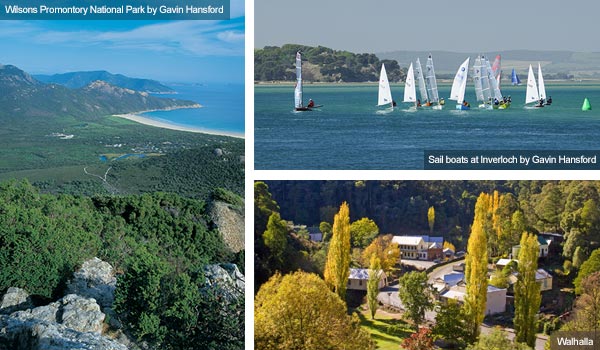 Inland, Gippsland was once home to Victoria's greatest single producer of gold, the Long Tunnel Company. The town of Walhalla was founded to serve it and was once one of Australia's richest towns and home to more than 4,000 gold seekers. Today it is a community of less than 20 permanent residents but the fine 19th-century architecture has been preserved and provides a fascinating snapshot of early Victorian life. Visitors can walk through the historic town center, visit the old hotels, shops and churches, and even pan for gold at nearby Stringer's Creek, where the precious material was first found in 1863.
The Walhalla Goldfield Railway offers the chance to explore the area further, on a journey down through Stringers Creek to Happy Creek and the Thomson River. In spring and summer you'll see beautiful carpets of wildflowers here, while autumn brings stunning colours and winter an increased flow of water that much improves the attractive waterfall.
Gippsland is packed with natural attractions but the most popular destination by far is Wilsons Promontory national park, Victoria's largest coastal wilderness and affectionately known as the Prom. This hook-shaped piece of land protruding from Australia's southern coast is a magical region of granite mountaintops, lush valleys, sheltered beaches, cool fern gullies and intimate coves. Arriving by car you'll pass through the entrance to the national park at Yanakie and wind your way down towards Tidal River passing car parks serving a variety of beaches and bush areas along the way.
This is an extremely scenic drive, and one which deposits you in the park's main accommodation center, complete with general store – but your exploration truly begins when you leave your car and take to the trails.
Many of the park's walks begin from Tidal River, the most popular of which is the Squeaky Beach Track (2km return) which leads across Tidal River and up through the trees to reach the eponymous beach where you'll find quartz sand so pure it squeaks as you step on it.
A better overview of the park's diverse flora and fauna can be gained from the Lilly Pilly Gully Nature Walk (5km return) which winds through the heathland and eucalypt forest, offering walkers the chance to see koalas and yabbies (a freshwater crustacean) in the wild.
Stay overnight at Tidal River campsite for the chance to see kangaroos (most active at dusk) and get up close and personal with the park's resident rosellas, a bright, colourful bird which will happily share your dinner.

Find out about more
Gippsland touring routes in Victoria