Melbourne food and drink
Melbourne's diversity is well reflected in its culinary offerings - the city excels in offering every kind of world cuisine with authenticity, whilst also demonstrating a strong and vibrant local food scene of its own.They say the best flat whites in the world are Australian, and Melbourne is the coffee capital of the country. Conoisseurs flock to its many cafés to seek out that extra-special single-origin roast, and locals love nothing more than soaking up the sun and watching the world go by from the alfresco tables of a coffee shop, or curling up with a good book and latte in any number of cosy retreats.
Enjoy a proper espresso after a hearty pasta lunch in Little Italy, or go all out for high tea, patisserie and exotically sourced coffees in funky surroundings in one of the city's classical "coffee palaces". The city's newpaper "The Age" produces an annual guide to the finest restaurants in Melbourne, awarded "hats" for quality. The fine dining scene is a constant source of creative cooking and innovation, with many big names - Gordon Ramsey's Maze for example, sitting alongside native Melbourne chefs such as Andrew McConnell at the two-hatted Cutler & Co.
Vue de Monde
run by Shannon Bennett is a dining experience not to be missed. It offers inspired haut cuisine with impeccable service and theatrical dishes as well as an impressive wine selection.
A number of food markets take place in Melbourne, a great way to spend a morning browsing for local produce, soaking up the sights, sounds and smells and buying fresh ingredients for a picnic lunch.
One of many vibrant markets selling local, organic produce and delicacies, the South Melbourne Market is a busy, popular market selling not only food but with a number of coffee and pastry stalls, wine merchants stalls and liqueurs. Being such a melting-pot of cultures means you'll always find the best of world food in Melbourne. Different districts serve up diverse delights - sample excellent Lebanese in Brunswick or handmade pastas and delicious imported Italian cheeses and sweets at Little Italy, Carlton which also hosts an annual street fiesta celebrating Italian food, wine and music.
Chinatown is a bustling district with origins harking back to the 1860s, within dining options from family-run dim sum bars, to elegant restaurants and a vibrant, month long Asian Food Festival. Melbourne offers everything from Indonesian specialities and Spanish tapas to contemporary fusion cooking.No great meal would be complete without wines to match and fortunately Melbourne lies within close proximity of five very diverse and incredibly prolific wine-making regions.The Yarra Valley is the region where Victoria wine-making all began, home to some of the most prestigious caves. Sample the cellar favourites in the hallowed halls of DeBortoli, Fergusson and Yering Station or discover tiny, independent wineries coming onto the scene with new styles, such as Punt Road and Mandala Wines.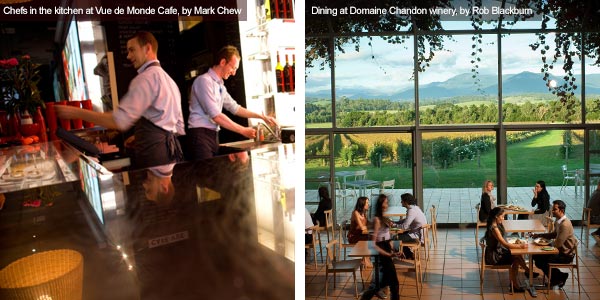 Not to be missed is a trip to
Domaine Chandon
which was established by the French Champagne house, Moët & Chandon in 1986. Only an hour's drive from Melbourne it is considered to be one of the world's most outstanding wine tourism experiences and is one of only five outside of France.
An hour to the east of Melbourne lies Mornington Peninsula with some of the highest concentrations of vineyards in Australia. Famous for its Pinot Noir and Chardonnay viticulters are now experimenting with newer varietals, pinot gris and shiraz.
The variety of microclimates in this region allows for many varieties and styles of wine, your exploration of this compact wine-making region will be limited only by your imagination, not your time.Geelong, to the west of Melbourne has been compared to a cross between Bordeaux and Burgundy in climate and growing conditions and has recently undergone a vital renaissance with winemakers rediscovering the rich soils of the region and revelling in the creative possibilities of the region.
Sunbury is the nearest wine region to Melbourne and its winemakers are known as a friendly, welcoming bunch more than happy to throw open the doors of their cellars and invite you in not only for a tasting, but a few entertaining tales too. Vineyards here are dotted amongst orchards, a picturesque natural setting in close proximity to the city. Macedon is famous for its bubbles, with delicious sparkling wines produced from its volcanic soils. This is also the region made famous by the mysterious natural formation of Hanging Rock, which you can visit whilst on your wine tour. Macedon wines tend to be of very limited production, and include award-winning Rieslings and Cabernet Sauvignon.

Find
Melbourne things to see and do