Whale watching in Victoria
This is a region characterised by its ocean. Wherever you choose to visit you won't be far from the sea and no trip to the Great Ocean Road area would be complete without at least a little time out on the water. And there's plenty to see out there too. Wildlife abounds in the waters offshore here and one of the most exciting creatures to frequent this area is the whale. There truly is no sight more magnificent than a whale breaking the surface of the water or diving down beneath the waves, kicking its tail up in the air and this is one of the best places in the world to see this awe-inspiring sight without having to head miles out to sea.
In late May each year about a dozen
Southern right whales
choose to give birth and raise their young just off the southwest coast of Victoria. The pod usually locates themselves somewhere between Apollo Bay and Portland, the pregnant females breaking away to find a quiet place close to shore to give birth. More often than not, they choose Logan's Beach just outside Warrnambool and remain in the waters just offshore until around early October.
For land-based sightings head to the whale watching platforms at Logan's Beach. These are located to the east of the city and right next to the most popular area for the whales to nurse and teach their young. There are even binoculars to help you see these wonderful creatures more clearly – just remember that they come and go as they please so keep those fingers crossed. For a better chance of a sighting, search a wider area by getting out on the water on a whale-watching boat trip, or taking to the skies on a whale-spotting helicopter ride from Portland with Heli-Explore.
This is the only way to see the
blue whale
, a rare species which cannot be seen in many places, having been hunted almost to extinction during the twentieth century.
This magnificent creature hardly ever breaches, swims incredibly quickly and does not like coming close to boats, so the air is by far the best place to be if you want to catch sight of one. If you don't get lucky with the whales, there's plenty of other marine life along this coast to make up for it.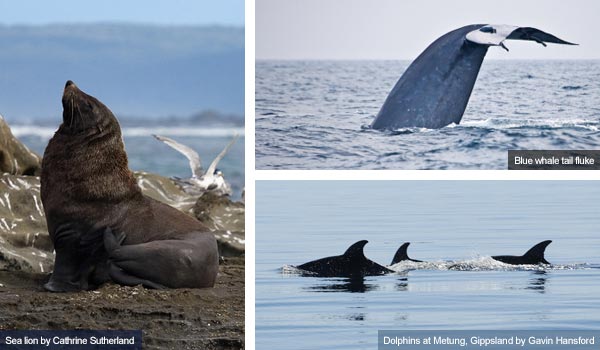 Seals & Dolphins
Close to the shore near Apollo Bay is the Marengo Reefs Marine Sanctuary, home to not only an abundance of corals, sponges and other invertebrates but also a sizeable colony of
Australian fur seals
who can often be seen lounging around on the reefs. Get out here on a guided kayak tour or get in the water yourself and swim or snorkel around the reefs for a really up-close-and-personal viewpoint.
Dolphins
are also often seen along this coast, especially around Port Campbell National Park where both common dolphins and bottle-nosed dolphins are sighted regularly.
Find out more about the Great Ocean Road
marine life
Surfing
For something a little more active, there are watersports of all varieties along the coast, including some of the best surfing in the world. Torquay is Australia's surfing capital, home to the world-famous Bells Beach, a surf spot on every surfer's to do list thanks to it's range of Southern Ocean swells and large breakers. Unless you're a surfing pro, you might want to head to Torquay itself, Fairhaven or Lorne where the breaks are smaller, the beaches are more sheltered and numerous surf schools offer lessons to everyone from beginners up.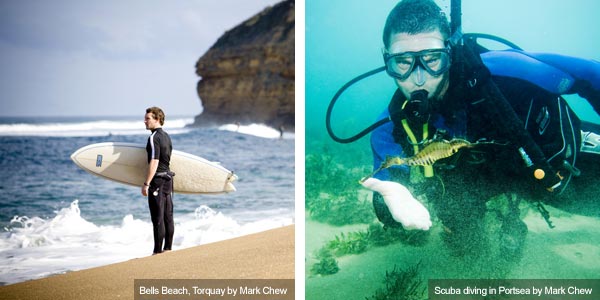 Scuba diving
It's not just surfing that pulls in the crowds when it comes to watersports, the near-shore waters along the Great Ocean Road are also ideal for scuba diving, boasting some of the finest temperate dive sites anywhere in the world. Intriguing geological formations, historic wrecks and colourful reef systems abound, offering divers and snorkelers a diverse range of environments to explore.
Port Campbell is the staging point for diving around the Twelve Apostles and offers numerous different dives, including the fascinating Arches marine sanctuary where the limestone ocean floor forms an array of intriguing canyons, caves and tunnels and the cool waters and dark underside of the rock formations allow marine life normally only found much deeper to flourish. Look out for Port Jackson sharks, scaly fin, wrasse and zebra fish as well as colonies of brightly coloured sea fans, lace corals and gorgonian sponges. Shipwreck dives are also popular here. Check out the Eliza Ramsden's impressive clipper bow, iron stanchions and boiler, or if conditions are calm enough, dive down to square-rigged iron sailing ship the Lord Ard where debris from the cargo, including railway irons, pewter mugs and ceramics, are spread over an area of about eighty by forty metres.

Find out more about
nature & wildlife around the Great Ocean Road