Volunteering in Nepal guide
---
2 MINUTE SUMMARY
Many of the volunteer positions in Nepal are related to the vast amount of damage endured during the devastating 2015 earthquake. And some are also seriously remote, in the Gorkha region just near the epicenter for example, which is also so far away that it has not benefited from some of the other reconstruction and development funds emanating from the capital in Kathmandu. This Volunteering in Nepal travel guide introduces you to schools, hospitals and whole communities that need help whether you are a skilled, professional healthcare worker or simply someone who is happy to give your all for a while.
So, even if itís the mountains that are calling you to Nepal, let the massive tasks in need urgent of attention upstage the massif for a while. Many of the villages where you can offer your help are also home to some of the greatest mountain guides, and so you can combine giving with getting out there after the deeds are done.
Is volunteering in Nepal for you?
---
Responsible Travel recommends
Go on a volunteering vacation in Nepal ifÖ
---
... the 2015 earthquake stats still shock. And they should do. There are still so many fissures to fix.
... you want to combine hiking with helping. There are companies out there that will organise both for you.
... you arenít super qualified, as there are plenty of unskilled placements available. However, healthcare professionals, builders and teachers are greeted with open arms here. Although all help is welcome, of course.
... you want to support villages hit by the 2015 earthquakes that are also home to some of the greatest mountain guides and porters whom you may have trekked with in the past.
... you are happy and able to rough it. This is as much an outdoor adventure as a volunteering trip.
Donít go on a volunteering vacation in Nepal ifÖ
---
... itís wildlife conservation you are after. Volunteering here is all about helping, healing and housing people.
... you want to volunteer in orphanages
. Unless you are a qualified childcare expert and able to commit to a long term role in a genuine institution. Read more about
our stance on volunteering in orphanages
.
... you struggle out of your comfort zone, both in landscape and culture. This is seriously mountainous terrain with long journeys off road to villages that need help.
... you get impatient quickly. Remember that the Nepalese are a very calm and contemplative people, so donít get het up about stuff as it will offend. Best course of action is always to ask quietly and be patient.
Where to volunteer in Nepal
---
MAP & HIGHLIGHTS
Many of Nepalís volunteering projects are very remote, because the further you go from Kathmandu, the more your help is needed. Villages around the Kavresthali Ward, for example, which was the epicenter of the 2015 earthquake, are so distant from the capital city that help is always in demand. If you donít want to go so far, then you can volunteer in villages around the Kathmandu Valley and combine it with some trekking and sightseeing. But ultimately, it is best to go where your help is most needed and where your skills can best be used and, as always, a responsible tour operator will be able to advise on that.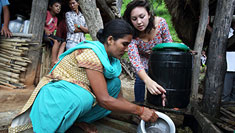 Community volunteering
This work invites people with myriad skills to join ongoing projects in need of man,woman power and a lot of staying power. Especially as they tend to be in extremely remote villages, helping with farming, schools, building and healthcare, they are also cultural experiences of a lifetime. Because Nepal is Uplifting with a capital U. And, equally important, also in dire need of U.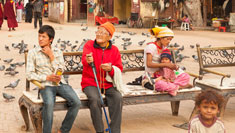 Family volunteering, Kathmandu
If you and your family want to feel immersed in Nepalese culture, then stay in Kathmandu with a host family, volunteer as teaching assistants in a school and enjoy guided trips to the natural adventure playground of Pokhara for ziplining, hiking at sunrise or even trek to Everest Base Camp. Or you can just stay and help. Whichever you do, you will get the eternally effervescent Nepalese welcome.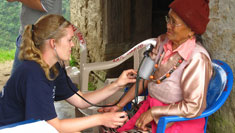 Healthcare volunteering
This is no ordinary medical volunteering placement, but in the heart of rural Nepal where medical services rarely access. All healthcare professionals are welcome to work with a very established programme, working in villages that still use traditional, shaman-led medicine. Work ranges from informing to immunising, educating people to erecting new care centers. Itís all healthy, hands-on-deck here.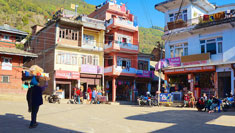 Helping at the epicenter
If you want to help at the epicenter of 2015 earthquake, where damage was most severe, apply to work with an organisation that has been doing just that since disaster struck. The village of Gorkha , for example, is very remote and hasnít benefited from as much assistance as other places closer to Kathmandu. It welcomes all help available. In return, they have some of the best trekking guides when work is done.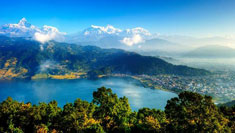 Highlights & help
Take a month to really explore Nepal and in particular the Kathmandu Valley, with most volunteers spending two weeks helping out with schools, construction projects or farming and then two weeks walking. All organised by the same company, the guided tour for the second two weeks takes place around the likes of Chitwan National Park, Pokhara and surrounding mountains, and of course Kathmandu itself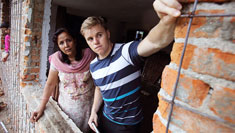 Hike & help
Some people spend a few days acclimatising pre-trek by chilling, looking at the mountains in awe and drinking a lot of tea. Which is great, but you could also spend it helping with building and restoration projects which have been in place since the earthquake. Support this important work and then be guided by locals into the stunning mountains afterwards, both activities organised by the same operator.