Sea kayaking vacations in Wales
The Welsh coast was once the sole preserve of solitary, shaggy-haired surfers thanks to its bounty of golden sand beaches, boulder breaks and secluded bays that are often deserted outside of July and August. In recent years, however, sea kayakers have also emerged amidst the waves, as they, too, aim to experience the otherwise inaccessible coves and limestone stacks from the water.

Not only is sea kayaking a relatively easy activity to get the hang of, but there are also lots of outdoor activity companies vying for the custom of weekend adventurers. The trouble is that there isn't enough space along the coast to go round. Ocean access points and car parks at hot spots are starting to get busy at weekends, especially in the summer.

Space is becoming an increasing issue with local people, as Sophie Hurst from our Pembrokeshire sea kayaking specialists, Preseli Venture, explains: "Access to the coast is one of the main issues that we're facing at the moment. All of the little, tiny harbours, coves and beaches that we use for sea kayaking and coasteering are facing a real problem when it comes to parking. All of our kayaks, gear and buoyancy aids are transported at the same time as all the guests. But other tours require customers to meet at the actual activity start point. They all arrive in their own private vehicle which, as you can imagine, leads to congestion and overcrowding as there's nowhere to park."

Choosing a sea kayaking company that supports the local community and wants to preserve the peace of the Pembrokeshire coast for everyone to enjoy is one way that you can help to make a difference. Sea kayaking, surfing and coasteering are amazing activities to experience in Wales but, as Sophie says, there needs to be a balance: "Activity weekends in Pembrokeshire can't be an infinitely expanding business – there is simply not enough space for everyone, and there are too many access issues around hot spot areas. Local people like fishermen, farmers and other members of the community use the car parks and the walking trails and roads along the coast too. In one way, the extra income brought by tourism is very much needed but, in another way, it does present an unwanted hassle for folk not directly involved in the industry."

Below are just some of the reasons why sea kayaking in Wales has started to surpass surfing in the popularity stakes. If you're interested in dipping your paddle in the water with a responsible activity company, then a short sea kayaking vacation is a great way to get started. Of course, staying in the area longer is an even better way to support the local community and find out more about the wildlife that also calls this coastline home.
Our Wales Vacations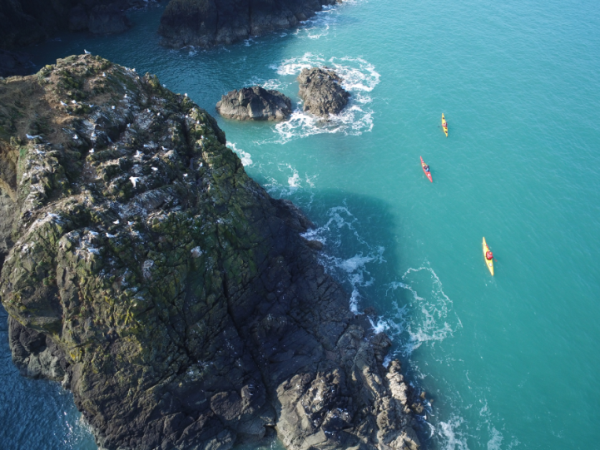 Sea kayaking exploration on the North Pembrokeshire coast
From
£

365

to

£

685
2 days
ex flights
So, why Wales?
Wales is a great place to start to practise paddling – Pembrokeshire, especially. Seals, sand and sea stacks, even sunshine – sometimes, all make sea kayaking along the Welsh coast wonderfully wild.
Isolation, in a good way, can be found literally a few seconds from the shore, with all manner of mysterious caves and sheer cliff faces sparking the imagination, as seabirds take flight. Porpoises, grey seals and even dolphins – summers can see pods of 500-plus – may also pop up at some point, as may the occasional surfer, coasteering crew or precariously placed fisherman. A wave or a nod will suffice. Your guide will probably know them anyway. It's a pretty tight knit community in these parts.
Sophie Hurst, from our Wales sea kayaking experts Preseli Venture, has been involved with the
Pembrokeshire Outdoor Charter group
for a long time. They meet up a couple of times a year to discuss issues such as sustainable tourism and land accessibility. She knows the value of community: "Here in Pembrokeshire, we're very much part of the local outdoor activity community. Most of the instructors and guides know each other, and share information and offer help, if needed. We're all part of the same clan, we want to protect the coast and make sure no one damages the natural environment. The thing with tourism is that sometimes it can ruin the very thing that attracted it in the first place. That's why organisations like the Pembrokeshire Outdoor Charter group are in place."
Instructors will also know the secret, barely accessible, spots; where the waterfalls tumble into the sea and where the naturally eroded rock arches create the best frames at sunset. Sea kayaking guides will help you get lots of practise, especially beginners. You'll learn gradually, at your own pace. Families, too, can join in – with double kayaks for extra security. Parents can sit at the back as eager kids paddle, paddle, paddle, pause. "Can you paddle for a bit, Mum?"
How to start sea kayaking in Wales
All our sea kayaking in Wales vacations are small group tours with instructors on hand. Solo travelers and couples love this type of tour as they can explore on the water with people of all shapes and sizes, ages and abilities. Departure dates are fixed throughout the spring to autumn kayaking season.

Sophie Hurst from our outdoor activity experts, Preseli Venture, explains how her company are trying to ensure sea kayaking has a sustainable future: "Pembrokeshire is a national park and it's owned by the National Trust. What we need for a sustainable future is for outdoor tourism to be managed properly. We need to find new spaces along the coast and to manage the number of activity companies using each area. Ecologists are very happy with our sea kayaking and coasteering tours as we're no trouble, whatsoever, to the wildlife. The seals and sea birds are simply not affected by our presence. But this might change if there are too many people coming to the same place at the same time. It's simply not sustainable and might well damage the natural environment that people are attracted to in the first place."
Where to go sea kayaking in Wales
Pembrokeshire National Park is the sea kayaking epicenter of Wales. You've got beautiful Blue Flag beaches like Newgale and Aberporth as well as out of the way locations like Abermawr. Some beaches are all pebbles until the tide recedes to reveal swathes of golden sand.

Cardigan Bay – the largest bay in Wales – is awash with sublime spots to go sea kayaking, with plenty of puffins and porpoises providing ample excuses to sit and stare from ludicrously unique perspectives.

While much of the Pembrokeshire coastline promises sheltered shores for beginners to get to grips with the basics, islands like Ramsay, Skomer and South Bishop allow advanced kayakers to gain access to extra special locations – strict rules apply, though.

Grassholm Island is great for gannets. On land you'll find bluebell woods, just a short walk from shingle and pebbles, while seaside towns send out a siren's call from steamed kitchen windows. A bubbling bowl of cawl will warm you up nicely at lunchtime.

In Fishguard harbour, Pembroke Castle or the Pentre Ifan burial chamber, tales of smugglers, sailors and pirates plant a tad more puff in your pipe, as you take to the water and suck in the sea spray.
Our top Wales Vacation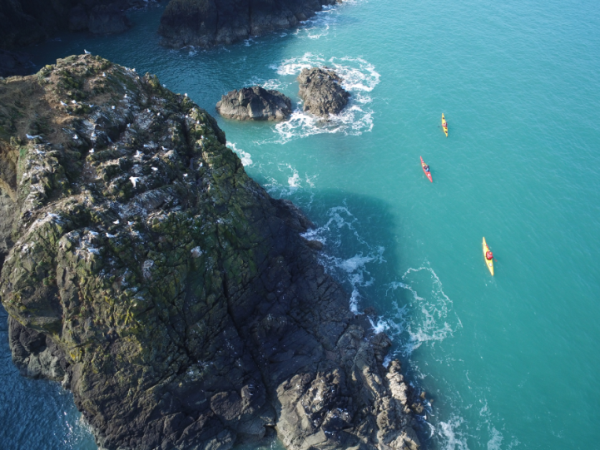 Sea kayaking exploration on the North Pembrokeshire coast
From
£

365

to

£

685
2 days
ex flights
Small group travel:
2023: 23 Jun, 9 Jul, 18 Aug, 8 Sep, 10 Sep, 17 Sep
If you'd like to chat about Wales or need help finding a vacation to suit you we're very happy to help.

Where to stay when sea kayaking in Wales
If you're on an organised small group vacation, accommodation will be at a clean and comfy ecolodge that has hot showers, as well as a warm welcome at the bar and restaurant. Group transportation in a 16-seater minivan will take guests, kayaks and coasteering gear from the lodge to the ocean access site. After all, sea kayaking is one of the world's least disruptive modes of transport; it would be a shame to ruin things by arriving in a cavalcade of cars.

Sophie Hurst explains how her ecolodge accommodation is not only enabling guests to access the coast in a sustainable way, but also helping to support the local community: "People are naturally attracted to this area of South Wales because of the seals, sea birds, offshore islands and lovely clean and untamed beaches. Tourism here is great for the service industries, such as the locally owned pubs, restaurants and places to stay. As we have our own 40-person ecolodge, like an old-fashioned activity center, we also employ cooks, cleaners and seasonal staff, which directly benefits the local economy. We're open all year round and are able to offer local people employment options."
When to go sea kayaking in Wales
In general, May to October is when most of our sea kayaking vacations in Wales take place. Headlands and hillsides cast in wildflowers make spring a spectacular season for sea kayaking, with colours continuing into the summer as sea campion and rock samphire turn coastal slopes into works of art. May and June aren't just a riot of colour; they're a cacophony of noise, too, as auks, razorbills and guillemots jostle for nesting and fishing space on rocky edifices and cliff ledges.

Atlantic grey seals have their pups in August and September, which is great news for sea kayakers as this is when the water temperature is reaching optimum levels. Seals, as well as porpoises and dolphins, can often be seen in Wales as late as October and November. The sea is still relatively warm in the autumn, but you'll need to start kayaking early to make the most of the diminishing daylight.

Don't discount the winter, though. Yes, it's somewhat 'fresh' but the surf's up and the pubs are practically empty of vacationmakers. This is the time of year for tatws pum munud (five-minute stew) and trollies (dumplings) by the fire.