Walking in Norway
---
Summer walking ideas
Summer walking ideas in Norway
---
The best way to explore a new country is on foot. Taking to two legs automatically means spending less money yet more time to soak up your surroundings, while getting far away from roads, towns and vehicles. You can explore at a slower pace and get closer to the wildlife – from the trees and flowers that pepper the landscape, to the birds and animals that live in it.
This summer, exercise those hiking boots in a country that could have been made for hiking – Norway. In this Scandinavian beauty you'll find everything from short strolls and rambles to long-distance tracks, crisscrossing a variety of terrain from the south's dramatic coastline to the north's arctic snowscapes. Walking routes pass through spectacular mountain ranges, into dense forests, across high plateau and deep down into glacial valleys.
And then there are the fjords, unimaginably deep water trenches where the highest mountains and cliffs literally rise right out of the sea. They are incredible works of nature which will leave you open-mouthed in awe. If you need a real breath of fresh air, Norway is the place for you - wherever you go you will appreciate the exhilarating feeling of space and the freedom to roam.
If you are looking for value for money, consider a self-guided walking vacation in Dovrefjell National Park. Follow the Pilgrim's Trail through this spectacular mountain area and you could see herds of musk ox and large birds including the golden eagle and gyrfalcon. Alternatively, head for Rondane National Park – Norway's first – to explore what many consider to be the country's most spectacular mountain range and see small game such as hare and grouse.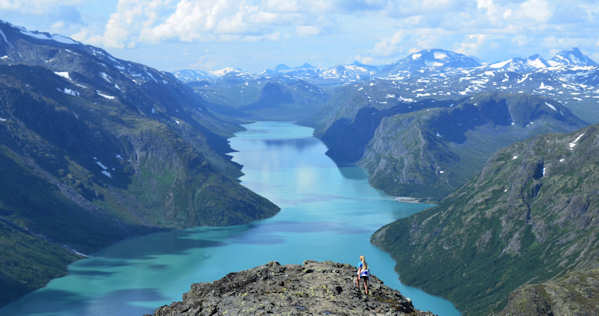 For something a little more adventurous take a hike up above the tree line on a challenging walking vacation through the heart of the park and discover how the land here formed with the help of its glaciers. Another challenging walk is the climb up Norway's second highest peak, Glittertind, and through the heart of rugged Jotunheimen National Park, which includes the famous Besseggen ridge. Walking vacations here include reasonably-priced cabin-to-cabin itineraries as well as itineraries based around one hotel, but all are suitable only for those with walking experience – and sturdy shoes!
Of course the country's crowning glory is its famous fjords, and there are several itineraries which focus on exploring these wonders of nature. For those with only a little time to spare, a short break will still include cascading waterfalls plunging into narrow fjords, mountains up to 1,600 metres high and some time on the water itself; while a slightly longer itinerary could include full-day hikes through remote valleys and even a glacier walk.
If you are on a budget, you can combine the fjords with the mountains on a cabin-to-cabin vacation through the mountains of Skarvheimen and down the Aurland valley to Aurlandsfjord or on an eight-day hike from the high mountain plateau of Hardangervidda past numerous waterfalls to the unforgettable Hardangerfjord. Joining either one of these itineraries will mean you'll pack in sights by the rucksack-load and see a huge amount for one affordable price.
Wherever you ramble, be sure to seek out traditional Norwegian cuisine once you've hung up that hiking gear for the day. Don't miss Norway's high quality smoked salmon, or try it as gravlaks – salt- and sugar-cured and seasoned with dill. If meat is more your thing, try moose, duck or even reindeer, served with a rich sauce of juniper or lingonberries, and finish up with a dessert of cloudberrys, a local delicacy which grows wild across the country. Be sure to fill your boots though – there's more to see tomorrow.
Photo credits: [Besseggen:
Nick
]