Western Australia responsible travel guide
Perhaps due to its distance from Australia's more metropolitan east coast, Western Australia is sometimes overlooked by international visitors. But this would be a big mistake! It is an awesome place, from whitewashed beaches and emerald forests, to dusty outback tracks through ranges that look like they are caught in a permanent sunset. Everywhere you go is bursting with wildlife, from the iconic 'roos' bounding close to the road to the rare whale sharks who visit Ningaloo Reef and the pint-sized quokka which you will see nowhere else in the world. Our Western Australia travel guide brings you first hand knowledge of what Western Australia has to offer from the people who live there.
Western Australia's size and contrasts can be mindboggling. The trick to exploring the state is to focus on one or two of the main geographic areas at once. Combine Perth with the South West, the Coral Coast or the North West.

Coastline: More than 12,500 kms bordering the balmy waters of the Indian Ocean isn't bad for starters. Add to that one of the world's largest and best preserved coral reefs; many of the world's top locations for dolphin and whale encounters; plus many of Australia and the world's top surfing beaches and you begin to get the picture.

Outback: The Kimberley region and Karijini National Park in the North West boast some of the most compelling and unusual landscapes in Australia.
Indigenous Tourism: Aboriginal culture is being celebrated and promoted in WA as never before.
Food and Wine: The Margaret River region produces many of Australia's very best wines and is a center for gourmet dining.
Culture: The capital, Perth, has an outdoor lifestyle thanks to its barmy weather and its nightlife is enjoying a renaissance. It's no wonder WA has a reputation for being friendly and chilled out.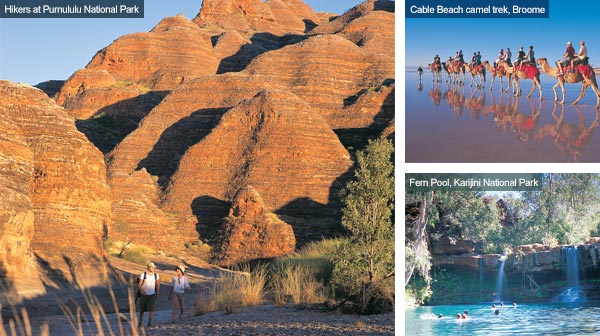 Responsible Travel would like to thank the Western Australia tourist board for their sponsorship of this guide