Events in Western Australia and nature's calendar...
January 2012
BMW Perth Cup, Perth (1 Jan): Perth Cup at Ascot racecourse is Western Australia's premier horse race as well as the major social event of the year. Established in 1887, it is a Perth institution. A cocktail of fashion, fun and racing, the event attracts a cosmopolitan crowd of around 30,000 people.
Australia Day, state wide (26 Jan): The day commemorates the arrival of the First Fleet at Sydney Cove in 1788 but the biggest celebrations in Australia are in Perth. The Swan comes alive with a huge firework display, music and community events run throughout the city. Celebrations are also held state wide.
Hyundai Hopman Cup XX1V, Perth (31 Dec - 07 Jan 2012): This prestigious tennis tournament attracts some of the best players in the world vying for the Hopman Cup crown. During its 23 year history, the event has seen the likes of Serena Williams, Steffi Graf, Roger Federer and Andy Murray compete.
The Lancelin Ocean Classic, Perth Surrounds (12-15 Jan): Australia's four day premier Windsurfing event attracts the world's best athletes to the beautiful cray fishing town of Lancelin, one hour north of Perth.
February 2012
Perth International Arts Festival, Perth (10 Feb - 03 Mar): Experience a feast of exhilarating, cutting-edge performances in theatre, music, film, art and literature at this multi-arts festival. Spread over three weeks and in venues throughout the city, the Perth International Arts Festival provides amazing entertainment for all ages and tastes.
March 2012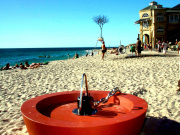 Taste Great Southern, south west (02 - 05 March 2012): held over a long weekend, this event showcases the food, wine, arts and crafts from the Denmark, Albany and Mt Barker region.
Sculpture by the Sea, Perth (01 - 19 Mar): A free art exhibition on Perth's most popular beach Cottesloe. Over 70 sculptures by local and international artists transform the beach into an outdoor art gallery for 19 days each March.
Channel 7 Mandurah Crab fest, Perth surrounds (16 - 18 March): Festival goers enjoy superb cuisine and an amazing array of entertainment including fashion parades and motor-cross stunts in the vibrant city of Mandurah, 30 minutes south of Perth. Highlights include cooking demonstrations by local chefs as well as live music at the Salute Stage and Boutique bar.
Coral spawning and whale sharks, coral coast (from March to June): One night each March, the waters of Ningaloo Reef come alive as more than 200 species of corals spawn. The waters are filled with brightly coloured polyps, which attract krill, who draw in larger fish including the graceful and gentle giants of the sea – the whale sharks. The world's biggest fish, the whale sharks spend their days basking along the reef.
Telstra Drug Aware Pro Margaret River, south west (19 – 26 March 2012): The Drug Aware Pro is one of Australia's top surfing events. People from all round the world converge on Surfers Point in Margaret River each year to be tested by some of the most powerful waves in the world for pride and a share of the AUD270,000 prize pot. Don't miss out on the festival combining surf, music and art.
Margaret River Wine Region Festival, south west (March TBC): The Margaret River Wine Region Festival is five day wine, food, art, music and lifestyle festival to celebrate the entire Margaret River Wine Region from Augusta to Busselton. The event includes opening Street Fiesta's, vintage festival, slow food long table feast, fashion and sporting events in various regional towns.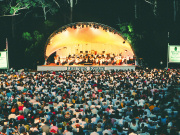 April 2012
Fremantle Street Arts Festival, Perth surrounds (07 - 09 April 2012): Experience the skill and outrageous behaviour of the world's best buskers as they perform street theatre acts in the vibrant port city, in front of more than 100,000 people.
May 2012
Argyle Diamonds Ord Valley Muster, north west (25 May – 03 June 2012): Be entertained with over two weeks of music, dance, art and indigenous cultural treats in the Kimberley town of Kununurra. The highlight is the award winning Kimberley Moon Experience, a moonlit concert set on the banks of the Ord river featuring iconic Aussie bands. May also marks the beginning of the dry season in the north west, the best time to visit.
Beach Polo Festival, north west (06 – 13 May 2012): This free public event features Australia's top professional polo players vying for the Paspaley Cup. Held on the picturesque Cable Beach in Broome, the blazing sunsets compete for your attention as the sun melts into the turquoise waters of the Indian Ocean.
Whale migration, all state (May to November): May signals the beginning of the annual whale migration, as humpback and southern right whales swim from the food-rich southern ocean to breeding grounds in the warm Kimberley waters. They return south, hugging the coast with their calves in November. There are many whale-watching cruises and plenty of land-based lookouts with excellent vantage points.
June 2012
The Kimberley Heritage Cattle Drive (selected dates in June and July see http://www.hvstation.com.au/): Join a six day horse riding adventure in the Outback. Help drover boss 'JR' round up feral cattle in Australia's wild Kimberley region and herd them along old stock routes camping out in swags under the stars.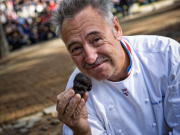 July 2012
Derby Boab Festival, north west (TBC): the Derby Boab Festival is a celebration of the lifestyle of the West Kimberley. It is one of WA's longest running festivals, showcasing the talents and attractions of the region.
Mundaring Truffle Festival, Perth surrounds (28 - 29 Jul): Every August the Perth Hills come alive with the scent of truffle. Western Australia is one of the rare places in the world where the black truffle grows in abundance. Indulge your senses at a cooking master class, the gourmet produce market or over wine and truffle tastings.
Wildflowers bloom, all states (Jul - Nov): WA's landscape bursts with colour when native wildflowers bloom across the State. From the national parks of the coral coast to the countryside in the southwest and golden outback, wildflowers are abundant and can be explored independently, or as part of an organised itinerary.
August 2012
The Avon Descent, Perth surrounds (04 - 07 Aug): Competitors pit themselves against the mighty Avon River in a variety of power and paddle crafts in an exciting two-day time trial over 134 kilometres. The Avon Descent attracts participants from throughout Australia and overseas.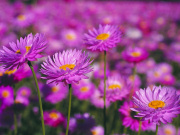 September 2012
Kings park Wildflower festival, Perth (01 - 30 Sep): Western Australian blooms are on show for the month of September in Kings Park and Botanic Gardens. Colourful wildflowers will be coupled with the Festival's packed events programme including gardening workshops, art displays, and live music.
Kalgoorlie Race Round, Australia's golden outback (15 - 23 Sep): The Race Round, as much a carnival as a horse racing event, is country racing at its best. While most of the action takes place on the course, there are also fashion events, picnics and stalls, games and a party which takes over not just Kalgoorlie but the nearby ghost town of Ora Banda as well.
Shinju Matsuri Festival, north west (31 August - 09 Sep): Also known as 'the festival of the pearl', Shinju Matsuri combines Japanese, Chinese, Indigenous and European traditions in one 10-day long party to celebrate Broome's pearling history. The event includes art exhibitions, Dragon Boat Racing, float parades, concerts and Pearl Meat tastings.
October 2012
Spring in the Valley, Perth surrounds (dates TBC): Over 38 Swan Valley producers open their doors for Spring in the Valley – a celebration of the area's gourmet food, wine, and beer. Loved by locals and visitors alike, last year attracted more than 50,000 people.
Cape to Cape MTB, south west (25 - 28 Oct): Hop on your bike for an adventure of a lifetime on the Cape to Cape MTB. The four day mountain bike event through the Margaret River region, takes in rugged coastline, centuries-old forest, world-renowned wineries and some of the best beaches in Australia.
November 2012
Anaconda Adventure Race, South west (03 - 04 Nov): Teams and individuals run, swim, kayak and mountain bike along a spectacular off road course around Augusta and the impressive Cape Leeuwin Lighthouse as part of the world's biggest adventure race.
Broome Mango festival, north west (25 - 28 Nov): Every year Broome celebrates its mangos with four days filled with tastings and events dedicated to enjoying the tropical fruit in every form, from cooking demonstrations, to mango beer and cocktail tastings and mango jams making contests.
December 2012
Turtles, coral coast (Dec - Feb): Between December and February, Green, Loggerhead, Hawksbill and Flatback turtles mate along Ningaloo reef before dragging themselves ashore to lay eggs. You can view the egg-laying and hatching, while participating in environmental programs to help re-establish their breeding colonies.

If you were interested in these Western Australia events then read about
culture
in Western Australia and our
suggested itineraries
Responsible Travel would like to thank the Western Australia tourist board for their sponsorship of this guide