Outback accommodation in western Australia
The Gibb River Road is an old drover's track which snakes across the heart of the Kimberley passing though some of the most spectacular scenery on the Australian continent.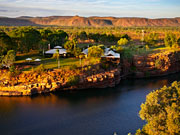 Hotels, cattle stations & campsites
There are plenty of places to stay on the Gibb River Road but remember it runs through private land which belongs to someone. So wild camping is not recommended but there are plenty of camp sites, and most cattle stations now offer B and B or full board options.
These range from the basic to top end resort style comfort - El Questro station not far from Kununarra is one of the most luxurious hotels in Western Australia.
Set on a million acres,
El Questro Wilderness Park
has gorges, savannah and rain forest. There is a wide range of accommodation, from riverside camping to top end suites. Numerous activities are on offer, from riding and fishing to helicopter flights.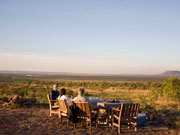 Home Valley Station
is owned by the Indigenous Land Corporation and offers training opportunities for Aboriginal people in both farming and hospitality. The 700,000 acre station is still a working farm and visitors can go out on mini musters rounding up steers on horseback. There are both campsites and top of the range accommodation plus an excellent restaurant.
Don't miss the sunset over the magnificent Cockburn ranges from the vantage point above Home Valley.

John "JR" Rodney, Pastoral manager and horse trainer at Home Valley Station
"There is no place in the world like the Kimberley - this is the last frontier in Australia and one of the last real frontiers in the world"
Ellenbrae Station
. A good place to rest for an hour or so in the shady cool of the old station house surrounded by mango trees. Campsite and some limited accommodation available, and the best cream tea to be had on the entire Gibb.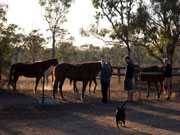 Mt Elizabeth station
. Here you'll find simple accommodation with half board available and also a campsite. There are some beautiful gorges on the station plus opportunities to go trekking and fishing.
Charnely River Station
. Some 40km off the Gibb this working station has simple bunkhouse accommodation with a kitchen available plus rooms on a B and B or half board basis. There is plenty to see on the station, with many gorges and swimming holes.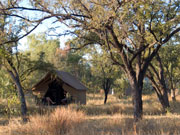 Mt Hart Wilderness Lodge
. On a rocky road 50km off the Gibb with more than 30 creeks to cross, the pretty homestead surrounded by a dense mass of tall shade trees is in the heart of the King Leopold Ranges. Tame dingoes and their owner Taffy Abbot will give you a warm welcome.
Accommodation is in two separate houses, and the food excellent. There is a campsite by the river. Make sure you see the video narrated by Taffy about the difficulties of running Mt Hart as a cattle station - so remote and with difficult access it proved impossible to muster the cattle and get them to market.

Taffy Abbots, owner of Mt Hart Wilderness Lodge, Gibb River Road
"What makes it so unique is the beauty of these ranges - these are some of the oldest in the world - it's such beautiful scenery - and such a beautiful feel to it all"

Read more about
Outback adventures
and the
Gibb River Road
in Western Australia
Responsible Travel would like to thank the Western Australia tourist board for their sponsorship of this guide