Outback adventure suggested itinerary, Western Australia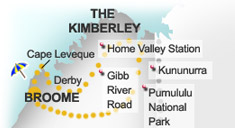 If you have two weeks to explore Western Australia, try our Outback Adventure suggested itinerary in Australia's North West.
The Gibb River Road is one of Australia's classic outback drives. The 660 kilometre journey is accessible only between May and October. The rest of year is often rained out or rivers are too swollen to cross. Allow at least 15 days to make the most of this four wheel drive adventure.
Broome
Fly to Broome (approx 2.5 hours from Perth). 2-5 days is suggested to spend in Broome. Relax on Cable Beach, undoubtedly one of the world's most photographed beaches. Its pure white sand bordering a brilliant blue ocean is just the place for a leisurely stroll and a rejuvenating ocean swim. If your timing's right, you can also witness a true natural phenomenon - the Staircase to the Moon. This stunning optical illusion occurs for three nights each month from March to October, when abnormally low tides of up to seven metres coincide with the full moon. Another interesting natural attraction is Gantheaume Point, where you can see dinosaur footprints believed to be more than 130 million years old.
Broome - Cape Leveque (approx 200km)
Enjoy breakfast overlooking Cable Beach before heading to Cape Leveque on the Dampier Peninsula. Well off the beaten track, allow up to three hours to drive from Broome. Accommodation includes rustic cabins and safari style tented retreats. Camping is permitted in designated areas and available at properties scattered across this stunning cape. Overnight: Kooljaman at Cape Leveque - a multi award winning Aboriginal owned wilderness camp. Stay in safari tents, cabins, beach shelters or set up camp.
Cape Leveque - Derby (approx 350km)
Take the three hour journey back to the Broome Highway, turn left and continue along the road to Derby (approximate two-hour drive). If you have time, stay a day in Derby and enjoy the great fishing or a scenic flight over the Buccaneer Archipelago, Horizontal Falls and King Sound.
Derby - Windjana National Park (approx 150km)
The start of the Gibb River Road. Spend the night at the Windjana Gorge camp site, within the stunning Windjana Gorge National Park, and take a trip out to explore the spectacular Tunnel Creek.
Windjana Gorge National Park - Bell Gorge (approx 50km)
Follow the road into the Kimberley highlands, stopping at Lennard Gorge for a swim on your way to Bell Gorge to camp under the stars, or travel a little further to Mount Hart Homestead.
Bell Gorge / Mount Hart Wilderness Lodge (approx 115km)
Mount Hart Wilderness Lodge is a good base for exploring the untouched landscapes of King Leopold Range Conservation Park. Stay at the homestead or head back to Bell Gorge campsite.
Bell Gorge / Mount Hart Wilderness Lodge - Manning Gorge (approx 80km)
Stop at the spectacular Galvans Gorge on the way to Mount Barnett roadhouse and the camping ground at Manning Gorge (fees payable). Join a guided walk (operated by Mount Barnett roadhouse) up the river to Upper Manning Gorge.
Option - Travel to Mornington Wilderness Camp
Run by Australian Wildlife Conservancy this non profit organisation dedicated to the conservation of Australia's threatened wildlife and eco systems. Stay in one of 10 safari-style tents each with ensuite and a private balcony, or camp in the nearby shady grass. All money spent here goes back into nature conservation.
Manning Gorge - Drysdale River Station (approx 140km)
Head for Drysdale River Station - the gateway to the Mitchell River National Park, Mitchell and Merton Falls, Surveyors Pool, Mitchell and King Edward rivers as well as many historical indigenous sites. Stay for two nights in cabin-style accommodation or camping in the station grounds.
Take a morning charter flight over the coastal canyons of the Prince Regent River, circle the Mitchell Falls and fly along the dramatic Kimberley coastline. In the afternoon, explore the rainforests and open woodlands surrounding Drysdale River Station, or go fishing on the riverbanks.
Drysdale River Station - Home Valley Station (approx 120km)
Head towards Home Valley Station. An outback oasis nestled at the foot of the spectacular Cockburn Range, the station offers wide range of guided tours, activities, and accommodation options. Overnight: Home Valley Station.
Home Valley Station - El Questro Wilderness Park (approx 35 km)
The journey to El Questro Wilderness Park takes you past the popular swimming spot at Durack River crossing, Jack's Waterhole (famous for its barramundi fishing), the Cockburn Ranges and the stunning Pentecost River. Arriving at El Questro Wilderness Park you'll find a wide range of guided nature experiences and accommodation options. Spend a few days exploring the park. Visit the thermal ponds at Zebedee Springs or take a boat down the Chamberlain Gorge and try barramundi fishing. Overnight: El Questro Wilderness Park.
El Questro Wilderness Park - Kununurra (approx 80 km)
Arrive in Kununurra and take a flight south over the Bungle Bungle Range in the World Heritage listed Purnululu National Park. Next, take a walk through the park's amazing landscapes before heading back to Kununurra. From here, you can follow the Great Northern Highway back to Broome, stopping at Fitzroy Crossing and taking a guided tour along the canyons of Geikie Gorge along the way.
Note:
This itinerary is a guide only. All distances are approximate. An adventure such as this requires drivers to take necessary precautions to ensure a safe journey. Accommodation suggestions do not list the full available accommodation options in each town.
Responsible Travel would like to thank the Western Australia tourist board for their sponsorship of this guide