Western Australia luxury
There is no shortage of four- and five-star hotels particularly in Perth and Broome with luxurious resorts also offering the best accommodation and gourmet dining in popular tourist destinations like Shark Bay, Ningaloo Reef and the Margaret River region. Perhaps most unusual are the luxury bush camps that are starting to spring up in some of the national parks, styled on Africa's five-star safari accommodation.
Ningaloo Reef luxury accommodation
Sal Salis Wild Bush Luxury Camp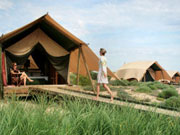 Taking its inspiration from Africa's luxury tented safari camps, Sal Salis is located in a remote wilderness location in the coastal dunes of Cape Range National Park just a short stroll from the sea and Ningaloo Reef, one of the most pristine reef systems in the world.
At the moment there are five spacious wilderness tents (an application for four more is currently being considered by the Department of Environment and Conservation (DEC)) in easy walking distance of a tented dining and relaxation area.
The tents, with en-suite bathrooms at the rear, have a rustic and ecological simplicity in keeping with the surrounding natural environment and an ultra low-impact policy is observed throughout with composting toilets, solar-heated hand-pump showers and hand made native soaps. The only visitors are the occasional emu or inquisitive euro (the technical name for the local kangaroo species).
Activities include snorkeling on Ningaloo reef which is just metres from the shore; kayaking out to the Blue Lagoon, a five-metre deep natural aquarium where huge schools of fish and turtles swim among the coral; walking through nearby Mandu Mandu gorge where there is an excellent chance of spotting the rare black-footed rock wallaby gazing silently down at you from its cliff-side eerie; or learning about the region's ancient geological and aboriginal history including a nearby cave where the world's oldest necklace was recently discovered.
Read more and book this accommodation

Mike Zerbes - Guide, Sal Salis Wild Bush Camp
"Ningaloo Reef is one of Australia's best-kept secrets"
Video: Luxury eco retreat
Nestled amongst the sand dunes of Ningaloo Marine Park, this eco retreat leaves a minimal footprint on this precious piece of wilderness without compromising comfort.
Novotel Ningaloo Resort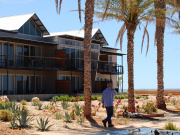 A four-star hotel located on Sunrise Beach, part of the new marina development in Exmouth adjacent to Ningaloo Marine Park, about 1,250 kms north of Perth. The hotel makes a perfect base for exploring the region (including nearby Cape Range National Park) and enjoying the many marine activities available nearby.
The resort has a choice of one-, two- or three-bedroom apartments or bungalows all looking out over the beach towards Ningaloo Reef itself, the largest fringing coral reef in Australia.
The award-winning Mantaray Restaurant looks out over a lagoon style pool and terrace to the ocean beyond with a modern brasserie-style menu with the emphasis on fresh, local sea food and local produce.
---
Accommodation in North West Australia
Eco Beach Wilderness Retreat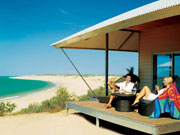 One of the world's most remarkable destinations, Eco Beach Wilderness Retreat is an eco resort set in a pristine and untouched landscape just one hour's drive south of Broome.
The retreat offers guests a perfect parallel of Kimberley beach and bush with the comfort and class of a resort and remarkable views of the Indian Ocean. Accommodation is provided through a variety of beautifully appointed self-sustaining Eco Villas and luxury safari style Eco Tents, all interlinked by a series of elevated wooden boardwalks.
The villas have the latest environmental design features including solar power, energy efficient LED lighting and an energy monitoring system which allows guest to check and adjust their energy usage. Windows and doors have been positioned to make the most of the cooling sea breezes and the high ceilings provide natural cooling efficiency for a natural alternative to air conditioning.
At the centerpiece of the retreat lies Jack's Bar, an awesome ocean-front bar, restaurant and pool deck with alluring infinity pool. Enjoy refreshing cocktails and culinary delights whilst taking in the breathtaking views of one of the finest stretches of coastline in the world.
Eco Beach is also the perfect place to unwind and relax. The health suite pampers guests with complimentary yoga sessions and additionally there are a range of health and beauty packages available "in-room".
In season the beach itself provides a haven for nesting turtles whilst migrating whales frolic offshore. Activities are tailored to enhance your wilderness experience and include guided nature walks, swimming, indigenous tours, game fishing, beach fishing and bird watching. Nearby, Jack's Creek brims with marine life and mud crabs whilst the flora and fauna of the landscape is both equally majestic and diverse
Home Valley Station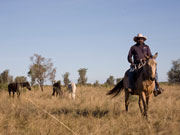 Home Valley Station in the East Kimberley region of North Western Australia is a working cattle station but a stay in their spacious Grass Castles provides a luxury twist to the ultimate Australian outback experience.
Home Valley Station is owned by the Indigenous Land Corporation (ILC) which acquired the pastoral lease in 1991 on behalf of the Balanggarra people, who are the traditional owners and runs an indigenous training center. The trainees are integral to the property, who combine their tertiary courses with day-to-day work on the cattle station and with the guests.
The Grass Castles are lavishly appointed but allow guests to enjoy the awesome surroundings, providing guests with the ultimate in outback lodging. There are also the more casual Homestead Guesthouse Rooms, a comfortable retreat perfect for couples and families or the simple safari-style Sand Castle Eco Tents, located in a quiet bush setting.
Home Valley Station is set at the base of the majestic Cockburn Range and is the perfect location for barramundi fishing, boating, ancient gorge walks, cattle mustering, horse riding, hunting, target shooting and more. Coupled with the valuable knowledge of our Indigenous Tour Guides, Home Valley Station offers the opportunity to experience an outback adventure like no other. It is also one of the few stations along the Gibb River Road to operate throughout the dramatic wet season with specific tours catering to this exciting time of year (1 Nov - 31 March, excluding December).
Read more and book this accommodation

Explore our Western Australia travel guide:
discover Western Australia

Find more
Western Australia luxury vacations
Responsible Travel would like to thank the Western Australia tourist board for their sponsorship of this guide