Top 10 wilderness vacations
---
WHERE THE WILD ONES GO
We have so many forays that are both feral and fun at Responsible Travel it that you may be wondering where to start. Well, with an expert wilderness vacation provider, that's where – because you don't want to go out into the vast glacial terrain of Patagonia or Borneo's rainforest without someone who knows what they are doing. You can't explore Kamchatka without an expedition skipper who knows the migratory movements of marine marvels like whales or sea eagles. The Wild Taiga of Finland is best seen with the indigenous Sami. And if you want to discover the wildest part of Italy, then you just have to ask Sibyl. Read on to meet Sibyl.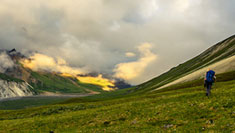 Alaska
You do get coachloads and giant cruises in Alaska, but so much remains wild, too. Get well off the beaten path in Denali National Park, and canoe, camp or hike. Or combine a husky sled adventure with Northern Lights chasing. Wrangell-St Elias National Park is another world completely, with 150 glaciers and nine of the highest peaks in the USA. Alaska's vast; voracious wilderness seekers won't go hungry.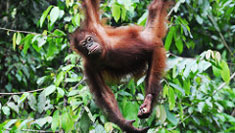 Borneo's orangutans
Seeing orangutans in the wild is an experience many wildlife lovers covet and crave. Borneo and Sumatra are the only places in the world to see them in ever dwindling numbers. Some orange-fans volunteer in excellent rehabilitation centers. Others take trek and track through the likes of Malaysian Borneo's Kinabatangan River valley, where the isolated forests are home to a menagerie of monkeys too.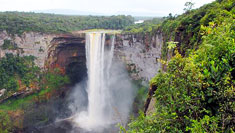 The Guyanas
This South American region is made up of Guyana, Suriname and French Guiana. Already sounding exotic, right? Wait until you hike with a local expert for days into dense virgin rainforest to stunning waterfalls, past bromeliads and birds of every description. It takes three to trek to Kaiteur Falls – the tallest single drop waterfall in the world, five times higher than Niagara. For small countries, they do big wilderness.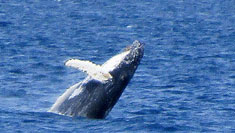 Iceland
Iceland's tourism scene has been almost as explosive as its volcanoes recently; however, it is very easy to jump off the beaten track onto wild ones. More remote parts include the Diamond Circle in the north, with marvels such as whale watching in Mývatn-Húsavík , the dramatic Jökulsárgljúfur Canyon or hiking right out there on the West Fjords in Hornstrandir Nature Reserve. Ssshhhhh. Don't tell the coachloads.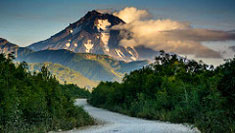 Kamchatka, Russia
Where? Exactly. Well, you wanted wilderness and you got it. Right out there on the eastern edge of it all, that's where. Like nowhere else in Russia this is a peninsula with island habitats for polar bears, active volcanoes, an orgy of ornithology and marine wilderness like no other. And whales. It's wacky in its wildness.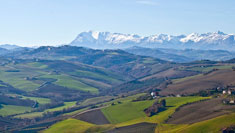 Mount Sibillini National Park, Italy
One doesn't really associate Italy with wilderness. But this national park offers sublime wild places. These stunning, virtually unknown mountains tower over the Umbria-Marche Apennines and are named after a legendary prophetess, Sibyl. Sibyl is guardian to Infernaccio Gorge, Mount Bove, the Val di Panico sinkholes and the Big Loop Walk through barren, karst limestone landscapes.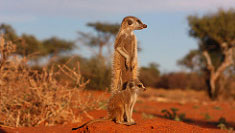 Namibian safari
Although many safaris take you into wild places, Namibia' eclectic mix of untouched terrain gets our vote for utterly wild beauty. Overland tours take you into the heart of prolific wildlife habitats, including Damaraland, Etosha National Park, the Namib and Kalahari Deserts, the latter also taking you into Botswana. And for a whole other world, explore the giant dunes and trees skeletons at Sossusvlei.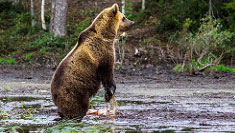 North Finland & Wild Taiga
The Kaiuuu region, famous for its stunning taiga forest and Hossa National Park, is far out even by Finnish standards. Walk hut to hut, enjoy wilderness saunas and bear watching – not at the same time, mind. Winter is a whole other beautiful ballgame, with huskies chasing the wilderness, and you chasing Northern Lights. Stay in remote lodges and go snow shoeing or cross country skiing on Arctic Hills.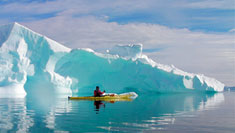 Patagonia
The end of the earth for many, this is one vast region shared between Chile and Argentina. Go trekking in the Lake District or Torres del Paine National Park, or enjoy a marine expedition to Cape Horn to see whales or penguins. Horse riding is also very much the Patagonian way to go, and you'll feel more like on top of the world than the end of the earth hiking on glaciers at Los Glaciares.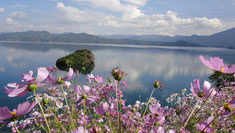 Yunnan Province, China
Hiking in the Yunnan is like walking along with the greatest story podcast. Every trail oozes tradition, from the ancient Tea and Horse tea house dating back to Silk Road times, to the isolated Mosuo community around Lugu Lake. This mountainous wilderness seems to have a different ethnic group over every ridge such as the Naxi people and the Tibetan heritage of Zhongdian, in Himalayan foothills.


Wilderness vacations travel advice
---
TIPS FROM THE WILD ONES
Mongolia
---
Jess Brooks from our supplier, Eternal Landscapes, shares her Mongolian wilderness advice: "You must be prepared for some traveling days if you want to experience a variety of landscapes… Try to arrange a trip that includes 'ger' accommodation provided by rural families and ask your tour operator to arrange for you to spend a day helping a nomadic family with their daily chores. This includes activities such as collecting dung to dry for fuel, collecting water from the well and rounding up the sheep and goats for milking. These are all tasks that they repeat day in and day out and they are often delighted and appreciative if you show an interest and get involved."
Finland
---

Urpo Heikkinen, of Finland's Wild Taiga supplier, Upitrek:
"I really recommend cross country skiing. You go from place to place, spending each night with different people – you feel like you're having an adventure. The rhythm is flexible and it's much easier than walking; you can cover great distances while still seeing wildlife and tracks in the snow. On the downhill sections you'll enjoy the speed. In these remote areas people still have a more traditional way of living – they have gardens where they grow their own vegetables; it's always Finnish food made with local ingredients, so no pizza or pasta! It all comes from very close by."
Iceland
---
Emmanuelle Bluman from our supplier Alkemia, which specialises in remote parts of Iceland, offers tips for connecting with the island's unique landscape: "Most of what you'll experience you won't have anywhere else because Iceland is a volcanic land almost on the Arctic Circle. In winter, you have the Northern Lights; in summer the midnight sun. You have geysers, smoke, solfatares (aka fumaroles – geothermal openings in the Earth's crust that emit gases from inside the planet), places where basically the ground is boiling under your feet! Untouched and wild places like none that exist in the rest of Europe – no houses, just hiking paths... And not forgetting bathing in natural hot water pools!"
Far eastern Russia
---
Cassia Jackson, Sales Manager at our top supplier, Heritage Expeditions, is a fountain of knowledge when it comes to far eastern Russia:
"Wrangel Island, a UNESCO World Heritage site, is home to a large polar bear population, as well as Pacific walruses, Arctic foxes, snowy owls, snow geese, musk ox, reindeer and more. It is also believed to be the last home of the woolly mammoth. Mammoth tusks and bones are regularly unearthed in the riverbeds and interior of the island. When I was on Wrangel Island, I was lucky enough to spend some time with a group of mammothologists (best job title ever!) learning about their fascinating work uncovering more details about Wrangel Island's former inhabitants."
Yunnan, China
---
Mia Yang, from our specialist supplier, China Highlights, shares her tips for visiting Yunnan: "When in the countryside, don't photograph an old person without his or her permission. Also, be prepared that toilets in the countryside are usually not clean. It is wise to always bring your own toilet tissue, and use the bathroom of your hotel before you hit the road. Otherwise, embrace the experience with an open mind. Yunnan is home to many ethnic minorities, each living by their own customs and traditions. When visiting ethnic villages, be courteous and observe any signs regarding what to do and not to do. If you are not serious about making a purchase, do not ask for the price of the item you're buying, or try to bargain with the vendor."
Wilderness vacations travel advice
---
TIPS FROM OUR TRAVELLERS
At Responsible Travel, we think the best people to advise our travelers are often... other travelers. They always return from our tours with packing tips, weather reports, ideas about what to do – and opinions about what not to.

We have selected some of the most useful wilderness travel tips that our guests have provided over the years to help you make the very most of your vacation – and the space inside your suitcase.
"Bring along a good mosquito repellent. Try the Finnish Fazer chocolate - it is really excellent!" – Robert Bagley in Wild Taiga, Finland

"Don't underestimate how long it will take you to get over jet lag after returning, or indeed the way in which the wilderness experience will change your outlook on everything." – Howard Robinson in Alaska

"Expect long driving times and bumpy roads - we did over 3,100km, including game drives. The weather is much cooler in Swakopmund than elsewhere." – Maryanne Roach in Namibia

"Trip notes accurately reflect remoteness of trip so be prepared! Great if you want to escape the pressures of everyday life." – Evelyn Vickery in Wild Taiga, Finland

"It truly is 'four weathers' in one day so pack layers and make sure you have a bandana to keep your hair from flying around in the wind. Large denomination dollar notes ensure a better rate of exchange in Argentina. Break your hiking boots in before you go as it's not so much fun doing it on vacation!" – Ruth Edwards in Patagonia

"The scenery was fantastic and some great days walking/climbing. The optional climb of Diablo Mudo towards the end was tougher than expected but very rewarding - don't miss it! It gets very cold at night so make sure you have a good down jacket and a very warm sleeping bag." - Nicola Hoare in Peru's Cordillera Huayhuash

"The best bits were swimming outdoors in the Wadi Bani Khalid and in the Bimmah sinkhole... Take a torch for the night in the desert and the night walk to see the turtles." – Anisha Palan in Oman