Blood Lions
The documentary
Blood Lions
exposes the dark underbelly of South Africa's captive breeding and canned hunting industries. The powerful Blood Lions campaign aims to end captive breeding and canned hunting, later developing into a global
Born to Live Wild initiative
.
Canned hunts involve lions born and raised in captivity, then released into a confined area to become easy targets for fee-paying hunters. The film reveals that in 1999 there were about 1,000 lions caged on farms, by 2005, this figure had jumped to 3,500, and now stands at 7,000.
Additionally, 'cub petting' and 'walking with lions' are advertised as volunteer activities, with well-meaning tourists paying to bottle feed lions, hug them and play with them. The aim here is habituation - the inherent fear that a wild lion would have of a hunter is effectively cuddled out of them, making easy pickings for trophy hunters, and a lucrative revenue stream for hunting operators and predator breeders.
Take action!
Get involved by petitioning South Africa Tourism or the South African Government.
Do not visit a private lion farm. Ask questions before you book a voluntourism trip working with lions (see below).
Watch Blood Lion, the movie.
Like the Facebook page.
Born to Live Wild: If you are a tourism business then sign the pledge for tourism operators.


Here we talk to Blood Lions' Ian Michler about their campaign.
What's your role?
I am the Consultant and Lead Character in the feature documentary film Blood Lions and a co-leader of the Blood Lions and Born to Live Wild campaigns.
Tell us about your campaign in a nutshell?
The campaign has three straight forward aims: 1) To bring an end to all breeding of predators in captivity that is unrelated to conservation, 2) To bring an end to canned hunting, and 3) To end all the exploitative tourism practices such as cub petting and walking with lions. To achieve this, we partner with a range of stakeholders and interested parties from around the world.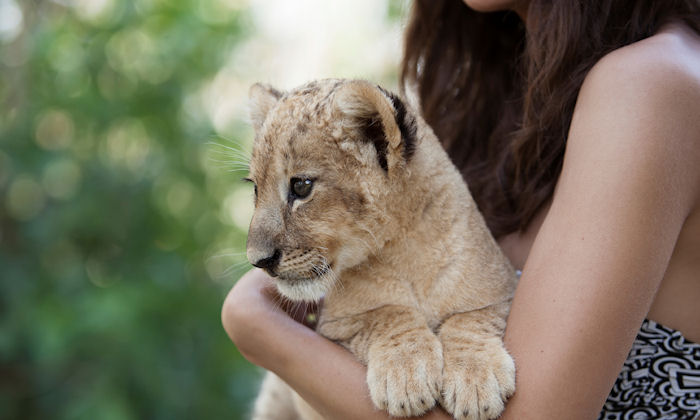 Volunteers often unknowingly pay to raise lion cubs destined to be shot
What inspired this campaign?
The idea and motivation to do the film belongs to Pippa Hankinson, the Producer. She contacted me as I have close to twenty years of experience dealing with these issues and along with our cameraman and co-Director Nick Chevallier, we agreed that an extensive global campaign to end the breeding, hunting and exploitation must become an integral part of the film.
Share with us a story about a person / place / animal that's currently getting a rough ride because of these issues?
Every predator that remains in captivity falls into this category. And our
Facebook page
carries many of these stories and the shocking images and video clips that clearly show the conditions the animals endure. These stories also highlight that the breeding and commercial activities have nothing to do with conservation.
What change needs to happen to make things better?
1) All breeding of predators must stop, and 2) Whether as a hunter or tourism visitor, we need to stop supporting the operators that offer canned hunts and activities that use predators for commercial exploitation.
How will the world be a better place if and when you succeed?
By stopping the breeding and commercial activities we achieve a number of things: 1) we will stop the process of domesticating lions and other species, which speaks to the Born to Live Wild campaign, 2) The fraudulent marketing will end, which in turn will end the misleading and confusing conservation messages being put out, 3) Predators, which are mostly apex and territorial species requiring space to survive will no longer be confined under cramped and cruel conditions, and 4) we send a powerful message that wild species do not exist on this planet merely for our selfish exploitation.
If you had a mega-phone for 10 seconds on a rooftop to get your message out, what would you shout?
Breeding wildlife in captivity is without ethical or ecological integrity. It's purely for selfish commercial exploitation.
If you had a 10 second slot on TV which image would you show to get your message out?
The image of a lion in a crate that appears on all our posters and headlines the website.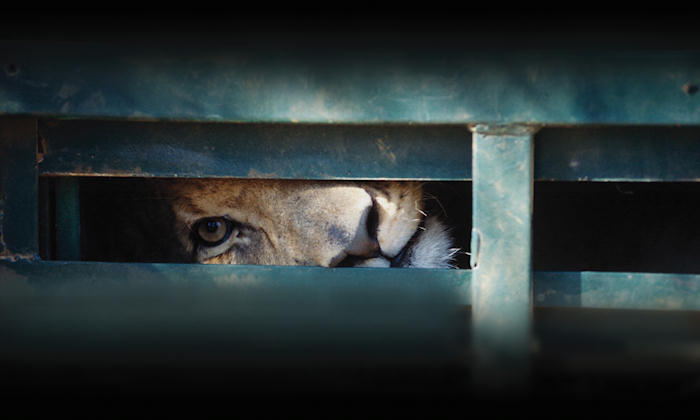 Photo credit: Ian Michler
Is there one person who figureheads this campaign? Tell us about them and their inspiration and aspirations.
There are many people involved in the Blood Lions campaigns. In addition to me and Pippa, Dr Andrew Venter, Lauren van Nijkerk and Nicola Gerrard from Wildlands are key players. And all those involved in making the film. Wildlands have been our partner from the outset, but we have also worked closely with so many organizations from around the world.
What three things can we all do to help?
1) People must make themselves aware of all the issues, 2) Spread the message, and 3) When visiting South Africa, Zimbabwe or Namibia (or any country for that matter), do not visit facilities that offer canned hunting, cub petting, walking with lions or any other exploitative activities involving wild animals. Read more here about
what you can do to get involved
.
How can I spot a genuine conservation project in need of willing volunteers over a private lion farm?
Very few, if any of the private lion farms and predator breeding facilities in South Africa can be regarded as genuine conservation undertakings. Most are simply breeding or holding predators for a variety of commercial purposes and making use of volunteers has become one of the most lucrative revenue streams. Some facilities are earning in excess of US $100,000 in some months from their volunteer programmes alone. Very few, if any of the cubs you pet and cuddle have been 'abandoned' or rescued in the wild. Taking lion cubs away from their mothers is not a natural process and is only done to exploit the animals and you as the visitor or volunteer.
If you do find yourself on a breeding farm or predator facility, be sure to ask the following questions:
Do they offer any activities based on animal and human interaction?
If it claims to be a sanctuary, do they offer life-long care for the animals?
Are they trading in animals?
Where did all the animals come from and where do some of them go?
Who is their recognized predator ecologist or scientist?
Have any of their animals been released into the wild? And if so, where and when?
Before enrolling as a volunteer or going as a visitor, check the social media sites and blogs for comments and feedback on the particular farm or facility.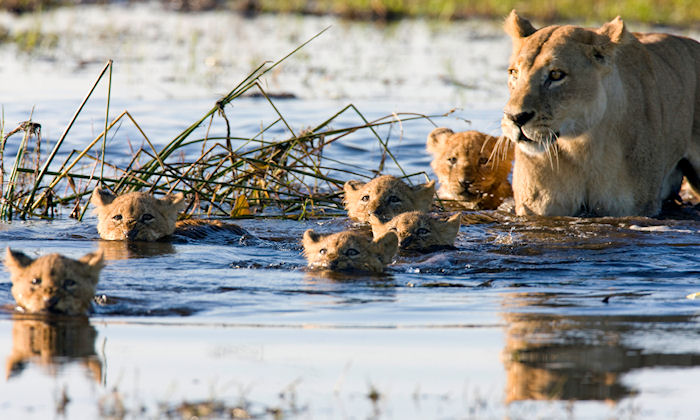 Family of lions in the wild
Do you have a target end date for this campaign?
It is our wish that this campaign gets adopted by everyone across the world that supports our aims. Whether through this team or others, the campaign will continue until we see an end to predator breeding, canned hunting and the tourism activities that exploit predators.
Take action!
Get involved by petitioning South Africa Tourism or the South African Government.
Do not visit a private lion farm. Ask questions before you book a voluntourism trip working with lions (see below).
Watch Blood Lion, the movie.
Like the Facebook page.
Born to Live Wild: If you are a tourism business then sign the pledge for tourism operators.


Responsible Travel's view
"
This powerful film is spreading the message fast - the commercial greed and exploitation of these magnificent creatures must be stopped. Well-meaning, innocent volunteers are unwittingly becoming involved in lion farms. We need to break this deadly economic chain. As an industry, we need to stand up to this problem and as travelers it's time to ask questions of our travel companies before we book and use our collective voice by emailing the South African Government and tourist board through the links above TODAY.
"