Bloody Ivory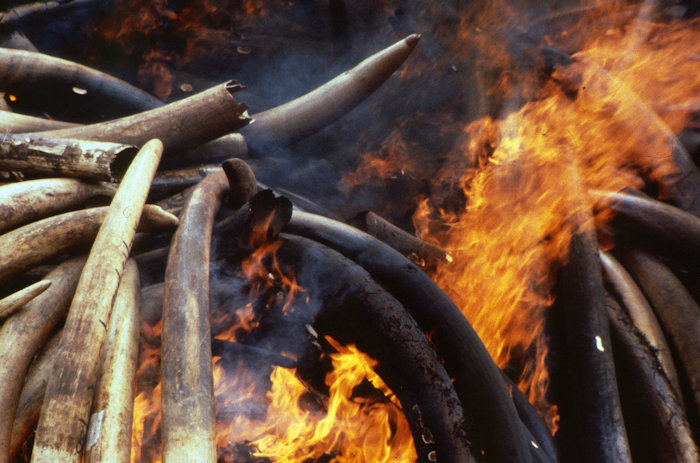 International wildlife charity Born Free focuses on protecting elephants in Africa through its dedicated Bloody Ivory campaign. Over the past 35 years or so, it is thought that Africa's elephant population has fallen from 1.3million in 1979 to just 400,000 in 2016. These magnificent animals are being killed by poachers for their ivory. They are not the only victims - in the last ten years, 1,000 rangers have lost their lives protecting wild animals, including elephants.

In 1989, CITES (Convention on International Trade in Endangered Species of Wild Fauna and Flora) instigated a worldwide ban on ivory and levels of poaching fell as the black market price for ivory slumped dramatically. However, since then the ban has been weakened with one-off ivory sales being approved to countries such as China and Japan.

Once again, illegal poaching is in full swing and the price of ivory has skyrocketed. To help save elephants from ivory poaching the Bloody Ivory campaign works in conjunction with African government wildlife authorities. We caught up with the charity's President, Will Travers to find out more about the campaign and to hear how we as travelers can help.
Take action!
Sign the petition and reject the ivory trade
Help fund elephant protection
Help spread the word to your family and friends
Tell your politicians to tell your governments to reject the legal ivory trade and commit to significant funding of the African Elephant Action Plan
Here we talk to the Born Free Foundation...
What's your role?
Will Travers OBE, President, Born Free Foundation
What's the name of the campaign?
Bloody Ivory
When did it launch?
2009
Tell us about your campaign in a nutshell?
The campaign provides up-to-date information on the poaching crisis both in the field where elephants are poached and also when illegal ivory is intercepted and seized. It acts as a source of information for CITES-related matters regarding the ivory trade, and offers a way for people to engage with the issue. The campaign provides an opportunity for people to register their support and to financially contribute towards elephant protection, including Born Free's efforts to:
Support elephant protection in the field
Stop both legal and illegal ivory trade
To influence the protection of elephants at an international policy level
What inspired this campaign?
The devastating crisis facing elephants and the continuing attempts being made by some to re-establish a completely legal ivory trade.
Share with us a story about a person / place / animal that's currently getting a rough ride because of these issues?
The elephant population decline in Africa is of huge concern. Figures have suggested a decline from 1.3million in 1979, to 625,000 in 1989, to now an estimated 400,000 in 2016. It is not only the animals that are victims: In the last ten years, 1,000 rangers have lost their lives protecting wild animals, including elephants, in the field.
Babile Elephant Sanctuary
Babile Elephant Sanctuary in Ethiopia faces a myriad of challenges. At over 7,000 km2 there is a lot of land to protect but over the course of several decades, conflict, famine and inadequate enforcement has led to human in-migration and settlement, land conversion, hunting and elephant poaching. The issue of human pressure on a park, in a country ranked 13/233 for its human population, is a significant one that can only be tackled in the long-term. In the shorter-term, Born Free is focusing on supporting monitoring and protection of its important elephant population. Up until this year, law enforcement has been chronically underfunded and poorly managed, offering little or no deterrent to elephant poachers. The last official population estimate of 325 elephants is a decade old, but at least 100 of these have been poached within the last three years, although the true extent of the killing will only be known in due course.
Now, the rangers have received badly needed training, the elephants are monitored daily and poaching incidents are starting to be investigated. On a day to day basis, it is these actions that will reduce poaching pressure. There are always deep-rooted causes of ivory poaching - poverty in rural society and increased global demand and international trade – but these are challenging issues to address, and at least in the former case, arguably impossible to eradicate entirely. Therefore, unless steps are taken on the ground to protect elephants, the impetus to poach will remain.
In the near future, Born Free is planning to engage the local government and communities in the management of the sanctuary and develop solutions to address human-elephant conflict. In the meantime, law enforcement remains a vital component - even the backbone of efforts - to safe-guard wildlife populations in the short and long-term.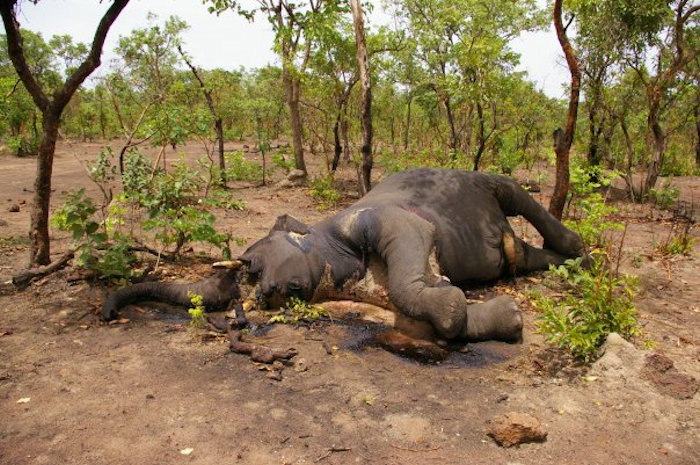 Immediate action is required to provide effective protection
What change needs to happen to make things better?
Close the domestic ivory market
Improve enforcement in the field
Improve intelligence gathering
Disrupt transport networks for illegal ivory
Demand reduction in markets
Encourage tourists not to buy wildlife souvenirs, including ivory
Stop stimulating demand by preventing attempts to establish a legal ivory trade
How will the world be a better place if and when you succeed?
Elephants will have a secure future and human lives will be saved. Not only this, but livelihoods will be supported and enhanced through responsible tourism.
If you had a mega-phone for 10 seconds on a rooftop to get your message out, what would you shout?
'When the buying stops, the killing can too!' This is a very powerful quote by our friends at WildAid.
If you had a 10 second slot on TV which image would you show to get your message out?
Our Disappearing Animals advert which you can see on our Youtube page. This very effective film, made in collaboration with the award-winning wildlife photographer George Logan and the advertising agency WCRS was displayed across London and on screen.
What three things can we all do to help?
Share this information
Do not buy ivory
Donate to our Bloody Ivory campaign
Do you have a target end date for this campaign?
We will continue to campaign until the ivory trade is dead and buried and elephant populations are safe and in recovery.
Responsible Travel's view
"
The world needs to wake up and realise that once these fine creatures have gone that is it. There is no second chance. We've instilled a ban once before so why on earth can't we get on and do it again? Ban the ivory trade and put an end to this barbaric killing. It's as simple as that. These animals are magnificent and they deserve our voice and our support to protect them. We urge travelers to do all you can TODAY to help with this. Time is running out.
"