Tour leader interview with Bill Davies - Antarctica cruise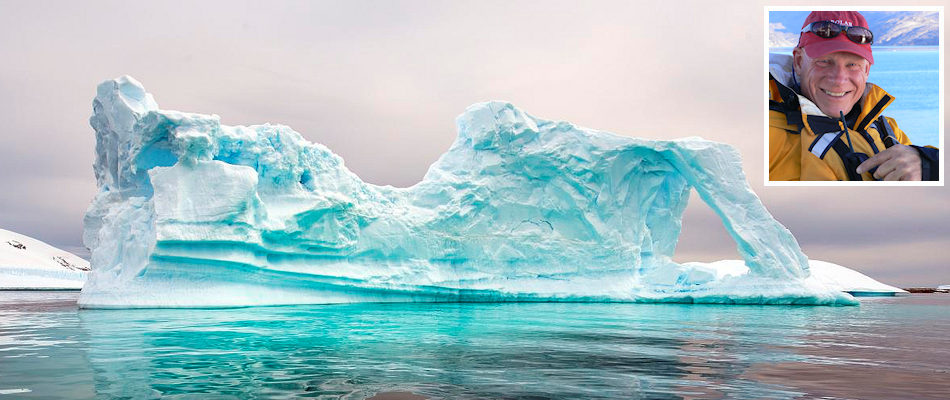 Bill has been working on polar expeditions for over two decades - and recalls how different things were in the early days of his career when there was no email, and communicating with anyone from Antarctica was virtually impossible!
In his 30s, he met the late Bernard Stonehouse, a British scientist who spent years studying penguins in Antarctica - and who is now one of Bill's polar heroes. Bernard told him about the Masters Degree in Polar Studies at the Scott Polar Research Institute - and Bill describes it as "self enriching… one of the best things I've ever done for myself."
When he's not cruising around the Polar Regions, Bill likes to spend time with his 12 year old dog - and misses him terribly when he's away.
I work with some of the most interesting people in the world.
Our staff come from 17 different countries, there's medical doctors and lawyers working as guides, there's professors emeritus, there's students, there's biologists, ornithologists, marine biologists, historians... people from all walks of life in different cultures who all get sifted into this little area. They come from deserts and cold areas... from all over, but with a common interest in the polar regions.
Some of our expedition leaders stand up at the start of the trip in front of the guests and tear up their itineraries!
Something unexpected happens every day - that's the beauty of what we do. This is what makes it an expedition rather than a cruise. If we have the opportunity to stop and engage some whales for an hour or two, that's what we're going to do. The captain will turn the ship around and we'll go and have a look. We won't say no - sorry - we're on a tight schedule and we have to be at this destination at this time for our slot.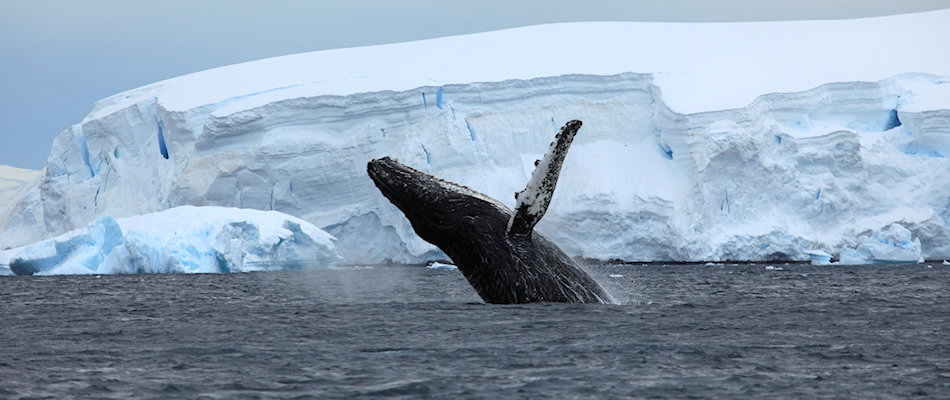 Whale
The important thing to make an expedition work is the skill and knowledge of the expedition staff, and expedition leader.
So even though an itinerary may have been published a year and a half in advance, they have local knowledge and experience that says there's more ice in this particular area now so it may be a good environment for leopard seals or emperor penguins. So we're going to go with plan B instead.
I love it when the guests come to the Polar Regions and totally embrace it, and go home as ambassadors for Antarctica.
We raise awareness throughout the trip of different areas of concern, and we raise money as well. We have auctions, and it's incredible to see the number of our guests participating and contributing and keenly interested in our educational programme onboard. That makes me really happy. People come down for a vacation, and they leave as true ambassadors to the area. They get infected with the polar fever.
My favourite viewpoint is from my porthole, because it changes constantly.
It's right down at sea level, and I can look out that same porthole in both hemispheres. So at different times I can see polar bears, I can see penguins, I can see whales, I can see mountains and glaciers and icebergs...
It sounds corny, but my favourite souvenir is memories.
Where we go, we are not actually allowed to bring anything back; we can take only photographs and memories. We used to have passenger nights in Australia, and I'd go into a room and met someone familiar and wouldn't remember their name. So I'd ask them to talk a bit about their trip - then I'd go "yes!" Although I've done maybe 200 trips to the polar regions, every one is unique and every one has at least one magic moment which I cherish. Things like hard souvenirs - you lose them, you give them away, they collect dust or whatever - but the memories are always there, so revisit them often!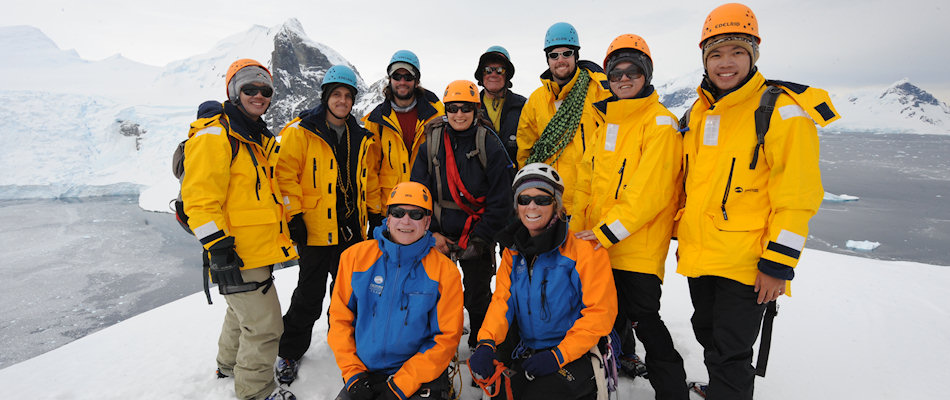 Tour group (Photo courtesy of Bill Davies)
One of the most unexpected things that happened was we had a massive storm in South Georgia.
It was blowing about 80 knots - more than hurricane force winds. Some people were a bit bummed out as it meant we couldn't do a landing, so what we did was pull up behind a massive iceberg. We were a safe distance away, it was probably a kilometre long, a big tabular iceberg, and we took shelter behind it. It was one of the highlights of the trip for everybody! Birds were blowing by us at 80 knots, and the wind was coming off the iceberg. How many people can say they took shelter from hurricane force winds behind an iceberg in South Georgia?
Many of my family think I had no imagination because I keep going back to Antarctica year after year - but I can tell you that every single trip is different.
We have 34 trips to Antarctica this year, but even though the itinerary may go to the same place, they're all different. Different weather, different stages of development of the wildlife, of the ice... there's different groups dynamics on board.
Because of 24 hour light, having eyeshades would be a good idea.
Also, if you're sharing a cabin, earplugs would be a good tip. And we feed people very well on board, but sometimes there is a little treat that you like from home - whether it's peanut butter or vegemite or marmite. And a Leatherman. Just in case! I use my Leatherman probably ten times a day, for many different reasons. But we look after our passengers pretty good.
If change is something that you don't like, if you can't appreciate the unexpected, if varying from your itinerary is something that will upset you - then best not to come with us.
Occasionally we do get people that just don't go with the flow as well. Lunch times and breakfast times may change; a two hour landing may turn into a four hour landing if there's something to see. There's very little control. On my trip, one of the perceived highlights is going down the Lemaire Channel; one time it was blocked with ice! We were able to find an alternative place - and we saw an emperor penguin, landed on the continent and saw a minke whale on a Zodiac cruise. Had we gone down the Lemaire, maybe it would have been good too, but the alternative ended up being a real highlight.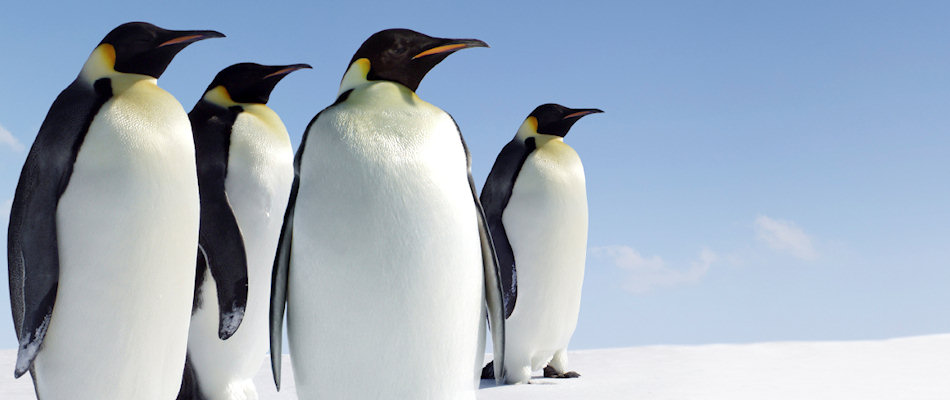 Penguins
The most I've been afraid is maybe having to go without Vegemite for a couple of weeks!
I've been in 100ft seas on our ships; I've never felt afraid. I think the people we work with, the captains, are second to none. They're used to operating in ice and stormy seas. The ships are robust and safe and comfortable, and our knowledge and training will possibly prevent us from getting into a situation where we could be afraid. Whether that's operating a zodiac and getting into a situation in dicey situation too close to a glacier, or whether it's in polar bear country on our Arctic expeditions.
I'm serious when I tell my family that I'm going to Antarctica to escape the cold Canadian winters!
We hear a lot about the highest, driest, coldest place on earth, but the Antarctic Peninsula is really a maritime climate. So many of the people that come to Antarctica are surprised that it isn't as cold as maybe they had thought. Even the Brits coming down most probably already have the clothes necessary to visit Antarctica. There isn't a lot of extra stuff they need to buy.
If you're doing something that you love, that you're passionate about, meeting incredible people and visiting incredible places - can you really call that work?
It's pretty amazing. There's things behind the scenes where we'll get up earlier for meetings and maybe plan the day or fix a boat and move boxes around, do some boring administrative stuff, but getting out on the land or on the boats - I don't know if you'd call it relaxing, but that for me is the best job there is!
The toughest part is making it look easy and seamless - we want to deliver a really good programme.
For many people this is a once in a lifetime opportunity, and sometimes the trips don't always go the way you want and you have to put that extra bit into it. That might mean having staff up on the bridge all day long looking for wildlife, or working with the captain to find a really good place that has good protection if the weather is really bad. So really being able to provide a top notch programme despite forces working against you.
With the penguin colonies - you usually smell them long before you see them.
There can be a real cacophony of sound, depending on the time of the year - if they're all on the nest, it can be quite loud. You're not allowed to touch the wildlife or approach them within a certain distance, but sometimes, especially later in the season, the chicks will actually come over if you're still and peck on your toes. Growing up in Canada we were always told not to eat yellow snow, but in Antarctica we remind people not to eat pink snow! I wouldn't say you get used to it, but if you saw me, you'd probably see a little subtle smile when I first get that whiff. And I know for a fact - and I've heard from others too - when the season is over, you go home and pack away your clothes. But every once in a while you open up that closet or go down to your boot rack and you smell that familiar smell again... it takes a while to go away!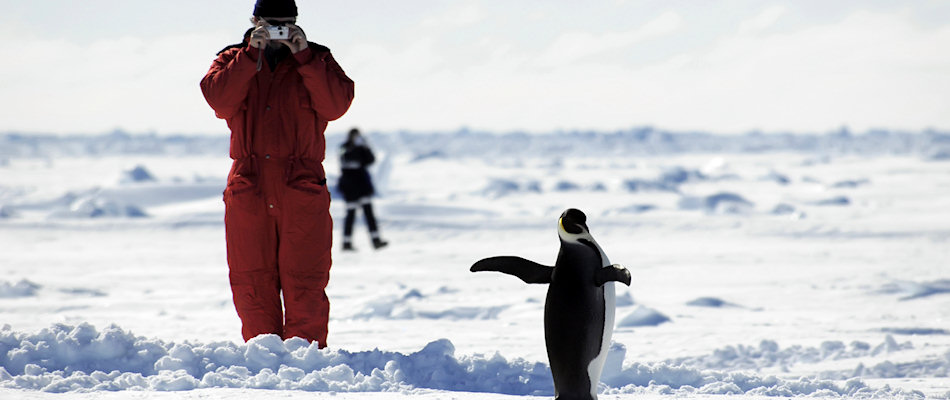 Penguin
As a guide, one of the most fulfilling things you can get from a trip is when someone comes up to you - sometimes with tears in their eyes - and says "thank you so much" - you have facilitated in some way one of the best experiences they've ever had in their life.
To me that's just incredibly powerful, to have someone say thank you for that. So at the end of the trip when we're saying goodbye to people, there's lots of hugs and tears and profound and powerful statements.
In between expeditions, I like to hang out with my dog. That's one of my favourite things.
He's 12 and a half years old - tough to be away from for long periods of time. I don't know if he's used to me leaving -every time I go away, every car that comes past he house or up the driveway he runs to the door. When I'm home he never does that!
Find out more about this Antarctica, South Georgia & Falklands cruise
Read more about this trip