See / go back to these
Spitsbergen Arctic cruise with Mark Carwardine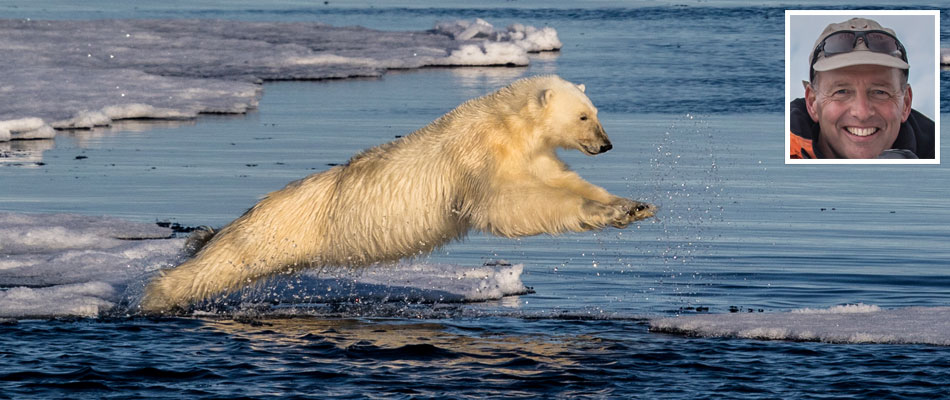 Polar bear. Photo by Paul Goldstein
Learn more about our Arctic wildlife photography vacation with Mark Carwardine
Polar aficionado Paul Goldstein organises some of the most fabled wildlife expeditions in the world. He works hand in hand with world renowned photographer and zoologist
Mark Carwardine
to co-lead
a wildlife photography expedition to Spitsbergen and the Arctic.
Paul chats candidly with our travel writer Catherine Mack about why this trip is triumphant.
How is this Spitsbergen and Arctic expedition with yourself and Mark Carwardine different to other Arctic trips happening out there?
There isnít another company that is brave enough to actually charter with the frequency we do. It is a risk but the rewards to those who participate are vast. I am proud of our pedigree on these expeditions Ė Iíve led 19 charters, several of them with Mark. A sole use charter enables us to really focus on a few subjects well. Also, I donít really subscribe to rigid itineraries on any of my wildlife trips. Mark Carwardine feels exactly the same way. The main subjects for us are wildlife and photography, in particular polar bears. As well as the vast Arctic wilderness.
Tell me more about working with Mark Carwardine.
Mark is a zoologist, probably the worldís number one whale expert, author, an astonishing photographer and guide with a huge wildlife following. He has been on the BBC a lot, and did an incredible programme called Last Chance to See with Stephen Fry. He has worked with the Duke of Edinburgh and is the real deal heavyweight when it comes to wildlife. The two of us are very different but we complement each other well.
Can we reassure people that there is nothing of the celebrity cruise vibe about this trip?
I never use the ĎCí word, Catherine! And no, there is absolutely no hubris or conceit with Mark. Ever. He is very aware that he has been invited on board and works terrifically hard to merit that invitation. Every night in the bar, for example, he and I put something on, completely off the cuff. A talk, or photography workshop, whatever feels right, much like our itinerary, it is neither structured nor rehearsed. Mark is the antithesis of a tired old D-lister, peddled out to wring out old overdone presentations. With his weight of knowledge, it isnít just your memory cards that are going to be full at the end of this trip. He realises that people are paying an eye watering amount and, like all of us, does his utmost to utterly maximise the 11 days, night and day.
So there is no fixed itinerary at all on this trip?
A sole use charter enables us to really focus on a few subjects. And in the Arctic, this is invariably polar bears. This is the main reason for going and you need plenty of time to really maximise those ursine experiences. So, when I filed my sail plan a few months ago it was a few words: find ice and find bears. This is a million miles removed from a clinical, antiseptic itinerary going to look at post offices because they are the northernmost on the planet, or trying to please everyone from twitchers to lichen lovers to history buffs. So many Arctic trips try to please all of the people all of the time, and they end up pleasing only a few.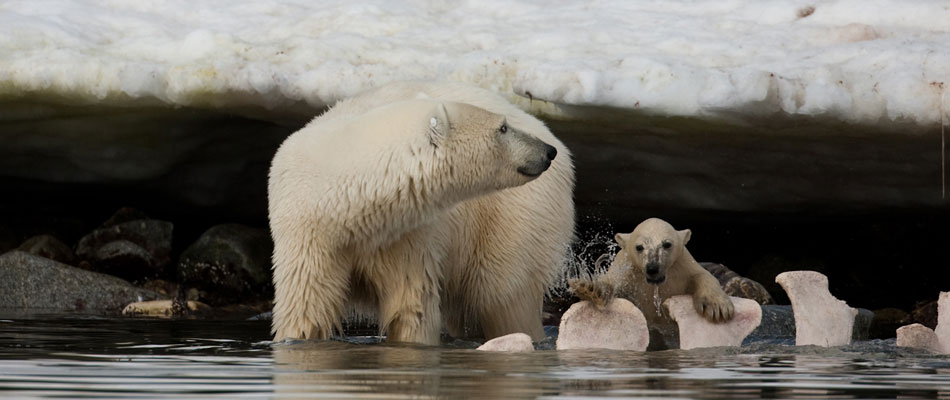 Polar Bear and cub. Photo by Paul Goldstein
Is there is an expedition leader too?
Of course, and he or she has technical responsibility. So if we suddenly want to go into a particular inlet to see a polar bear, for example, he will say ďPaul we donít have the draft to go in there, there is no wayĒ, and that is his final decision. That is how any expedition works. Other than that, Mark and I essentially run the whole show. Neither of us subscribes to itineraries but like to do what works for wildlife and photography in the moment. Whether jumping into a zodiac to view a polar bear in the middle of the night, teaching someone about camera software, going on watch on the bridge for several hours, or speaking impromptu after dinner. We get up at 5am and our doors are open from then until when we go to bed about 18 hours later. In fact there isnít a door that locks on the ship. Not only for safety, but because you donít need them. That open doors policy sort of captures what this trip is all about.
ďI love seeing people go back to bed in their walking boots, not knowing when the summons of another ice bear will drag them to the decks.Ē
There must be a huge advantage to having 24 hours of daylight during this expedition?
Definitely, and we make the most of all of them. Have I woken up in an ex Russian spy vessel in the middle of the night three times because of polar bears on ice? Yes, I have. I love seeing people go back to bed in their walking boots, not knowing when the summons of another ice bear will drag them to the decks. I know there wonít be a better trip for polar bears in the Northern Hemisphere this year because we are prepared to use all those daylight hours effectively . And this gets results. Mark and I have never done a trip where we havenít seen a good amount of bears, and between us we have done a lot. As Gary Player said, ďthe harder you practise, the luckier you get.Ē
I can see why photographers who come on this trip must love spontaneity too.
Absolutely. Anyone can get to see a polar bear in Churchill as they truffle overland waiting for the ice to freeze. But thatís not what itís about for us. It is never, ever about quantity either. Itís the quality. Because one polar bear on ice, 30 nautical miles from shore, and far from other people, is worth a hundred wandering down a distant, dark volcanic beach. Itís just not the same. And that is why these specially chartered photographic trips work.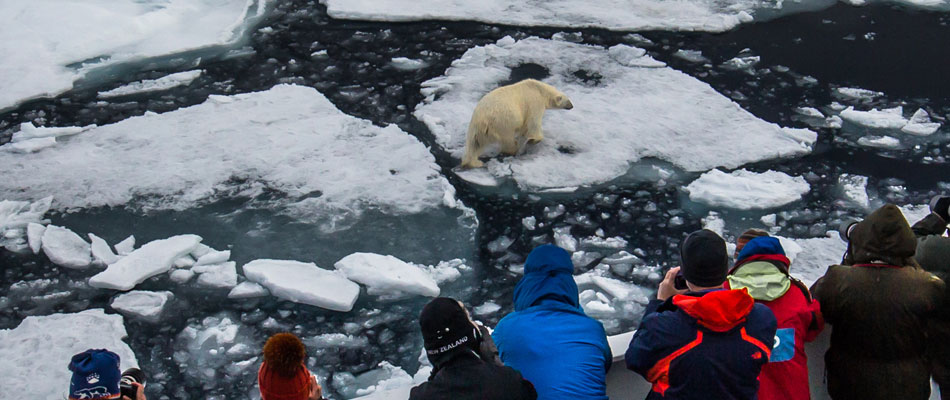 Photographers capturing a photo of a Polar Bear. Photo by Paul Goldstein
ďEverything Mark does he does well. Whether it is photographing, writing, lecturing or spotting, he is the complete package."
Presumably this flexible approach to wildlife watching is par for the course with a wildlife expert like Mark?
Mark Carwardine always says that I never give him any rest at all on these trips and I walk into his cabin at 4am and shout ďpolar bear!Ē which might be about four miles away. And he says ďPaul, it will take us an hour to get there, why couldnít you let me sleep?Ē and I say ďno, if I am up, why the hell should you not be?!Ē It is a bit like good cop, bad cop, and he is very much good cop. Everything Mark does he does well. Whether it is photographing, writing, lecturing or spotting, he is the complete package. You can read his article in BBC Wildlife every month. He is one of the most driven people I have ever met. So, yes, flexibility is very much part of that picture.
How is your role different to Markís on this trip?
As well as being a photographer and wildlife expert, I have also worked in travel for 34 years and so I know how things work Ė critical if you are looking after almost 100 people. That sort of pedigree is essential, particularly if something goes awry. When you go to the extremes of the world, you have to know what you are doing.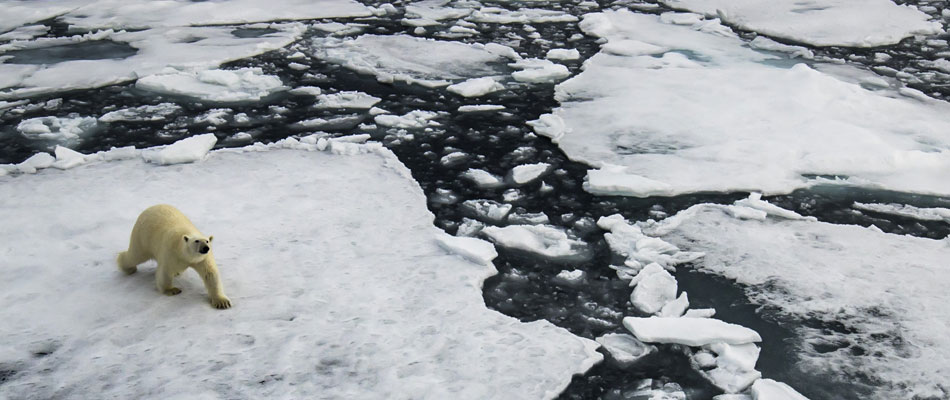 Polar Bear. Photo by Paul Goldstein
It isnít all serious, silent wildlife watching though is it?
Not at all. We take the mickey out of each other all the time. It can be merciless! Not in a laddish way, but we do appreciate that these are trips of a lifetime and they have to be fun too. If you want to get an idea of Markís work, I love
the video
of when he was working for the BBC trying to spot blue whales. And all day there was nothing. Then he had to do a piece to camera about why they hadnít found anything, giving any number of excuses, and then this huge blue just showed up behind him. That video definitely captures him, he is ridiculously knowledgeable yet really thinks on his feet too. And laughs. And has our guests laughing too, a lot.
What is the average age on your expeditions?
Is about 15 years below industry standard. Our average age is about mid 40s and actually this is getting lower all the time. Although it doesnít matter how old you are. If you are serious about wildlife and photography, then this is for you.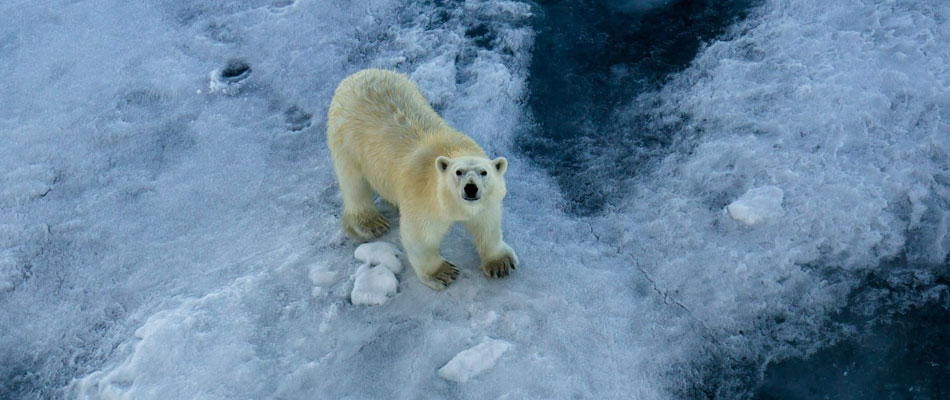 Polar Bear on the ice. Photo by Paul Goldstein
Can you tell me more about the expedition ship?
We have been using the same one for several years: The Akademik Sergey Vavilov, which sleeps a maximum of 100 passengers, as well a team of around 63 expedition staff. Accommodation is generally on a twin room basis in a variety of cabin types, some en suite and others with shared bathroom facilities. I have spent over a year of my life on this ship all in all!
ďThe more spiritual and patient you are the better your photographs will be. Patience isnít a virtue, itís a must with wildlife.Ē
What are your three top tips thinking of doing one of these expeditions for the first time?
Research.
You will always find a cheaper trip, but then you will probably find the ship has 250 berths instead of 100. Look at the ice and stabilisation capability of the ship, and also the flexibility of the itinerary. How many times are you going to be allowed off the ship once you get to a landing? Itís likely that you are not going to do this more than once, although we have plenty who do, so research is critical. Nothing disappoints me more than people who have been to Spitsbergen and they say, Ēyeah it was alright.Ē This is usually it is because they are on a ship that is far too big, which of course is ethically questionable, or they are on a regular departure that may fit in the most northerly post office in the world and shopping excursions but not maximise the precious time in the ice.
Photographically, donít come with an instruction manual for your camera.
You need to know that camera competently before you come, or preferably two cameras as there isnít a clinic on board to mend them. You will get all levels of advice on board, but the more you know before you embark, the more you can hit the ground running.
You mustnít just look at these places through a viewfinder.
Two reasons: first, it will be far more indelibly etched on your own memory mainframe if you just watch. Second, the more spiritual and patient you are the better your photographs will be. Patience isnít a virtue; itís a must with wildlife. The sorts of people who will value this trip are those who want to take stunning photographs, not just record shots.
Find out more about this trip
Continue reading about these
Spitsbergen Arctic cruise with Mark Carwardine