Tour leader interview with Khanh Dinh - Family tour in Vietnam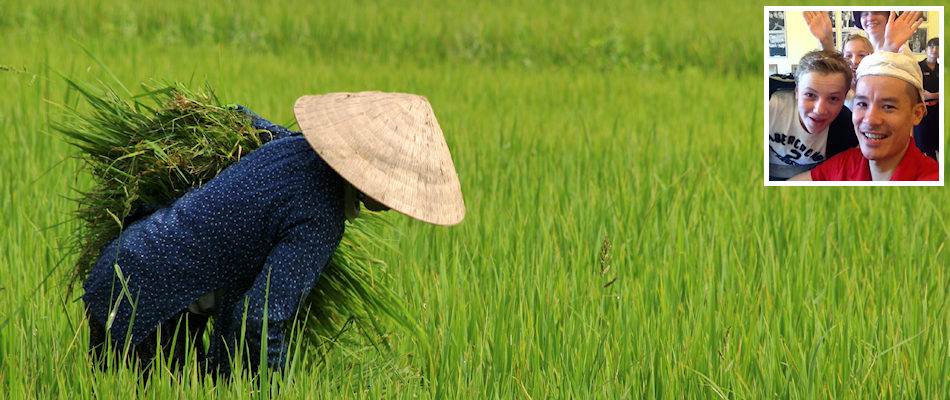 Rice paddy and (inset) Khanh Dinh
Leader interview: Khanh Dinh - Family tour in Vietnam
Khanh Dinh has been a group leader since September 2011. He has plenty of experience leading tours as he previously worked as a motorbike tour guide. These days, he doesn't get to ride too much - other than from his home to the office. Occasionally he'll take his groups out on motorbikes in Hue - but the customers sit on the back of the bikes rather than driving - he says it's a lot safer!
What is your favourite bit of this trip?
Feeling like I'm with my family on the trip. I've lived away from my family since I came to university in Hanoi, so I've really missed them since I've been away. Now I'm married, I have two children, so I have experience as a father - so when I'm away I miss my wife and children. When I'm leading the family trip, I feel like I'm a family member of the group. After the trip everyone looks at me like a member of the family - and I do too. I really miss my group after the trip finishes. Some families - we still keep in touch, even after a couple of years. So the whole family trip for me is memorable and I feel like a family member on the trip, it's helped me a lot.
Are there any memorable local characters?
On the family tours, we take the group to a family in Hue, and have lunch or dinner with them, cooked by the family. We have time to visit and understand the daily life of the family - what time they wake up, how many children they have, how many generations in the family… so through the food and through the meal you can understand how people are living in the city. The kids learn a lot because the house where the people live is very different to what they have in their country. My groups always really appreciate that dinner in Hue.
Can you share a local recipe with us?
A dish we often eat is beef or chicken noodle soup; it's good for those who are beginners to Vietnamese food. The beef or chicken noodle soup in North Vietnam is different in terms of the flavour and the texture. In Saigon, they add more beansprouts or coriander or mint, they put more vegetables in the noodles. But in the north we mainly use spring onions instead of three or four different types of vegetables. We think the mint or coriander interrupts the flavour of the broth.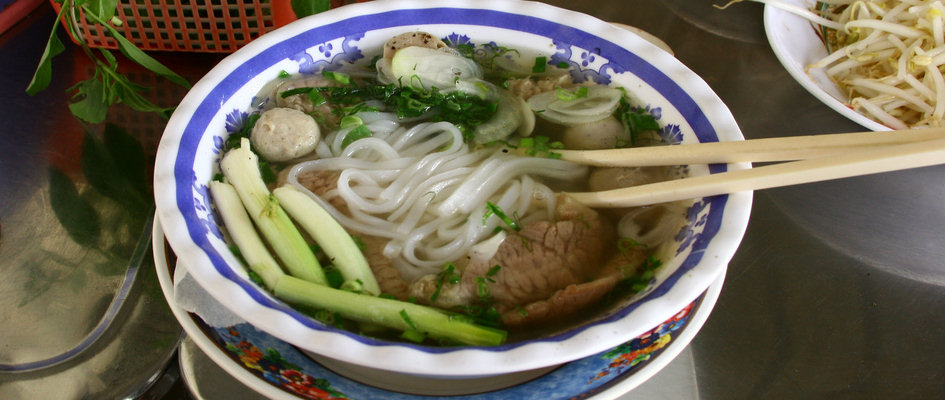 Is there a particular song that reminds you of this vacation?
The song is Vietnam Ho Chi Minh. It's very easy to learn - I teach it to my groups and it becomes the trip anthem!
Teach us a local word or expression
Xin chao - you go down at the end, and it means hello. If you say Xin chao and go up - it means you are asking for rice porridge - or congee. Xin is asking for something, and chao (going up) is congee.
Is there anyone you wouldn't recommend this trip for?
Fussy people! I often tell my group that in Vietnam we say "go with the flow." If you expect things to happen like they do back home - if you expect restaurant staff to be very professional and to understand English very well, or the service of the food... it's not the same in Vietnam.
What is the most precious moment you've had with your group?
It's always the farewell dinner or the last night with the groups. It's usually the kids - especially the small ones - they cry because they know that tomorrow they are not going to see me again. Sometimes the small kids have to have it explained to them than Khanh is good, but some people you really like and you just meet them once in your life. They email me to tell me that they've had to explain this to their children. Then they behave ok. That's the moment I really love and remember with the family trip.
Find out more about this family vacation in Vietnam
Read more about this trip