Tour leader interview with Khanh Dinh - Reunification Express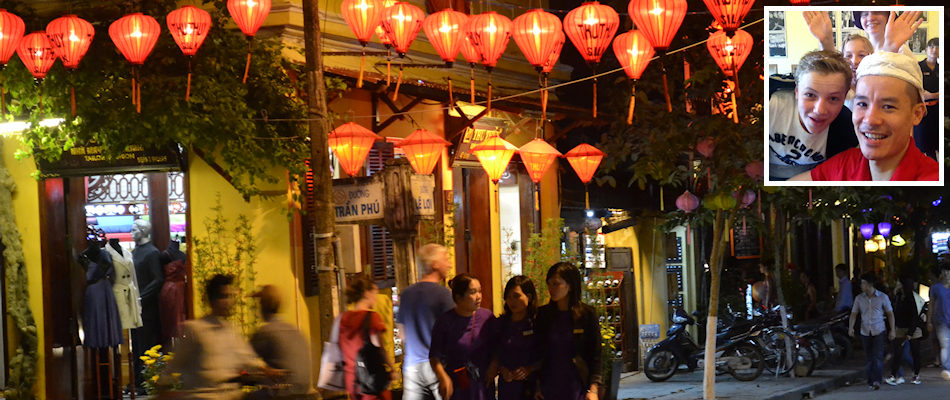 Leader interview: Khanh Dinh - Reunification Express in Vietnam
Khanh Dinh has been a group leader since September 2011. He has plenty of experience leading tours as he previously worked as a motorbike tour guide. These days, he doesn't get to ride too much - other than from his home to the office. Occasionally he'll take his groups out on motorbikes in Hue - but the customers sit on the back of the bikes rather than driving - he says it's a lot safer!
Khanh is originally from a small town called Nam Dinh but now lives in Hanoi. When he's not leading tours he spends as much time at home as possible with his wife and two very young daughters.
I always say Hoi An is my favourite place.
There's a beautiful old quarter with original architecture dating from the 18th and early 19th centuries. It's very easy to just wander around with a lot of nice restaurants and bars, good shopping, and the food in Hoi An is also amazing. Just about 5 or 7km away from the old quarter is amazing, peaceful countryside - rice paddy fields with water buffalo wandering around, birds, ducks, chicken farms, farmers wandering around the rice field… Anytime you see a video clip about how peaceful Vietnam is, it will feature Hoi An.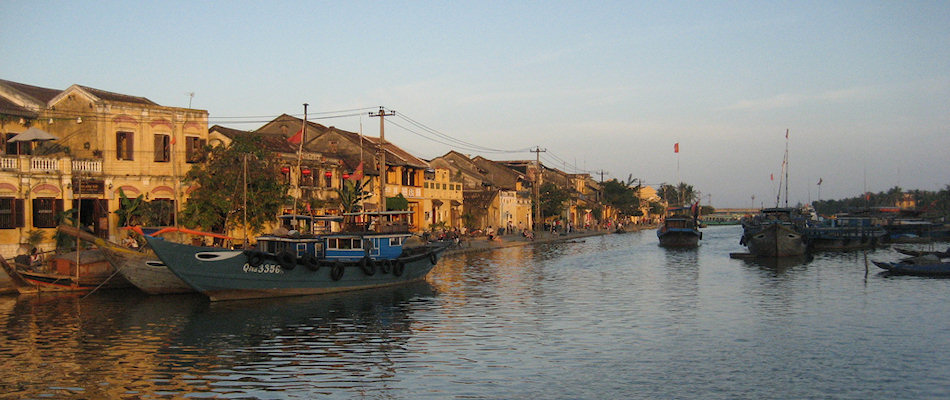 We often stop along the way to meet the people that work in the paddy fields. We have a chat with them, or we come and help them cut the rice.
That's always a highlight for my groups because they can talk with the local people. I act as an interpreter - translating between the farmers and the groups. The farmers say "the life here is very tough, very hard. We have to wake up very early in the morning and we don't earn much money" - and the group can also share that they work hard back home, they have to spend the whole day in an office working on computers… it's a good way to share and they also get the information naturally, straight from the farmers and local people - not someone who has been preparing for tourists to come.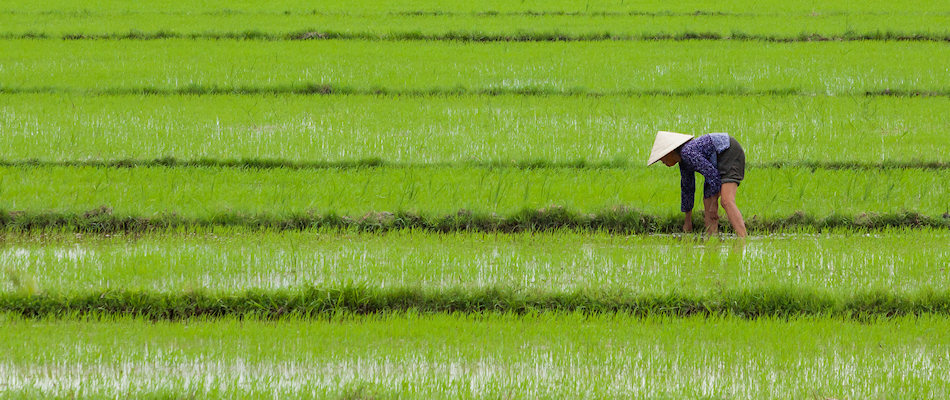 Thanks to the time I spent as a motorbike guide I had a lot of experience dealing with things going wrong and incidents on the trip.
On my second ever trip in 2011, we took the overnight train from Hanoi to Hue. At this time there were storms and heavy rains so part of the railway track was flooded. Normally the train leaves Hanoi at 7pm, and should arrive in Hue at 7 or 8am the next morning. But we left Hanoi and the train went slowly. After an hour or two it had to stop due to the rain and floods. It continued, then stopped… then about 4:30 in the morning we all had to get up and leave the train - the route was totally flooded. Everybody had to take their luggage at 4:30am and go over the flooded area by bus, then at the other side we took another train. So instead of arriving in Hue at 8am, we ended up in Hue at 2:30pm. It wasn't 12 hours - it was 18 or 19 hours on trains and a bus and my group was distressed and very tired.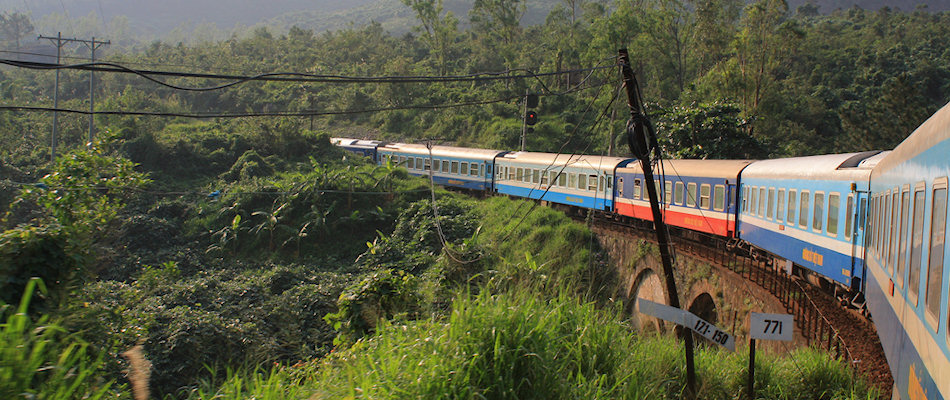 We were supposed to have a city tour on that day, but I cancelled all the activities and took the group walking around, we took them for a massage… we had a really relaxing day, had fun and went for a really good dinner at a restaurant. Then we did all of our planned activities the next day instead. It was a memorable trip for me, I can't forget it.
When we go to the local bia restaurant, if a local comes up to you and says "cheers!" and offers you a drink, even if you don't like it or if you don't drink alcohol, you should hold the cup and at least pretend to drink it, to be polite.
Of course, in your culture, what you don't like you don't drink. But in Vietnam in the local communities, if they offer you food or drink and you don't try it, it's really bad behaviour. To avoid that happening, I always remind my group beforehand that they should just pretend to take it or take a small sip.
I love eating. I always tell my group on the first day that if you are a fan of food, then you're on the right track.
You're asking the right person about food - we also run a Vietnam food adventure vacation; only six leaders lead that trip, and I'm one of them! Deep fried spring rolls are in all of Vietnam - north, central and south - but the ingredients inside are different, so you never get bored. In the north, we often put inside minced pork, carrot, bean sprouts, vermicelli… and in central Vietnam, they put more herbs and spices. Still minced pork, but black pepper, garlic, and the rice paper they use is different -it's more crunchy, and there's more flavour. In the south they put taro root - similar to potatoes - as well. My groups really want to try it and know where the best spring rolls are, so we always go to good Vietnamese restaurants.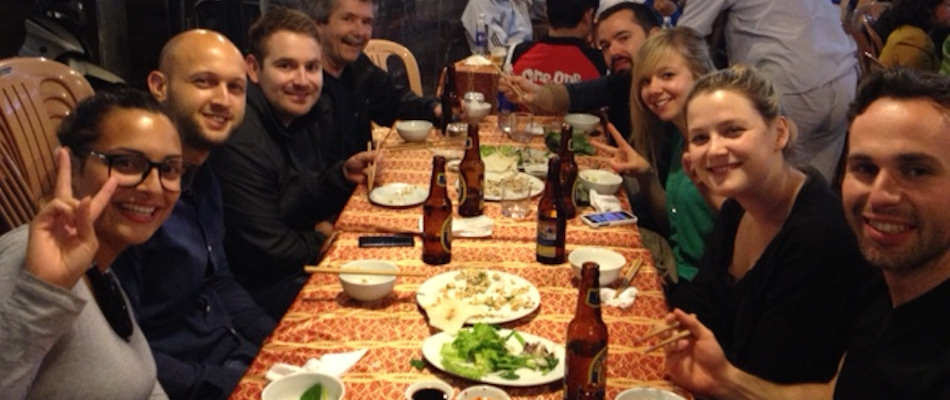 Vietnamese restaurant (Photo courtesy of Khanh Dinh)
The song that reminds me of this trip is Vietnam Ho Chi Minh.
It's very easy to learn - I teach it to my groups and it becomes the trip anthem!
For "cheers", we say mot hai ba dzo. My group often complain on the first day that it is too long - but at the end of the trip they sound professional.
Mot hai ba dzo.
The more you drink the easier it is - because you practise every time! So I tell my groups they need to practise their Vietnamese every day…
We take overnight trains three times on this trip. So if you don't like that, this is not the trip for you.
They give you clean bed sheets, pillows, blankets, and it's air conditioned as well. But it doesn't mean it's always clean, the toilets may be dirty - in Vietnam, the train is not the highlight of the trip, but it's something you should try when you're here.
My suggestion for the overnight train journeys is to bring vodka or Bacardi - I often organise a small party for my groups on the trains, with vodka and orange or rum and coke.
Then I say that if they don't sleep on the train, it's not because of the train - it's because they didn't drink enough! I also remind my group that they can buy sleeping sheets at the local market, it's easy to find. They can also bring their own big bottles of water so they can brush their teeth and use it during the night. I also remind them to bring toilet paper as well. And the train is quite noisy, so bring earplugs with you.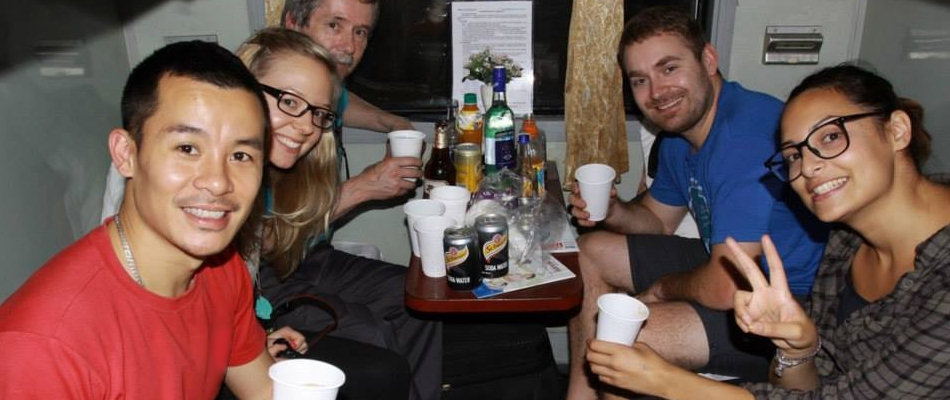 On the train (Photo courtesy of Khanh Dinh)
Find out more about this Reunification Express vacation in Vietnam
Read more about this trip