Angkor Wat - travel journal
Responsible Travel customers are helping disadvantaged children who attend a community outreach programme called Kaliyan Mith Siem Reap (KMSR) to see the temples and ruins at Angkor Wat in Cambodia, often for the first time in their lives.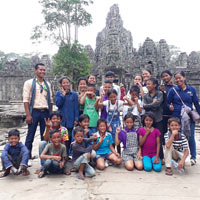 Our latest trip to Angkor Wat - 21st June 2018:
Thursday 21 June was a special day for a group of 20 children age between 7-15 from communities of Teksen T'Bong and Trapeng Sesh in Siem Reap. This group of 9 girls and 11 boys had a daytrip to Angkor Wat with Kaliyan Mith (KMSR). Accompanied by three KMSR staff, the tour was led by a guide from Peak DMC and was funded by Responsible Travel. -
"I was walking around the temples, following the guide who knew all the histories, and he told us a lot of stories. I saw so many scriptures on the walls of the temples, they are beautiful, really amazing khmer history."
We have worked with our partner Friends International to devise this trip for children who attend KMSR. KMSR works with disadvantaged communities to help with counselling and group discussions about important issues such as drugs prevention, violence in their community, reproductive health, and life skills education. When necessary, healthcare services are provided for them and their families, such as nurse consultations and referrals to health centres. Once a week some of the communities join KMSR for sports activities, and they now play as a soccer team and have joined local youth tournaments.
The ancient temple complex of Angkor Wat located in Siem Reap, Cambodia is the largest religious monument in the world and therefore a very important place for Cambodian children to learn about their culture and history.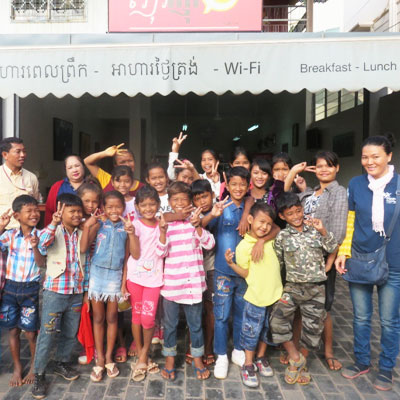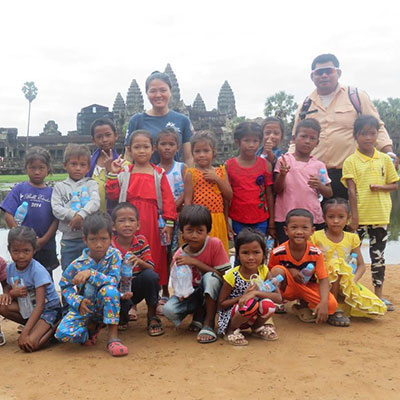 SAMPLE ITINERARY OF AN ANGKOR WAT VISIT:
What the children will do:
The children and young people are picked up from their community centre by bus and start their day with breakfast at KMSR's training restaurant for caretakers, called Nyum Nyum ("Let's Eat!" in Khmer). Everyone usually has a meal of pork and rice – a favourite of Cambodians. After breakfast the group will set off for the temples at Angkor Wat. During the bus ride, the guide will tell them about the history of the temples.
9.30am:
Arriving at the temples, the children and young people explore the iconic site lead by a tour guide who explains about the impressive and intricate designs throughout the temples and their historical meaning and significance.
12.00pm:
The group will stop for lunch, which was put together by Nyum Nyum restaurant. Once refreshed they take part in creative activities and educational games. Some of the themes for the games will be for everyone to reflect on making personal commitments and how to succeed in goals for the future. The KMSR team take the chance here to share about vocational training opportunities available to the youths.
2.00pm:
The tour will resume, and the group will be shown around Bayon Temple and the Elephant Terrace. During this time the group learn all about the images depicted on the walls of the temple and about what it was like to live in Cambodia during that time. After a long and busy day, the group will leave the temple complex around 4pm and head home.
Impact:
This is a great opportunity for the children and young people to enjoy an excursion together. Highlights for them usually include the delicious food, learning about their country's history, meeting the Aspara dancers, having the chance to see for themselves the incredible temples, playing games as a group and taking photos with each other in the stunning scenery. This trip is impactful as it provides a time and space for groups of young people to reflect on their own plans for the future. During the day, the group hears all about vocational training opportunities that KMSR offers young people. Since the running of this trip, there have been members of groups inquiring about applying to enrol in vocational training. The children and young people get the opportunity to make new friends and at the end of the trip receive a folder containing photos of them and their friends, their art work and quotes about their experiences and feelings from the trip.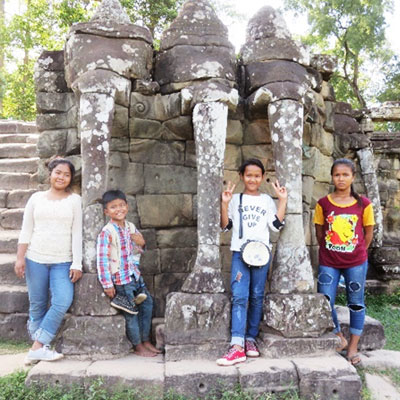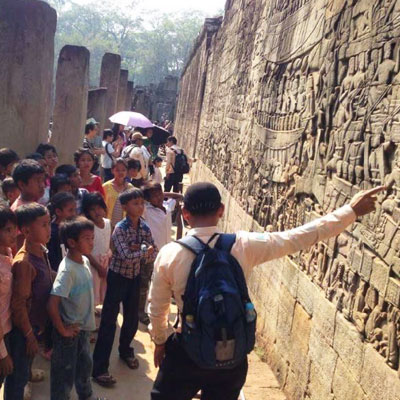 Quotes from the children
"
"I'm glad we had this trip together, getting delicious breakfast and lunch, and learning the history about Angkor Wat, Bayon Temple and the Elephant Terrace from the tour guide. We have taken many photos of me and my friends. Thank you to Kaliyan Mith and Responsible Travel for making this trip for us, we hope to do it again another time."

"I enjoyed going in the minibus with the three teachers and a nice guide who was telling us a lot of historical stories from the temple walls."

"I'm so happy to see all these amazing temples that I have heard of, but never knew the stories. Thanks so much to the guide, you are so good."

"It was the first time I have visited the temples with a tour guide and I learnt a lot about the history."
- Kaliyan Mith Social Worker

"We saw Apsara dancers and many statues in the temples."

"The guide was so nice and friendly with us. He told us a lot about the history of Angkor."

"I love the visit to the temples. I played a game called 'hot potato'- I needed to throw the ball to my other friends, and there were questions we needed to answer. I'm so happy with all these activities."

"My breakfast was very delicious and I will tell my Mum that she can learn to cook there."
"
Other trips that we have run to Angkor Wat: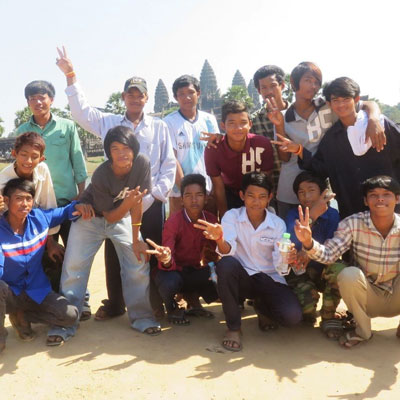 Our latest trip to Angkor Wat - 18th January 2018:
In total, 19 children and youths from the Chong Kneas community visited the temple and ruins of Angkor Wat. The children and youths are aged between 16 and 21 years old and were accompanied by three KMSR staff. They had a great day and learnt a lot about their country's history. Here is a quote from one of the children -
"I am very happy to have joined this excursion trip together with my friends. We took photos and had breakfast and lunch together. Playing the educational games made me think about my future goals and commitments. I saw the impressive designs on the temple building. There were many tourists as well!"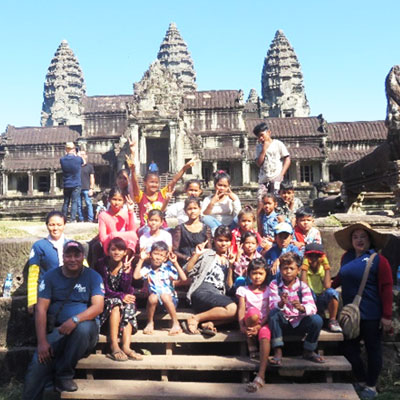 7th December 2017:
On this trip, 20 children from Teksen T'bong visited the temples. After lunch they played a game to see which group could work together best to build the strongest bridge with just pieces of straw and elastic bands. They also had art activities, drawing their favourite sites so far from the morning at Angkor Wat. One of the children said this about their day:
"I had a nice lunch with my friends, the teachers, the driver and guide, and then we relaxed. About one hour after that the teacher led us to play some games and in creative arts."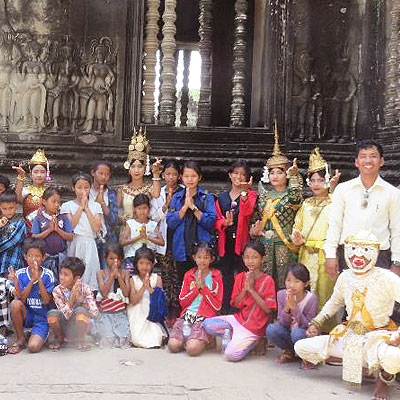 6th September 2017:
In total, 20 children from Chong Kasou visited the temples. They visited Vimean Arkash, the old royal palace, Bayon Temple and Elephant Terrace. The children enjoyed a delicious lunch supplied by Nyum Nyum restaurant. One of the children said this about their day:
"I enjoyed finding out more about our wonderful country."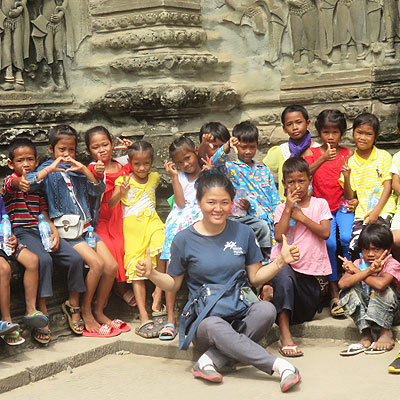 20th July 2017:
On this trip, 20 children from Chong Kneas aged between eight and 12 years old visited the temples. At Bayon Temple the tour guide explained the stories depicted on the walls of the temple and explained what it was like living in Cambodia at that time. One of the children said this about their day:
"It was interesting to hear the guide tell us about the stories on the walls of Angkor and Bayon, and we took lots of photos."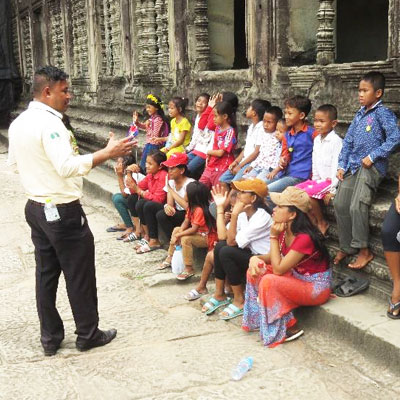 25th May 2017:
Twenty children from Taksen T'Bong aged between nine and 15 years old visited the temples. The children were very excited to try the brand new 'floating bridge' to get to the temple, which had only opened that week. One of the children said this about their day:
"At Angkor Wat I got to see an Apsara dancer and have my photo taken with her."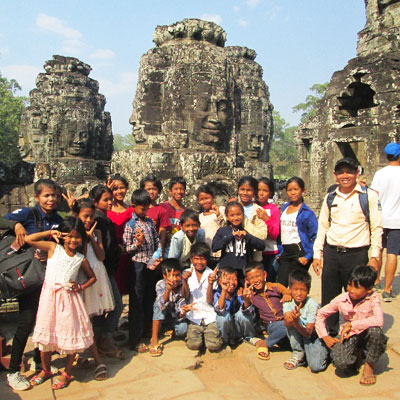 16th February 2017:
Twenty children from Chong Kneas aged between 10 and 15 years old visited the temples. The children were shown round the temples by a guide who explained the history to them. One of the children said this about their day:
"When we arrived I was very surprised because I have never seen Angkor Wat before, it was my first time."
About our partner organisation:
The Intrepid Foundation and Friends-International Partnership – Trip for a Trip
The Intrepid Foundation
was set up to provide a way for travelers to give back to the places they've been through a range of projects and not-for-profit organisations. Since 2002, we've distributed over $6 million to more than 100 projects around the world.
Through a partnership with Friends-International established in 2002, The Intrepid Foundation has raised over AUD $185,000 to support at-risk youth in Cambodia, Laos and Myanmar. Funds have helped provide young people with vocational skills training in tourism and hospitality.
In addition to raising funds for Friends-International through our travelers, we also provide support through travel experiences with
Intrepid Travel
. On certain tour itineraries, travelers have the chance to visit Friends International's TREE restaurants (Training Restaurants for Employment and Entrepreneurship). These unique dining experiences provide a way for young trainees to practice their skills while also providing a sustainable income to the restaurants which operate as social enterprises.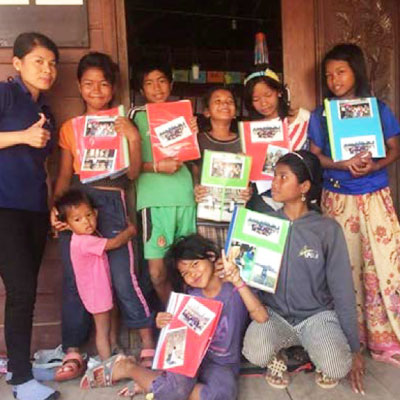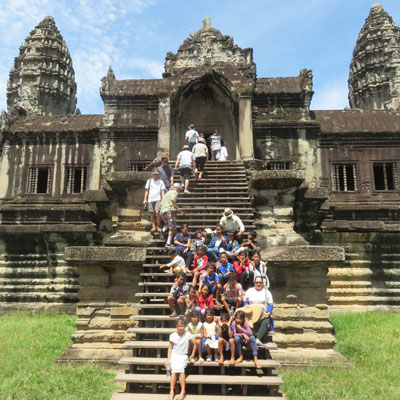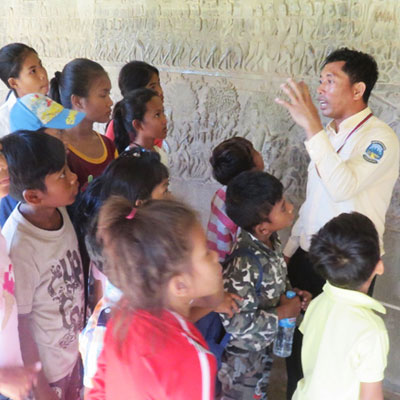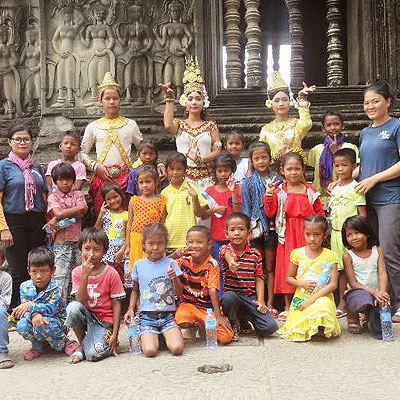 More about Trip for a Trip