Chaz Powell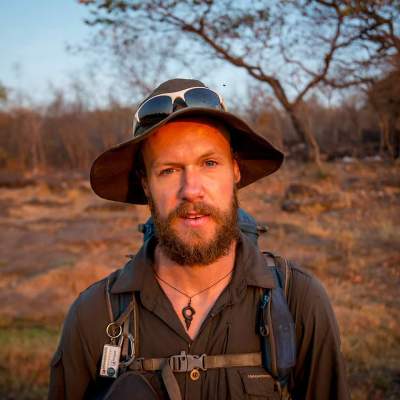 Chaz Powell is a non-stop explorer. Having walked the Zambezi in 2016, Africa's wildest river, he continues on his quest for adventure. Inspired by David Attenborough, Chaz is also an expedition leader, a bush craft instructor and a mountain leader. Here we chat to him about his travels and the points that most stand out in his memories.
Chaz Powell interview
Where's home?
I'm a Shropshire lad, born in Shrewsbury and raised in Newport, Shropshire. But I'm mostly found wandering somewhere outdoors, so I guess I class that as my home.
Tell us about what you do and the main idea behind it.
I take long walks in wild places, as well as leading expeditions in remote parts of the world. I also teach vital expedition skills to people here in the UK who want to escape the rat race and take their own life changing journeys.
What's your first ever travel memory?
Backpacking through Thailand, Australia and New Zealand in 2004 with little to no money, sleeping in a tent on the side of road, hitchhiking and looking for any work possible to get by on. Fun times.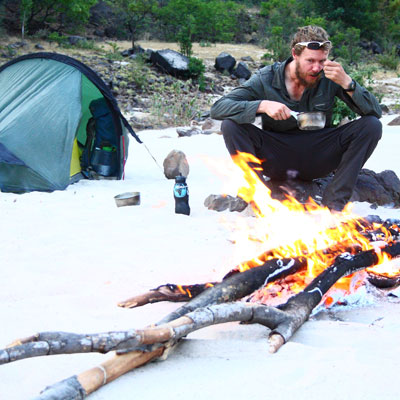 Describe yourself in three words?
Determined, Adventurous and Honest
What inspired you to start traveling?
I've always wanted to travel and explore from a young age. Watching David Attenborough documentaries and reading wild stories from past explorations would always inspire me to one day visit these exotic and remote places myself.
What do you dream of for our world in the future?
That we will evolve one day to understand the world more, plant more trees, use more natural resources and live more sustainably. Whilst learning to understand and except different cultures and beliefs and live on earth as one.
What's been the biggest challenge you've faced on your personal journey?
I had to fight to survive whilst getting lost and disorientated in one of the driest and remotest environments on the planet. I tried taking a short cut whilst walking in the Zambezi gorges, In 50°C temperatures I moved away from the water and couldn't get back down to it. After drinking my own urine and clambering down near vertical cliffs, I managed to get to safety, but was very lucky to have survived and to still be here today.
Where's the best place you've woken up?
I'd have to say the Zambezi gorges, where I slept in a small cave overlooking the rapids. When waking it was apparent how alone I was down there, and that I was in an incredibly beautiful and wild place.
Is there one person you've met who you feel you were so lucky to connect with?
It's hard to pinpoint one individual person, I've met so many inspiring people during my walks. The missionaries I met along the Zambezi are such good people, that I would say they were a huge help to me and I felt so lucky to have connected with them.
Has anyone ever told you that you won't make it?
Many times I was told that it is not possible for me to walk the Zambezi, especially during the months I had chosen to walk. But I managed to walk over 2000 km in that heat and those conditions, and I only stopped in the end due to security reasons. I'm a huge believer that it's possible to do anything you put your mind to.
Tell us about a time when you felt like walking away from an adventure?
I keep going back to it, but when I nearly died that day in the Zambezi gorges, I felt like that was the end of my walk, and that I had no more effort left inside me. If an expedition brings you to such a devastating event, then it takes a lot of effort to pick yourself back up and carry on. But I knew that these things are sent to test us, and I took the positives from the situation and carried on with a fresh mindset.
What keeps you going if you ever feel like giving up?
I love taking journeys, so if I feel like giving up at points, then I know that I'm tired. It's so important to take a rest and realise you have to enjoy meeting the people and learning something new each day. Just staying positive is the biggest thing.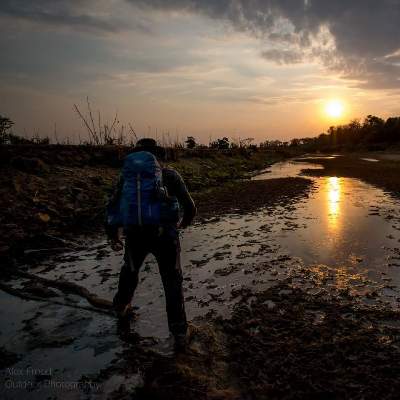 Chaz Powell (Photo by Alex Frood)
What are you most proud of?
I'm proud of my family and friends who support me when I'm away a lot. I can disappear for months at a time and I always know that people are supporting me no matter what.
What's your happiest travel memory?
That's a difficult one. I always remember the first time I travelled, me and a friend decided we wanted to get away and spontaneously booked an around the world flight. I was 24 at the time and had never really travelled far before. I remember being sat in Khao San Road in Bangkok a few weeks later and thinking how surreal a time it was, that was 13 years ago now and I've not stopped traveling since.
What's always in your bag – no matter what adventure you're on?
Depends where I'm going and what I'm doing really, but I always take my phone, head torch, first aid kit, survival shelter and Water-to-Go bottle. But bigger trips, I will take my lightweight backpacking tent, sleeping mat and sleeping bag and plenty of food and snacks to keep up the energy levels.
What do you still dream of doing that you haven't yet done?
My list of things I want to do and still have to do is never ending. I am currently training for my international mountain leader award, so I'm planning lots of mini expeditions in different mountain ranges around the world. But I would love to make new discoveries in the world (if there still is such a thing).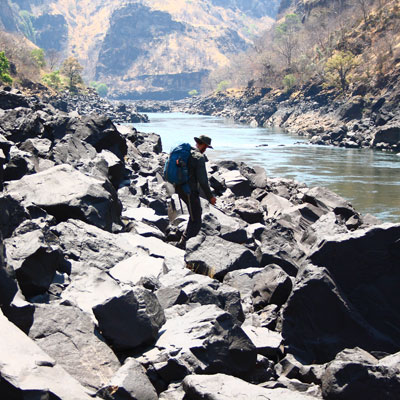 Where would you like to be right now?
I would like to be standing on the beach in Mozambique at the Indian Ocean, by the Zambezi's delta. It was the original end destination for my hike along the river, and I'm gutted I wasn't able to reach my goal of becoming the first person to walk the Zambezi river from its source to the Indian Ocean in one journey.
Where was the last trip you took and why did you decide to go there?
My last trip was my Zambezi trek, where I wanted to push my own limits and take a wild journey in a wild place. I wanted to explore places that people do not venture into and I wanted to explore like past explorers used to do. I also wanted to make a big impact and raise awareness about the huge loss of wildlife that has happened in that region and around the rest of the world.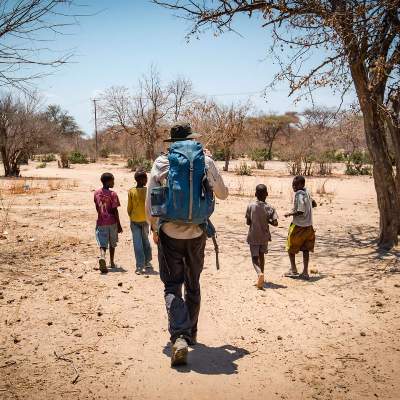 Chaz Powell (Photo by Alex Frood)
What does responsible tourism mean to you?
Responsible tourism to me is learning how to travel in a more responsible way without there being any negative impact on our planet, our people or the environment itself. I believe that by understanding different people, cultures and wildlife then we can learn to work together to help save the planet and the amazing beings that live upon it.
Read more about Chaz's adventures on his
facebook page
.