Chris Stewart, author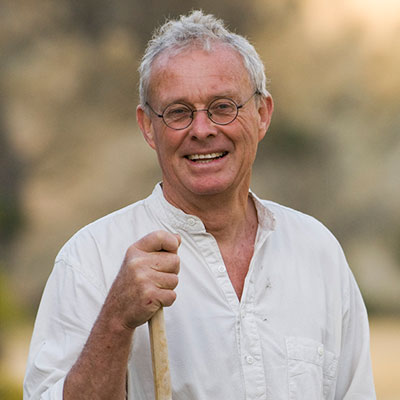 After backpacking extensively, playing drums for the band Genesis and working on building sites, Chris had his epiphany moment whilst working on a sheep farm in Surrey. Farming was his dream destiny and he spent some time running a sheep farm in Sussex. On meeting the founder of Rough Guides at a party, his path took a new turn and he began a stint as a travel guidebook writer. Almost in full circle, he eventually moved to a remote farm in the Alpujarras, south of Granada in Spain with his wife Ana where he still lives today. He used his experiences of working the land, shearing sheep and living remotely to write a book called 'Driving Over Lemons' which has been a huge success, and many other titles followed on.
Chris Stewart interview
Where's home?
My farm here in the Alpujarra, Spain - 28 years now and I shall stay here for good; I've already dug the hole beneath a favourite orange tree, and what little free time I have is devoted to the weaving of a double coffin of esparto grass.
Tell us about what you do and the main idea behind it.
I work the land, with occasional time off to write a book. Through some indefinable and mysterious mechanism we have become the stewards of a great patch of mountainside in Andalucía, south of Granada. I think the land chose us as much as the other way round, and it has since enslaved us so we devote ourselves body and soul to its loving care, in order to leave it in a better state than that in which we found it. During all my years of traveling and observing those who formed a part of the landscape, I longed to be one of them, to be one of the observed, to be rooted somewhere. That's the way it is now.
What's your first ever travel memory?
Butlins of course, Bognor Regis... a place so replete with fascinating promise and exoticism, and just the faintest hint of incipient sex; for a twelve-year-old it was everything a place should be.
Describe yourself in three words
An amiable buffoon.
What inspired you to start traveling?
Laurie Lee's 'As I walked out one midsummer morning'.
What do you dream of for our world in the future?
A drastic thinning of the population as a first step towards cleaning up the appalling mess we have made.
What's been the biggest challenge you've faced on your personal journey?
Re-inventing myself to get up on a stage and speak in public.
Where's the best place you've woken up?
You'll think this trite, but there's no two ways about it and it's my own bed in my own house.
Is there one person you've met who you feel you were so lucky to connect with?
Yup, the Wife... and it's been forty years now.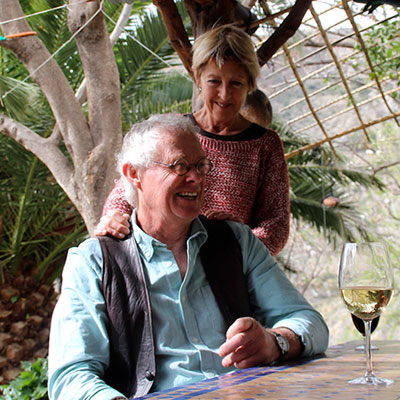 Chris and Ana (Photo by Maggie Harris)
Has anyone ever told you that you won't make it?
No... but had they done so they might have been right; it's hard to know just what 'making it' entails.
Tell us about a time when you felt like walking away from an adventure?
Why just the other day, some friends suggested I accompany them on a traverse of the 'Vasar de Mulhacén' (qv), a clamber across the north face of the highest peak in the Sierra Nevada. I took one look at it when we reached the pass, and, unable to contain my understandable concern about the safety of the undertaking, had to slip behind a convenient outcrop. My uncertainty thus brought to a more or less hygienic conclusion, I stuck my courage to the sticking place and stepped out with the rest of them... and had I not done so I never would have spoken to myself again; it was unforgettably wonderful.
What keeps you going if you ever feel like giving up?
The Wife 'n'daughter, I guess.
What are you most proud of?
Hmm... it may sound odd, but, as the Spanish say, it's not just turkey-snot the writing of books, and I never really thought I had it in me. At any rate it makes my old mum proud.
What's your happiest travel memory?
With my belovèd and late friend Michael Jacobs, wandering in the Colca Canyon in Peru, beset by dozens of condors; you don't forget days like that.
What's always in your bag – no matter what adventure you're on?
A mediaeval love token curiously coined by Grayson Perry and given me by my consort. It has engraved upon it 'No heart so true as mine to you'.
What do you still dream of doing that you haven't yet done?
I should like to circumnavigate the globe in an old wooden sailing boat. But hey, if I don't it's still OK.
Where would you like to be right now?
Back home... where, indeed, I am.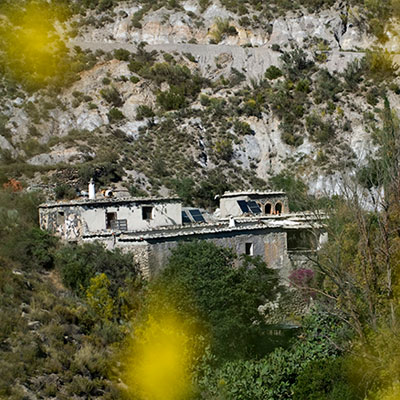 El Valero, Chris's home (Photo by Luna Vandoorne)
Where was the last trip you took and why did you decide to go there?
Yunnan in south west China. My daughter is working there and we go to visit her every year, We are utterly bewitched by the fascination and beauty of the Celestial Kingdom.
What does responsible tourism mean to you?
Tourism in general is one of the most destructive industries on the planet... and it moves even more money than the arms industry. Responsible tourism is an infinitesimal minority - ninety nine percent of tourists don't give a toss - but thank heavens there is somebody who does care. I think, though, that when it boils down to it 'responsible tourism' is staying at home and reading a book about it.
Meet Chris Stewart on a Responsible Travel vacation.
Read more from Chris on his website.