Cory Lee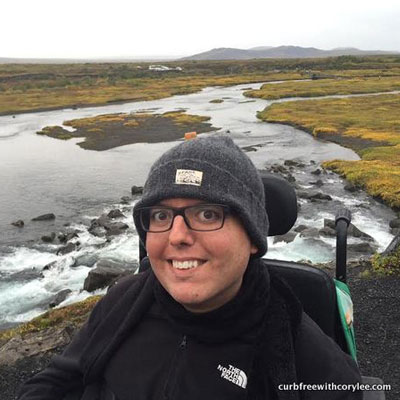 Cory is a 26 year old American travel addict who blogs about his travels in a wheelchair. He has a strong passion for traveling and has already been to 17 countries around the world. His goal is to visit every continent and document it all along the way, finding the most wheelchair accessible places as he goes and sharing them with his readers. His dream is that one day he'll be able to wheel his wheelchair onto a plane and stay in it during flight. Here he talks to us about the time he went rock climbing, how Sydney, Australia is the best place he has woken up and how surrounding himself with positive people is his key to happiness.
Corey Lee interview
Where's home?
Home is in the small town of LaFayette, Georgia in the USA. It's about two hours from Atlanta and only about 30 minutes from Chattanooga, so there's always something fun to do nearby.
Tell us about what you do and the main idea behind it.
Back in 2013 I started my travel blog,
Curb Free with Cory Lee
. On it, I share my experiences as a wheelchair user that travels. I provide tips and accessibility reviews on cities, hotels, transportation, attractions, and more. I wanted to start my blog to show other wheelchair users that traveling is completely possible. Hopefully I can make it easier for them also by providing information about destinations.
What's your first ever travel memory?
I remember going to Disney World when I was four years old. I loved it, of course, as any kid would and it's still one of my favorite places in the world. I even did my college internship at Disney World a few years ago. I'm really thankful that my family introduced me to that magical place so early in my life.
Describe yourself in three words?
Ambitious. Creative. Fearless.
What inspired you to start traveling?
I have always loved traveling, but at the age of 15 I went on my first international trip to the Bahamas. After that trip, it really made me want to explore further and keep seeing new places. I've been to 17 countries as of today. Experiencing new cultures, trying new foods, and meeting new people is what makes traveling so special to me.
What do you dream of for our world in the future?
I would really love to live in a world that was completely wheelchair accessible and where wheelchair users had all of the same opportunities as able-bodied people. Traveling as a wheelchair user isn't always easy, and while I do believe that it's worth the hassle, it could definitely be easier. Some cities need to improve their transportation and attractions, and airlines need to be more accommodating as well. I dream of the day when I'll be able to just roll my wheelchair onto a plane and stay in it during flight.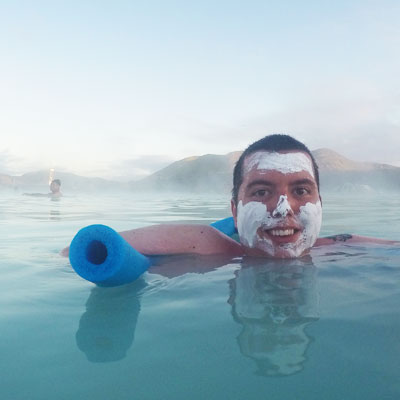 What's been the biggest challenge you've faced?
Adjusting to the changes that come with my disability is challenging at times. Spinal Muscular Atrophy means that my muscles are much weaker than the average person's, and they will deteriorate over time. I don't have the same abilities that I had five years ago for example. It's a constant reminder to do as much as I can now because I may not be able to in the future.
Where's the best place you've woken up?
I'd probably have to say Sydney, Australia. It was always a HUGE dream destination of mine, and I finally went for my 24th birthday. Waking up in Sydney was surreal. On my birthday, I went to Taronga Zoo and saw kangaroos and koalas, and then saw a show inside the Sydney Opera House. That was a fantastic day.
Is there one person you've met who you feel you were so lucky to connect with?
Back in 2007 I attended the Global Young Leaders Conference in Washington, DC and met Christine. She is from Germany and lives there still, but since meeting at that conference we've become best friends. I am extremely lucky that I met her there and even though we live thousands of miles apart, we stay in touch and remain best friends. We went to my senior prom together and I visited her in Wiesbaden, Germany after my high school graduation. Hopefully I'll be back in Germany again soon and will be reunited.
Has anyone ever told you that you won't make it?
I have been pretty fortunate to have great supportive people in my life, so I can't recall anyone telling me I won't make it. My mom is my biggest supporter and constantly encourages me to keep traveling and trying to change the world. I've been told that you are the average of the five people that you spend the most time with, so I only surround myself with positivity.
Tell us about a time when you felt like walking away from an adventure?
Last summer I was in Utah and planned to go adaptive rock climbing. Just a few hours before I was supposed to go to the mountain, I broke my toe. I contemplated staying at the resort and skipping the climb, but eventually got talked into going anyway and I am so glad that I did. I only made it about six feet up the mountain, but it taught me that anything is possible with enough determination. It also showed me that there is all kinds of adaptive equipment out there for people with various disabilities. Wheelchair users can go rock climbing, water skiing, snowboarding, and more.
What keeps you going if you ever feel like giving up?
When I was 18, I got a tattoo on my left arm that says "EHRGEIZ". It means "ambition" in German. Every time that I look down and see it, it reminds me to be ambitious and keep going after what I want, which is success. I also read a lot of motivational books from people that I admire.
What are you most proud of?
I'm really proud of the following that I've gained since starting my blog. I have about 45,000 followers across my social media channels and many of them are now my friends. I love hearing from them about their trips and learning from them. Interacting with them is hands-down the best thing about blogging for me.
What's your happiest travel memory?
It would be impossible to pick one happiest memory, so how about I just tell you about a recent one that was fantastic? I recently went to Iceland with my mom and stepsister and we stayed at the Blue Lagoon for a few days. This was the most relaxing few days ever and it was an unbelievable experience. We lounged in the lagoon during the day and saw the northern lights at night. It made me insanely happy to be there, especially with my mom and sister.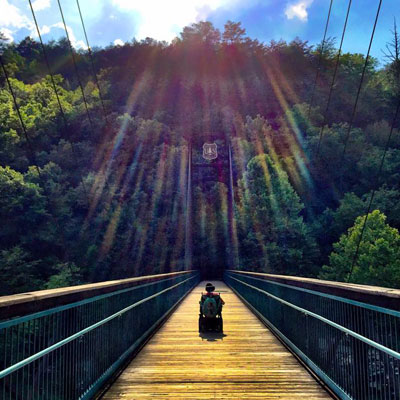 What's always in your bag – no matter what adventure you're on?
My wheelchair battery charger! I literally couldn't go anywhere without it.
What do you still dream of doing that you haven't yet done?
I have a pretty big bucket list. At the top of it though is visiting all 7 continents. I'm aiming to complete that goal in the next few years. I also still dream of riding a camel in Egypt, seeing the Great Wall of China, and hang gliding in Iceland.
Where would you like to be right now?
There are sooo many places! Haha! But if I have to narrow it down, I'd definitely pick somewhere warm and somewhere that I haven't yet been to. I guess I'd go with Thailand. I'm hoping to make it there within the next year or two.
Where was the last trip you took and why did you decide to go there?
My last trip was to Las Vegas for my 26th birthday. This was my second time in Vegas and I absolutely love it. I went hot air ballooning, gambled too much, and even saw Britney Spears. To say that it was an epic birthday weekend would be an understatement.
What does responsible tourism mean to you?
Responsible tourism means looking out for the best interests of the local people and customs within a destination. I always try to leave a positive impact when I visit a place and adapt to their way of life while there. I strongly believe the world would be a better place if we all tried to leave a destination better than when we found it, whether that's by doing volunteer work or simply spreading happiness.
Read Cory's blog here