Lucy AitkenRead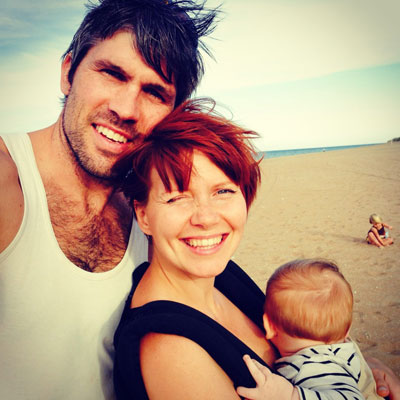 Lucy AitkenRead is a mother, activist and author of two bestselling books and lives on a farm, in a yurt in New Zealand. Her latest book, 30 Days of Rewilding, is a collection of daily readings that will inspire families to fall in love with nature. Here she chats about her innate nomadic tendencies and how a stint living with Patrick at his Forest School in The Black Forest in Germany single-handedly influenced the rest of her family's life decisions. Her advice for parents traveling with children is invaluable – 'slow down'. Lucy has inspired us all at Responsible Travel - families and non-families alike, epic and memorable adventures are there to be had for us all.
Lucy AitkenRead interview
Where's home?
For around three generations my family has been pretty nomadic. I think that I've inherited (perhaps as a survival mechanism) an ability to feel at home wherever my feet land. I spend a few days somewhere and love it like a local! Right now though we are living in a forest in New Zealand, starting up a little off the grid farm.
What's your first ever travel memory?
For most of my childhood my family had an old VW campervan. We used to do epic road trips from London to Budapest. One of my first memories is from one of those trips, paddling at a beach and being chased by a humongous crab!
Describe yourself in three words?
Ants in pants.
What inspired you to hit the road with your two kids?
We imagined lying on our death beds regretting not doing certain things! Seriously, it was a bit like that. We had just seen Revolutionary Road at the cinema while I was pregnant with our second child and could see our lives turning out a bit like the lives of the characters played by Kate Winslet and Leonardo Dicaprio! Just getting on with life, doing the "done thing" - the mortgage, the steady job, the slotting into the right roles in society. We had a conversation that went "nah, let's not do that. Let's dream a bit, and float a while, and see where these two things take us." We sold the house and our belongings, packed ourselves into a VW and cruised around Europe for five months to figure out what was important to us and to meet people that would set our hearts aflame! We knew that when we are old and dying we would not regret giving up the house and jobs in order to spend more time with our children and fall in love with the world a bit more. Our trip around Europe gave us the chance to set a plan in action and we ended up in New Zealand!
What do you dream of for our world in the future?
The triumph of community over corporations, of friendship and connection over profit and control. All over the world there are pockets of people valuing each other, caring for each other, working together in a way that fits in harmony with the earth. My hope is that these pockets multiply, so that everyone can access the goodness, and no one has to be isolated and exploited by Big Business!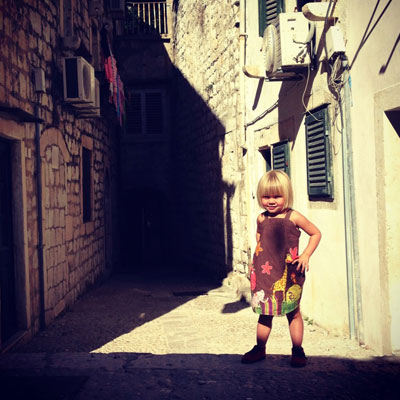 What's been the biggest challenge you've faced as a family on this journey?
Possibly the extreme emotions that we've experienced! In my
guide for traveling around Europe with your family
I write: "There is something about traveling that rips open your heart. At 4:30pm you'll be sitting by a river with tears in your eyes because you are JUST SO HAPPY look at our angelic children and my dashing husband we are all perfectly content and we love each other so much! And then, inexplicably at 4:50pm, you'll be like F*CK THIS SH*T WHAT ARE WE DOING LET'S GO HOME YOU B*STARDS" I think the empty yawning of the days and the starkness of adventuring can bring everything up to the surface, stuff you've sat on for years!
Where's the best place you've woken up as a family?
There is a little beach on the East coast of New Zealand that is just about an hour from where we live where there is a "free camping allowed" sign. Our farm is pretty busy (we share it with another family and a lot of animals!) so when we need to get away and just be with ourselves we finish up all the jobs of the day, have dinner and drive our campervan through the dark to this spot. When we wake up in the morning we are right on the edge of the sand, blown away by the still, azure water and the mysterious islands on the horizon. The impact is the same, every time we wake up there!
Is there one person you've all met along the way who you feel you were so lucky to connect with?
There have been a few people but one person sticks in my mind. My friend in London, when she heard we were taking a five month cruise around Europe, told me "You HAVE to visit this guy, Patrick, in the Black Forest, Germany. You will LOVE him." We looked at the map and thought "Hmmm, that is kind of a long way away from where we were planning to head. Let's do it." Guess what? WE LOVED HIM! He runs a Forest School in the depths of that ancient woodland, and he invited us to stay for a couple of weeks with his family on their beautiful small holding. We were so incredibly inspired by the forest school (
read about it here
) and felt a real heart connection with Patrick and his family. Meeting Patrick and spending time in the forest hugely influenced all the rest of our life decisions. Plus, later on when our van broke down in Italy he drove to our rescue, 16 hours through the night.
Has anyone ever told you that you won't make it?
The biggest thing that people have questioned had been our decision to buy 25 acres of land with another family. Everyone in our life has been really supportive and intrigued by all our decisions so far, but this one is always met with the question "What about when it all goes sour?" For us it was one of those things we had to do. We value community and sharing life so much, and when we met this other family we just knew we had to do it with them. Whatever happens, we know we would always regret not taking this chance.
Tell us about a time when you felt like walking away from an adventure?
You know that famous slogan, about adventuring (or being a Boy Scout, whatever) "Be Prepared" - well, we are never prepared. It is terrible. We suck at being prepared. This means that often, very often, we are completely surprised by how perfectly an adventure turns out! It also means that sometimes it goes wrong, very wrong. The times I have wanted to give up a particular adventure have always been when I can't. When we have taken a shortcut over a head land on the coast and ended up having to cut a tunnel through 500 metres of bramble with a pair of yellow plastic scissors I happened to have in my bag, crawling our way out. Or walking up a desolate Croatian olive grove to find Europe's biggest cave, but getting completely and utterly lost, having to climb over the ruins of walls for miles in the scorching heat. I couldn't walk away but I wanted to lay down and give up, for sure. (Croatia was actually one of our most fun adventures though - read about our huge Croatia roadtrip
here
)
What keeps you going if you ever feel like giving up?
I am blessed with a totally unbalanced optimism. In fact, the worse things get, the brighter I become! Clambering around that olive grove I was positively giddy! "WOW! HOW BRILLIANT IS THIS KIDS! MY GOODNESS! IT THAT A SNAKE! WE ARE SO LUCKY TO SEE A SNAKE!!!!" It must be totally irritating for those around but I think it gets us all through quite often!
What are you most proud of?
The decision we made to shrug off the comfort of our South London lives and do something utterly different. Right now we live in a yurt with no hot water or internet, completely off grid using water from the stream solar energy and a composting toilet. It couldn't be more opposite to what we had before. I feel like it took some guts for us to step out of the box as much as we have. (Although, I'm not sure it is "pride" as much as a thankfulness for all the people we've met in our lives who have inspired us and given us courage to make the decisions we have made.)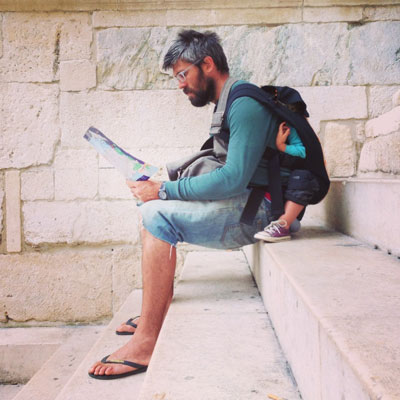 What's your happiest travel memory?
It has to be tripping in our campervan around the South of Spain with our little family. By that time on our European road trip we had gotten far better as simply "being" and it was December so every sunny day felt like a huge gift. We were really in a good space, able to delight in each place we found ourselves. Plus all the skinny dipping in those wild waves of Southern Spain was completely exhilarating. (Read about our family's Spanish adventures
here
)
What's always in your bag – no matter what adventure you're on with your family?
Our iphone, predictably! My work as a freelance writer means I need to keep as connected as I can using
Instagram
and
Facebook
and sending out blog posts and articles and things. I always carry my notebook and pen and a good novel. My children, no matter what adventure we are on, will always wrangle in about 17 fluffy teddies each.
What do you still dream of doing together that you haven't yet done?
One of the things my husband and I love about New Zealand is the natural hot pools here. It's probably the main reason we live here! We would love to visit the hot pools in Iceland and Japan. When we are old fogeys we might become hot pool tourists.
Where would you like to be right now?
Right here is good! I am in my friend's house, using her wifi and doing laundry. (Our solar powered washing machine has just broken!) And I am feeling thankful for the sun streaming in the window and the peace to write and work alone.
What does responsible tourism mean to you?
Researching as much as possible so that your activities have a positive contribution to the communities you visit, and as least impact on the earth's resources as possible. There is also something about mindfulness in there - taking it slow, getting to know locals and customs and honouring the indigenous people and ways of life. It is the opposite of "ticking xxxx off the list" which is a phrase I've heard so many times while traveling and it just horrifies me!
Do you have any tips for traveling with kids?
Go slow. Slow, slow, slow. Take your list of sights and activities and chop it in half. This will give everyone space to breathe and chance to participate in the decision making. We can crush our children's precious autonomy by dragging them about to "places they'll love!" Taking it easy can help us see the world through our child's eyes and ultimately have an even more beautiful experience.
Read more about
Lucy here