Saba Douglas-Hamilton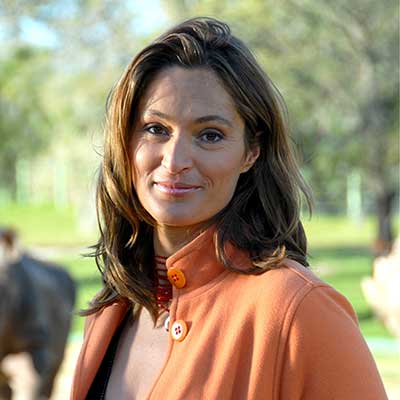 Conservationist, TV presenter and author, Saba Douglas-Hamilton lives in Kenya, running the Elephant Watch Camp eco lodge. She has worked with the BBC, presenting This Wild Life and The Secret Life of Elephants as well as the Big Cat Diaries. She is well known as the face of her father's charity, Save the Elephants. Saba was born and raised in Kenya by her zoologist father and author mother and grew up totally immersed in African culture and wildlife. She has also produced, directed and presented a wide variety of programmes for the Discovery Channel and Animal Planet, winning multiple awards. Saba was also a presenter on the BBC Vacation Programme.
Saba Douglas-Hamilton interview
Where's home?
Home is at Elephant Watch Camp, a beautiful eco-lodge built by my mother in Samburu national reserve in the northern frontier of Kenya, where I live with my husband and kids for 10 months of the year and am working with an amazing team to pioneer a new form of conservation tourism. We close during the rains in April and November, which is when we go on vacation or retreat to our little house on the outskirts to Nairobi (which is our other home) to enjoy the colder weather.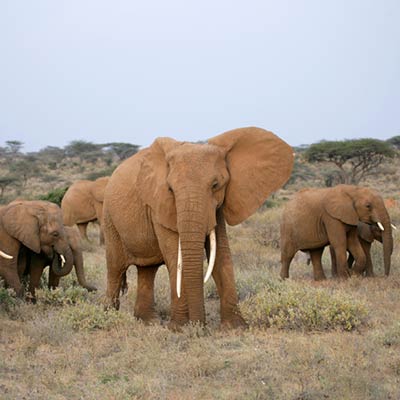 Kenya Samburu National Reserve Elephants
What has inspired you to do what you do?
Growing up amongst elephants in Africa, with eco-warriors as parents, which opened my eyes to the beauty of the natural world and its rich tapestry of animal and plant life.
What's your first ever travel memory?
Being on safari in the Serengeti with my family when I was about four years old. I remember the vast open plains and driving for hours and hours through a sea of grass. We were with the American photographer, Peter Beard, who made my sister and I hold half rotten animal bones up to our faces as frames for his photographs, like the pelvises of recently deceased zebra or wildebeest, while he snapped away for what seemed like hours. I remember how much they stank and in our childish imagination how much he did too! We were used to life in the bush as our dad was studying elephants in Manyara National Park, but we didn't much like handling dead animals.
Describe yourself in three words?
Ferocious, feisty, old fashioned
What do you dream of for our world in the future?
That we can restrain the more rapacious urges of our species and set half of the Planet aside indisputably for Nature, preserving the rich abundance of animal life and the ecosystem services on which we depend, to create a lifestyle that springboards off the best of human technology and our extraordinary intelligence to build a truly sustainable future in balance with the natural world.
What's been the biggest challenge you've faced on your personal journey?
Losing one of my best friends when I was 28, a beautiful adventurer, paraglider, off-road biker, and free spirit called Giles Thornton. His death, which was violent and desperately unjust, sent me into a tailspin for several years. But it also catalysed a change in how I interacted with the world. I am forever grateful for having known and loved him, and like so many others, will miss him forever.
Where's the best place you've woken up?
Next to my husband when we first started courting, waking up to watch gliders appear in and out of the clouds directly above us, after sleeping outside in an English field under the stars.
Is there one person you've met who you feel you were so lucky to connect with?
My grandmother, Prunella Stack, who represented the very best of her generation. I learnt so much for her and relied on her heavily for her wisdom, just as young elephants lean on their matriarchs.
Has anyone ever told you that you won't make it?
My career advisor at high school told me I'd be lucky to get into University with the results of my final mock IB exams. He badly dented my confidence but set me on a course to prove him wrong, which was probably the best thing he could have done, in hindsight!
Tell us about a time when you felt like walking away from a project?
I don't believe in walking away from something once you've committed to it. But I do believe firmly in saying NO before you even get started. Most things in life are a challenge, but that's how you grow and test the fundamentals of your character.
What keeps you going if you ever feel like giving up?
Thinking about what the future will be like for my children if we don't reign in the rogue capitalism that is destroying so much of our Planet, plus a real sense of duty towards the millions of wild creatures that have no voice but rely entirely on humanity to secure their existence.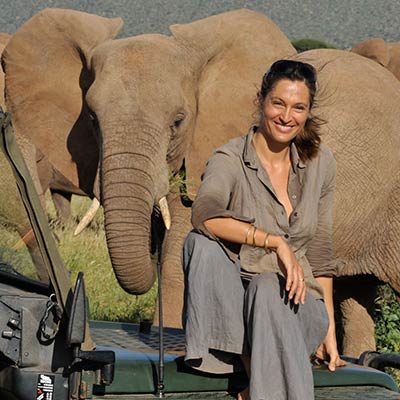 Photo by Sam Gracey
What are you most proud of?
My little family. Giving birth to each of my children naturally without medication. Watching my husband's wings unfold and take flight in the glorious decade we've been together. The hard-hitting conservation work of our NGO, Save the Elephants. Getting a first class degree at University, and then ticking off most of my bucket list before the age of 35.
What's your happiest travel memory?
Going to a tiny jungle lodge in the southern part of the Amazon basin in Brazil on honeymoon, and spending a whole day wild-swimming down one of the black water tributaries, watching monkeys swing above our heads in the trees and approaching water birds to within a few feet as we swam up to them. Whenever we got tired or wanted a break, we'd jump up onto inflated inner tubes that we'd tied to our ankles. It was one of the best days of my life.
What's always in your bag – no matter what adventure you're on?
My Swarovski binoculars and malaria medication.
What do you still dream of doing that you haven't yet done?
I'd like to write a book. Climb Everest. Learn to fly.
Where would you like to be right now?
I'd like to be at the Kenyan Coast, staying either at the Moon Houses or in Manda Bay, going for long exploratory swims every day in the warm Indian ocean.