2

independent reviews for

Kenya safari tour
Reviews for Kenya safari tour
---
Holly Foat

review 16 Oct 2008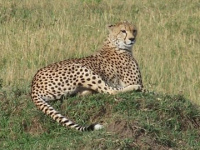 1. What was the most memorable or exciting part of your vacation?
The most memorable part was watching a cheetah stalk and chase a Thompson gazelle and listening to half the truck cheer the cheetah on whilst the other half were hoping that the gazelle would get away! There were many memorable parts including singing and dancing with the Masai, trying to comprehend the sheer number of flamingos at Lake Nakuru, holding hands with the beautiful children at the childrenís home, watching the vultures tear apart the carcass of a wildebeest, seeing a serval trot through the long grass and having a barbeque with the Masai.
2. What tips would you give other travelers booking this vacation?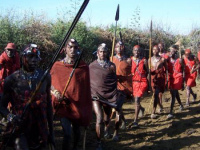 Our guide told us to be a family and itís a great way to view the group. Sharing duties like washing up and sharing food really helps the group dynamics. Bring a wildlife guide book and have a look through before you arrive so you know what to look for (there is more to see than giraffes and big cats!). Bring a Swahili dictionary or phrase book. Just knowing a few words really helps relations with local people. Bring a hat that covers your ears and neck, the sun is strong and having sun burnt ears isnít much fun! If you buy bottled water get the 5litre bottles or use water purification tablets, The chlorine ones are cheap and the water doesnít taste bad either. In September, mosquitoes arenít a problem Ė we didnít need our mosquito nets and DEET, perhaps sun cream with insect repellent might be a better option. Bring a good camera, my 10x zoom was dwarfed by some of the kit of the others on the trip. A zoom is essential to catch some great animal photos. Be prepared to rough it a bit, long drop toilets and cold showers are part of the experience, as is dust so bring a scarf or something to cover your mouth and nose on some of the dustier roads. Bring pens or books for the childrenís home. Drink the local Tusker beer!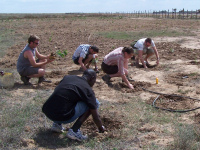 3. Did you feel that your vacation benefited local people, and minimized impacts on the environment?
This trip is very much about local people. Our guide was Masai and took us to his village where we ate with them, visited their homes, learnt about their culture and bought souvenirs from them. Everyone in the group found it a real privilege to be welcomed into their community. We also visited a childrenís home and took pencils for the children. All the food on this trip was bought locally and the park fees go towards the conservation of the parks. We also stopped to plant trees as part of a Friends of Conservation project.
4. Finally, how would you rate your vacation overall?
For me this was a fantastic trip. Our guide, cook and driver were so friendly and helpful, they really made the trip what it was. The itinerary is great, giving you a diverse range of environments so you can see a variety of wildlife building up to the great Masai Mara. There is a great mix of people and animals which means you wonít get bored of seeing zebra and you can get a real insight into the cultures and communities of the local people.
---
Patricia Grey

review 10 Sep 2006
1. What was the most memorable or exciting part of your vacation?
On day one we saw four of the big five (with the aid of super-powerful binoculars!). Also the trip to the Maasai village was fantastic - we got a unique and amazing insight into a completely different way of life.
2. What tips would you give other travelers booking this vacation?
Take layers! It can go from very hot to very cold on a road journey. Boots/sturdy trainers a must and a waterproof very useful. Can get really cold at night, so a sleeping bag liner might be an idea. A woolly hat isn't a bad idea either. Don't get bitten!
3. Did you feel that your vacation benefited local people, and minimized impacts on the environment?
I did feel the vacation benefited local people. All of our guides were locals, which makes a huge difference. We saw other tour buses full of Australians and Europeans and I don't believe they got the same kinds of insights into the country, the people and the culture that we had. The tour operator is very strict about not leaving any litter (even biodegradable stuff, as it could be harmful). Also, they stick to the paths in the reserve. Some others (including big name companies) drive right up to the animals just so that their passengers can get close ups (and the guide can get a bigger tip). We saw this happen with a cheetah who was sitting in the shade of a bush. Two vans drove right up to it, on either side of the bush, and it was clearly uncomfortable and had no means of escape.
4. Any other comments?
The vacation was fantastic and I'd highly recommend it... P.S. Hope I win the vacation!
Holiday Reviews
You can trust Responsible Travel reviews because, unlike many other schemes, reviews can ONLY be written by people who we have verified have been on the holidays. In addition, we don't run these holidays ourselves - our only interest is giving you the best independent advice.