Balkan River Dams - Balkan River Defence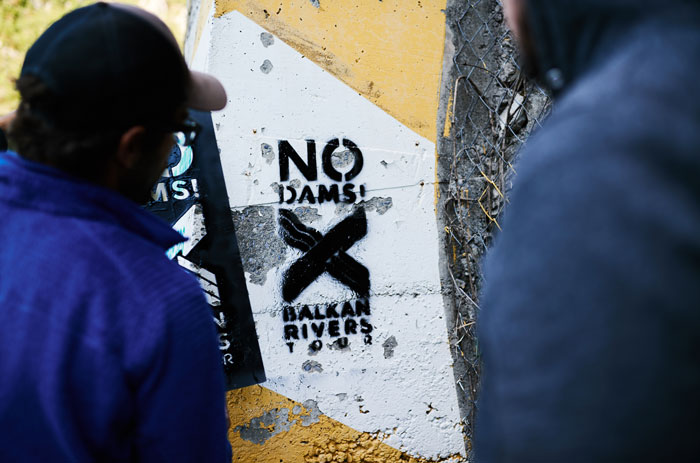 Sign. Photo by Jan Pirnat
Rok Rozman is a Slovenian kayaker and also founder of Balkan River Defence, an organisation set up to protect Balkan rivers from commercial development and hydropower. Not only is this movement supported by our leading
Montenegro adventure vacations supplier
, but it has also been backed by the pioneering and ethical outdoor clothing company Patagonia. Among many actions to push this movement forwards, Rok and his colleagues are paddling in protest at various events in Montenegro and other
Balkan countries
where there are some very worrying plans to develop the Moraca and Tara rivers and others. The impact on the unique ecosystems and exquisite environments would be devastating. Here is Rok, who definitely rocks, talking about how it all began.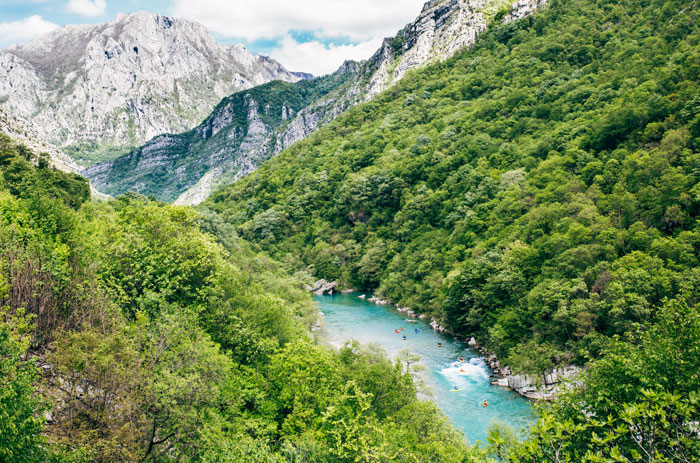 River. Photo by Andraz Fijavz Bacovnik
Whatís your role and how did you get involved?
Iím the guy who got this crazy, beer-influenced idea at a post conference party about Balkan Rivers because I wanted to cut the crap with all the complaining, problems with funding, not enough experts etc. In short, I wanted to make nature conservation rockíníroll. Together, with a bunch of friends, we knew that we had to do something really significant to stop the development and damming of our beautiful Balkan rivers.

Tell us about your campaign in a nutshell and when did it launch?
Balkan River Defence is not a campaign, it is a movement. Campaigns are artificial concepts and tend to end soon, while movements are organic and grassroots. Balkan Rivers Tour is our biggest direct action that happens every year. It is a month long tour across the Balkans. It all started in spring 2016 and itís growing bigger each month!

What inspired this campaign?
If you are a kayaker and fisherman spending time on these amazing rivers you donít need to get inspired. Those rivers are my friends and when somebody is threatening my friend I stand up for her or himÖitís exactly the same with rivers.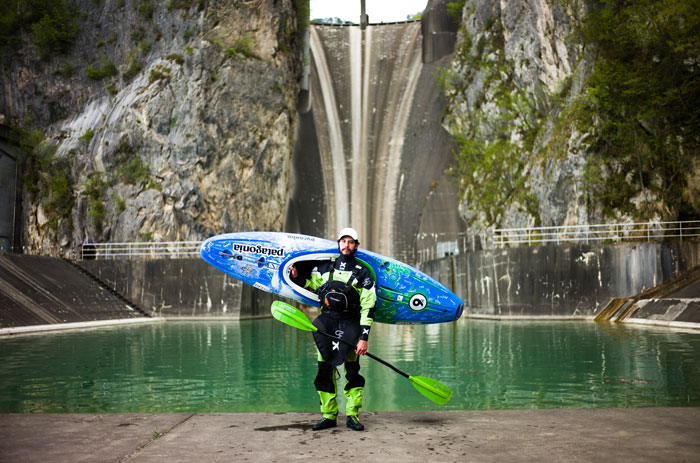 Kayaking. Photo by Jan Pirnat
Please do share with us a story about a person, place or animals that are currently getting a rough ride because of these issues?
There are 3,000 dams being planned in the region between Slovenia and Greece and not a single one will help locals or wildlife. Those dams are getting built because they present a perfect opportunity for money laundering and corruption which will be hidden from the mainstream European media. Most of the Balkan countries are net exporters of energy and there is no real need for additional energy, so we have all been tricked into believing we need that destruction. However, the unpleasant truth is that the only drive behind these projects is greed. Who is getting a rough ride? Well everybody except those few who might make millions building these dams. Imagine all the endemic animal and plant species that have nowhere to go when their canyon gets flooded. Imagine people who have been living next to the river in a sustainable way for generations and generations - they canít live under water and will be forced to move to cities where their lives are not worth living anymore. This is a story of greed aggressively attacking Europeís natural and cultural heritage and we have a chance to stop it only if we all join forces.

What change needs to happen to make things better?
Start informing yourselves about how bad of an impact dams have on our environment, how un-green they are and how we can cope without them. Join a direct action group and support local action groups on your travels, speak about this with your friends and share on social media. And also, start using less energy so that the energy market will have an even bigger problem with a lack of demand. Demolish dams in your heads first so that you can be a part of the positive change. Itís all about changing your perception of what you can do personally to defend wilderness, resist apathy and condemn greed.
Take action!
Come on our Balkan Rivers Tour
Check out our website, and chip in with a little donation. We are a total grassroots organisation with no big funds supporting us.
Use less electricity, and - super important - have fun while you are in the outdoors, connect with Momma Earth and accept that you are a part of her!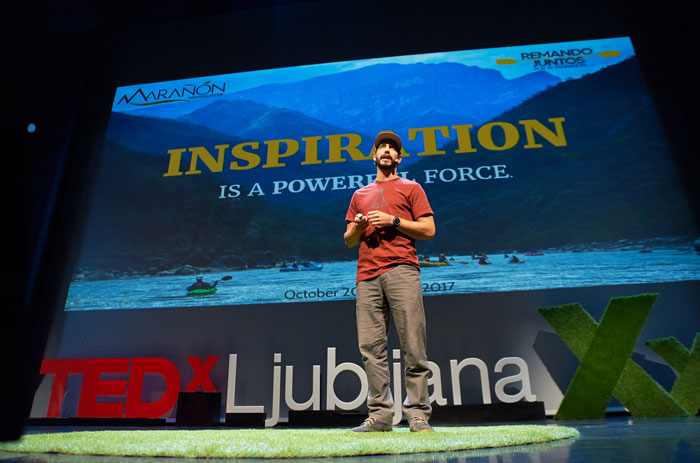 TED talk. Photo by Tedx Ljubljana
How will the world be a better place if and when you succeed?
The world will be a better place because we all need free flowing rivers, admit it or not. We all like their smell, sound and vibe. We get rich soil, they form beaches in the sea, give us nutrients and fish. There are not many sustainable communities left around Europe, but those next to Balkan rivers sure are. Give yourself a chance to go there and experience this for yourself. The world you see is the world your perception draws in your headÖdo something good for it and enjoy in this better place. If you love a place, you have a duty to protect it, itís that simple.

If you had a mega-phone for 10 seconds on a rooftop to get your message out, what would you shout?
Oh I yell through megaphones on many occasions! I would say: ďThe time has come my dear people to embrace the idea of democracy and demand from those greedy b*****ds to stop the unnecessary destruction. We and our fellow people from those valleys, fish, snails and birds all have the right to keep on living in these special places in centuries to come. Stand up and unite!Ē

If you had a 10 second slot on TV which image would you show to get your message out?
I would show photo 1 below and just be silent for a while. Then I would show photo 2, also below. Do you think itís worth the fight? If yes, please come to the Balkans to help us!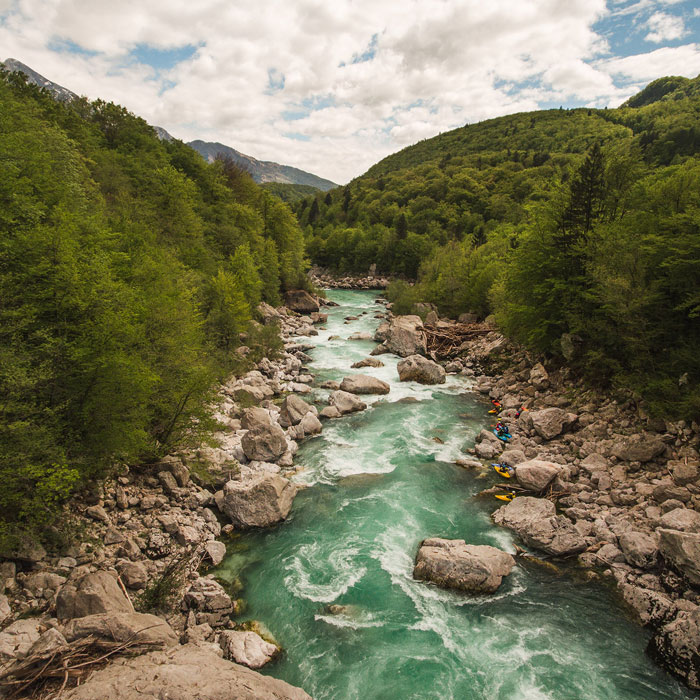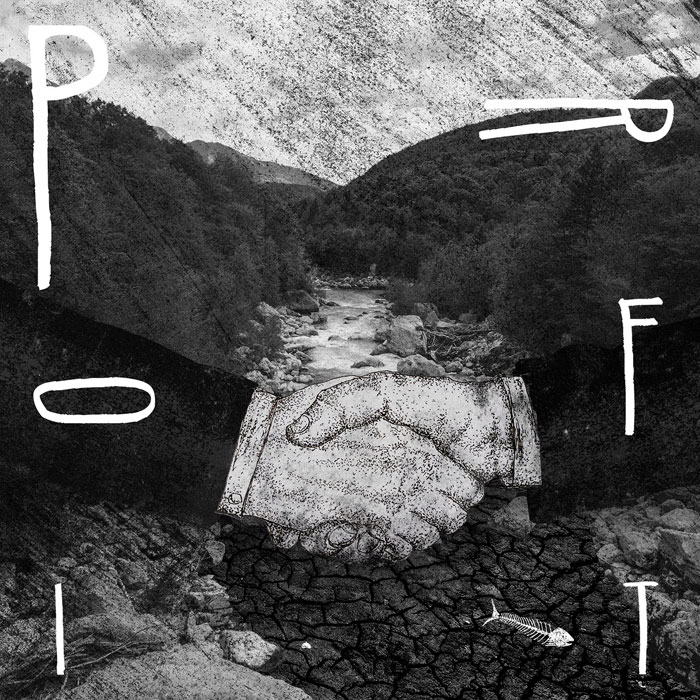 River and river dam graphic. Photo by Matic Oblak, graphic by Dalibor Kazija
Is there one person who figureheads this campaign? Tell us about them and their inspiration and aspirations.
I met some amazing people in last few years. One of them is Ben Webb, a kayaker from Australia who has dedicated his life to the protection of Rio Maranon in Peru. He also connected me with Anka Makovec, a now deceased lady from Slovenia who was a part of the resistance against the dam on Franklin River in Tasmania. I had a chance to paddle this beautiful river and meet her just before she said goodbye to this world. Her wisdom and power of humanity are there with me all the time. I feel fortunate to be able to get to know her and she is our deep inspiration and a proof showing anything can be done if you really believe in it!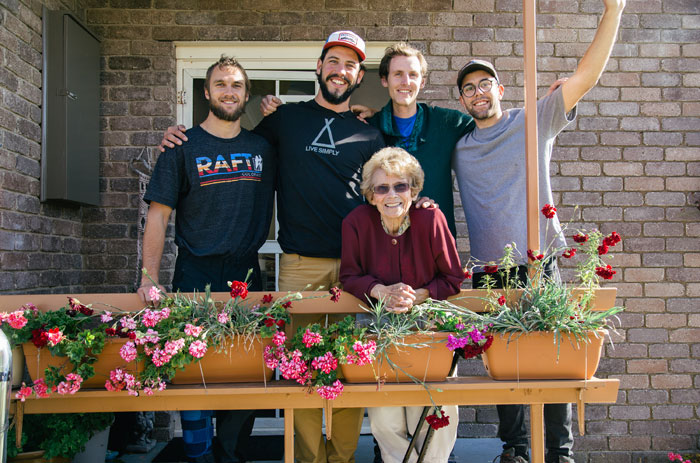 Anka Makovec and BRD team. Photo by Anita Ondine
Is there a campaign website, Facebook page, Twitter handle or hashtag#?
Sure!
Balkan River Defence webpage:
balkanriverdefence.org
Facebook: https://www.facebook.com/balkanriverdefence/
Instagram: https://www.instagram.com/balkanriverdefence/
Do you have a target end date for this campaign?
We will keep on fighting till we stop this unnecessary destruction! Although, the sooner the better!
Take action!
Come on our Balkan Rivers Tour
Check out our website, and chip in with a little donation. We are a total grassroots organisation with no big funds supporting us.
Use less electricity, and - super important - have fun while you are in the outdoors, connect with Momma Earth and accept that you are a part of her!