Company vacation gift voucher scheme
Keeping staff happy and motivated is vital for any business. Vacation vouchers make perfect employee incentives. You can reward, motivate and inspire employees with a choice of truly inspiring vacations.
Choosing Responsible Travel vacation vouchers supports your business' Corporate Social Responsibility commitments by advocating responsible travel.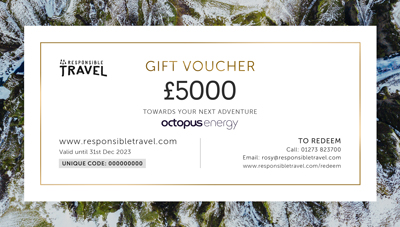 Why choose Responsible Travel vacation vouchers?
▸ Unique - Set up in 2001, Responsible Travel is the world's leading ethical travel agent offering 1,000s of vacations around the world, each one chosen because they are better for the environment and local communities.
▸ Choice - With over 6,000 vacations to choose from there's something to suit all tastes and budgets whether it's a relaxing beach vacation at a hotel, an adventure vacation or short break in the UK.
▸ Flexible - We can easily adapt our vacation vouchers to your company's needs and our customer service department will ensure that the voucher winner finds the right vacation for them.
▸ Responsible - Promoting responsible travel is a great way to contribute to your CSR policies. You will be helping us in our bigger purpose; to re-invent the tourism industry for the long term benefit of tourists, local communities and the world's natural and cultural heritage.
How other companies have used our vacation vouchers:
▸
The Body Shop
held monthly sales incentive competitions for store managers. Winners received a voucher for between £750 and £3,000.
▸
Honda
used a £5,000 vacation voucher as a prize for the launch of their new hybrid car.
▸
Provamel
co-branded their in-store products, featuring an Amazon rainforest vacation in a consumer competition.
Ordering your vacation vouchers:
▸ Email
rosy@responsibletravel.com
or call us on 01273 823 700 with your businesses vacation voucher order.
▸ We can email the vacation vouchers either to you or your chosen employees.
▸ An administration fee of £50 plus VAT is applicable per voucher. There is no VAT charged on the voucher value itself.
▸ Note that co-branded vouchers and dedicated company landing pages are also available.
Voucher terms and conditions
» Find out more
about us here