How green is Sweden?
Sweden has an international reputation for sustainability. It was one of the first countries to introduce a carbon tax, and today almost 55 percent of its energy is renewably sourced. One of its most cited successes is its sustainable forestry industry, according to which Sweden's forests have increased by 200 percent since 1950 and now cover 57 percent of the country, an area the size of the UK.
However, it's here that environmental campaigners are arguing that the Swedish government isn't as green as it makes out to be. So much so that a new campaign website
skogsmissbruket
("forestry misuse") is calling on people to flood the internet with images and videos of the country's clear-cut forests and expose what it calls Sweden's green lie.
The lie is that all forests are equal. In fact, there is a big difference between Sweden's natural forests – healthy, varied and centuries-old ecosystems that support a rich biodiversity – and the young monoculture plantations that are replacing them. These are not forests in any real sense; they're neat rows of crops, grown for harvest and home to little in the way of wildlife.
Marcus Eldh, founder of our Swedish nature tour specialists WildSweden, describes Sweden's sustainable forest industry as a big contradiction: "The fact that the Swedish state itself wants to cut down some of the last remaining old growth forests means that something has gone terribly wrong. We're not against the forest industry in general – wood is a fantastic renewable material – but the large-scale clear-cutting of Sweden's natural forests in the north must end very soon."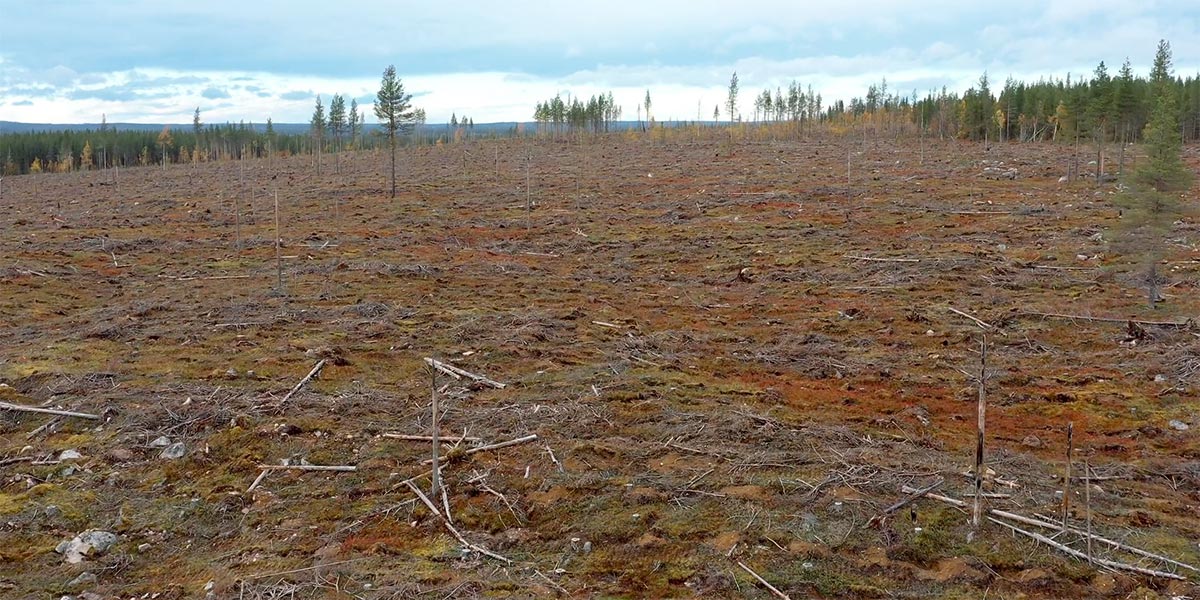 Sveaskog_Laitavaara from Marcus Westberg on Vimeo.
Sami culture at risk
Sweden's largest and state-owned logging company Sveaskog has been in the public eye recently due to its plans to clear-cut the last remaining natural forests in Luokta-Mavas, a Sami reindeer herding district and an area equivalent to 1,000 football fields. The result has been a
public backlash
that has stretched far beyond Sweden itself.
It's an area known to Marcus, as well the first stop on one of WildSweden's most popular
winter tours
, which takes travelers to a small Sami community town called Jokkmokk, just north of the Arctic circle. It's just a small part of Sapmi – the cultural region inhabited by the Sami, Europe's only recognised indigenous people – which covers much of northern Scandinavia as well as the Kola Peninsula in far north-western Russia. "Everywhere you find reindeer herding, that's done by the Sami," says Marcus.
What was once a much larger territory has shrunk after centuries of persecution and land theft at the hands of Swedish and other Scandinavian authorities. Mining, dammed rivers, logging and the development of huge wind farms across traditional reindeer pastures continue to threaten the Sami way of life.
"If you can't herd reindeer then the Sami culture will eventually die out. Because if you don't have reindeer then you lose the connection with nature, and you might as well move to live in Lulea or Stockholm, which many Sami have already done," says Marcus, who is also part of an association called Skogens Mångbruk ("multiple use of the forest"). Working with the many hundreds of thousands of small landowners in Sweden, who are often pressured to sell to the big forest owners and logging companies, the group advocates for more diverse and sustainable uses of the forests that provide more jobs, more income and more benefits to the people who live in the Swedish countryside. One of those uses is tourism.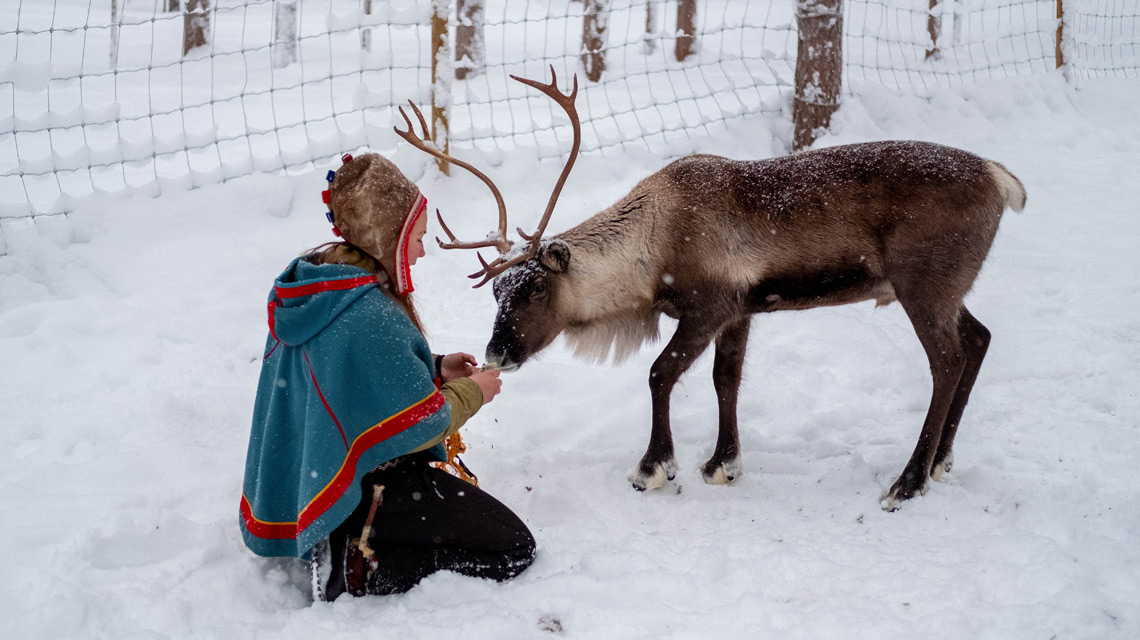 Protecting forests through tourism
In a survey compiled by Visit Sweden in 2020, tourists voted Sweden as the second best destination for sustainable nature experiences (after Norway). But back in the early 2000s, Marcus was surprised to find few local tour companies offering wild moose watching tours. It led him to found WildSweden.
Almost 20 years later, Marcus now gives an average of 40 talks a year on how to work in nature-based tourism in rural areas, and how to make money from the forests in a way that provides a much greater benefit to local communities, without cutting down the trees.
WildSweden's tours are run in collaboration with local people, so guides have strong connections to the Sami community and the guest houses visited are Sami-owned. The opportunity to hang out, do activities and eat with local people is what makes WildSweden's tours special, and for many travelers the trip highlight is the unusual opportunity to spend two nights in a traditional Sami tent (called a
lávvu
).
It's a small company, and Marcus intends to keep it that way. "I think that wildlife and nature tourism has to be small to be high quality, genuine and personal. If I had 100 guides I wouldn't be able to work with locals; I'd have to hire people from elsewhere and we'd be too big to work with small, locally owned accommodation. And rather than bringing thousands of people to Jokkmokk, it would be better for travelers to spread out over other rural areas of Sweden – no one wants to see hordes of other tourists on their vacations." He cites some of Sweden's ice hotels as an example of overcrowding.
His overall hope is to inspire thousands more similar small tourism companies – not just in Sweden but across the world – to work with and support nature. WildSweden even offers a yearly grant of 10,000 SEK (around £900) to young Swedish activists who stand up for forest biodiversity. It's drawn a lot of attention from Swedish politicians and journalists, who use the company as an example of what can be achieved from tourism.
Marcus also believes that the laws will change slowly over time to protect Sweden's old growth forests. The fact that it's not just the Sami protesting now, but other Swedish people and a new international interest attracted by the protests, can only be good news.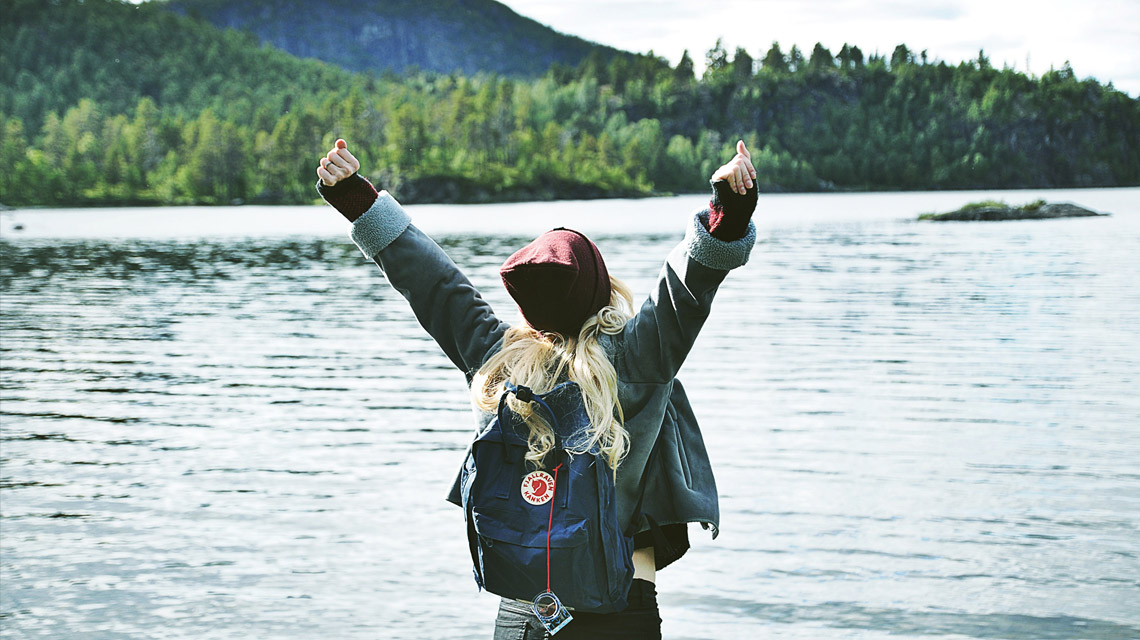 A temporary pause
Sveaskog has responded to the public outcry to logging the Luokta-Mavas forest by pausing its plans, citing the considerable international attention which has most recently resulted in the resignation of CEO Hannele Arvonen. The respite is only short-lived, however, as the company has every intention of continuing its timber harvest in the area following further negotiations. It's news that has wider implications far beyond the impact on Sami life.
Skydda Skogen (Protect the Forest), a Swedish non-profit nature conservation organisation, recently released a statement explaining the importance of the forest in terms of biodiversity, but also in protecting us against the climate crisis, pointing out that Sveaskog's logging plans equate to enormous amounts of greenhouse gases.
Lina Burnelius, climate and land-use expert at Protect the Forest, says: "One cannot clear-cut natural forests and at the same time halt the climate collapse nor honour the Paris Agreement."