Traveler interview: Kimberley Brown - Costa Rica tour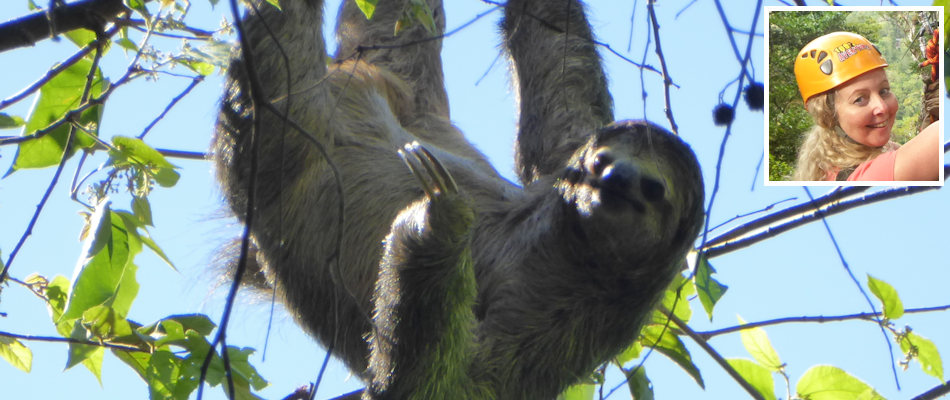 Sloth and (inset) Kimberley Brown (Photos from Kimberley Brown)
So, what made you want to visit Costa Rica?
I had an aunt and uncle, a very adventurous couple, who had been, and a cousin and her family, who had also been to Costa Rica in the last couple of years or so and they all came back raving about it. That's what inspired us.
When it came to packing, was there anything you wish you'd taken with you or even left behind?
I'm always in fear of packing too much and then having too much to lug around, but in fact, because of the lack of regular washing facilities, it's a good idea to pack a little more than you might actually think you need.
Did you know any Spanish?
Unfortunately no, I just know hola and that sort of thing. I intended to do some classes before we went but I didn't end up doing those. It would have been really useful to know some Spanish, though, particularly to communicate with the people whose village we were staying in. It wasn't a problem at all, it's just it would have been nice. I am going to take Spanish classes in September. We're really quite keen on exploring South America now.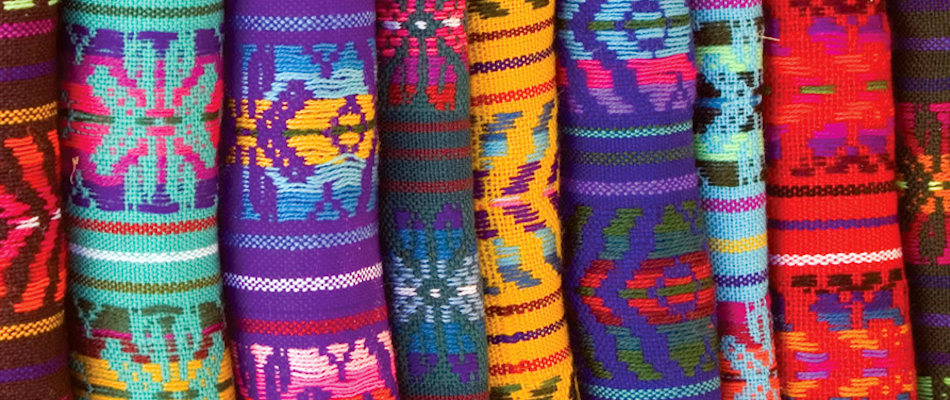 Did you pick up any souvenirs?
Normally we try to buy things during the trip and not leave it to the last minute at the airport, as airports tend to be costly and there's not much choice, but we found that it was quite difficult to find what we wanted locally, the quality we wanted, where we wanted it, but at the airport there was a brilliant selection. It was quite surprising. There were absolutely beautiful pieces of carved wall art here, which I would highly recommend, but you can also find a good selection in San Josť, too. That's something people might find useful to know.
What were your preconceptions before you went and how did they match up with what you found?
We were rather hassled before the trip with work and everything so we did less research than we expected to do. I knew I wanted to see a sloth, an armadillo - which I really didn't expect to be able to do - and maybe a volcano or two. Apart from that, that was it! Actually, we were absolutely overwhelmed once we go there. We saw masses of wildlife, we saw fantastic birds, beautiful scenery, lovely people and the food was fantastic. And we saw loads of sloths and an armadillo up close, which was a bit of a treat!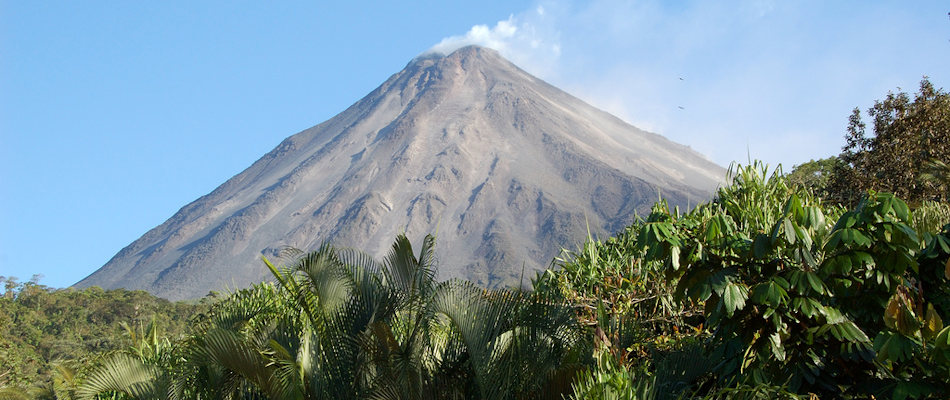 Arenal Volcano (Photo by
Arden
)
You mentioned the food was fantastic. What's on the menu?
The basic Costa Rican food is rice and beans with chicken or fish. It's very plain, but hearty and healthy, and obviously for breakfast there is endless tropical fruit. We also found that when it comes to eating out you could do that sort of thing, the simple Costa Rican food, but you could also easily find any number of extremely good restaurants. We had some of the best food we've had anywhere. It was a real bonus!
Where was your best sleep?
It's quite difficult to say, as everywhere we stayed was so different and each place had its own different charms, but probably the place we felt most at home in was in Monteverde. It was a beautifully run guesthouse, with very good service, a lovely place and very charming, and there were some agoutis running around on the lawn, which was a bonus. They're distantly related to rats, but they're more like a cross between a deer and a guinea pig.
Any scary moments?
The worst was the zip wiring, which had a Tarzan swing right at the end of it. I had no expectation that I would do that, it was thinking it would be a step too far, but actually when it came to it, you're so high on adrenaline that I did it along with another girl in my trip and it was just amazing. It was a 120ft free-fall that went into a swing, and then you swung a few times before they reeled you in!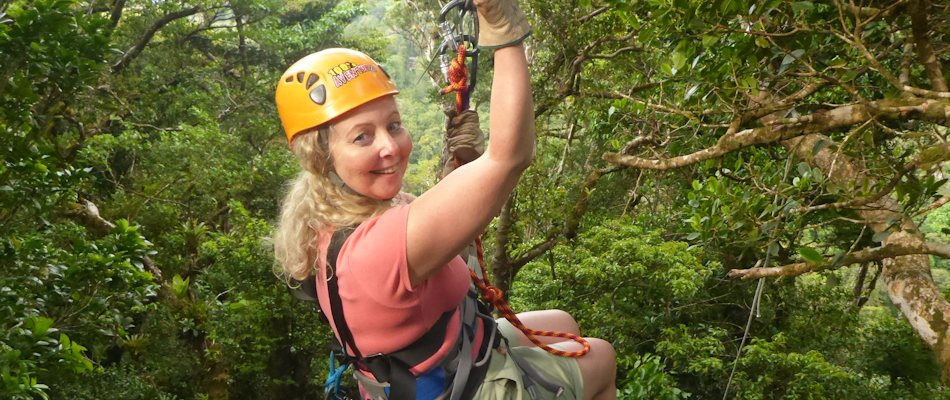 On a zipwire (Photo from Kimberley Brown)
Do you have any 'sense' memories from the trip?
Yes, but not specifically related to a single sense. I would say the feeling you get in the cloud forest is hard to describe - you can't really. I felt really affected by being in the forest we went through; it was a really interesting experience. It's alive with birdsong, but it's more than that. Sounds, smell, sight - it's a kind of mixture and an amazing atmosphere.
Was there one local person you met who you'll always remember?
There are two. One would have to be our guide, Jaime, who was absolutely amazing. I think guides have a really difficult time, but he was informative, he was clear, and nothing was too much trouble. He was very diplomatic in a couple of very tricky situations, so I couldn't praise him enough. It would be nice if this could get back to him.
There was one other chap who was absolutely hilarious. I think he was 90 or 96 maybe! He was in Tortuguero National Park and ran a canoeing trip. He took all of us out in the very early morning, to canoe around the national park and it was pouring with rain the whole time. He spent the entire time laughing. He told us the name of the canoe was the Titanic, and then spent the next half an hour laughing at his joke and our reaction! He was very funny.
Did you have a turning point, where you'd been nervous about something then realised everything was going to be OK?
I suppose there's the concern about how you gel as a group, you always have that in a group situation, and I think very quickly we gelled quite well. There was one awkward dynamic in the group, but it was handled very well by the group leader. To be honest, it did have quite an impact to begin with, but not enough to spoil my vacation; I don't think anything could have spoiled my vacation. I feel that not only was it dealt with well, it was just part and parcel of the experience, really. I've done two small group trips before, so I had some idea of what to expect. There were 10 of us. We were mostly Brits, with one person from Sweden.
Do you think anything was overrated?
At the risk of being a bit picky, we had a village stay which, overall, I loved. I loved the fact that we did that, I loved the villagers and where we were put up and everything, but there were a number of activities there that you could choose, such as fishing in the local pond, going for a walk to the waterfall or cooking, and I think there was a $10 charge for each. I felt some of them were a bit thrown together really, they weren't actually that amazing. But generally speaking the evening performances they did, the meals we were given and just getting together with the whole village was lovely.
Anything underrated?
The food was a pleasant surprise - I wasn't expecting that. I also wasn't expecting the level of passion and knowledge the local people we met had about their wildlife and the ecosystem generally. I was really quite impressed by that and it infected all of us with wanting to do our bit! I had the sense that the country is in the right hands and that the Costa Ricans have very much the right kind of attitude towards the country.
Do you have a favourite photo from all the snaps you took?
I suppose you could say the fact that I managed to capture the armadillo on camera was great, but it's a lousy shot and you probably wouldn't know it's one if you saw it! We were all so excited and it was dark and we were trying to snap it quickly, without frightening it.
Has the trip influenced where you'd like to go next?
Definitely. It would be nice to go back to Central America, but we'd like to explore the whole of South America really! We had only been to Mexico for a wedding before - not the same thing at all - so Costa Rica was uncharted territory. This trip has inspired us to do more!
Find out more about this trip
Continue reading about this
Costa Rica tour