Traveler interview: Sarah Algate, on her Hanoi to Ho Chi Minh vacation in Vietnam
See / go back to this
Hanoi to Ho Chi Minh vacation in Vietnam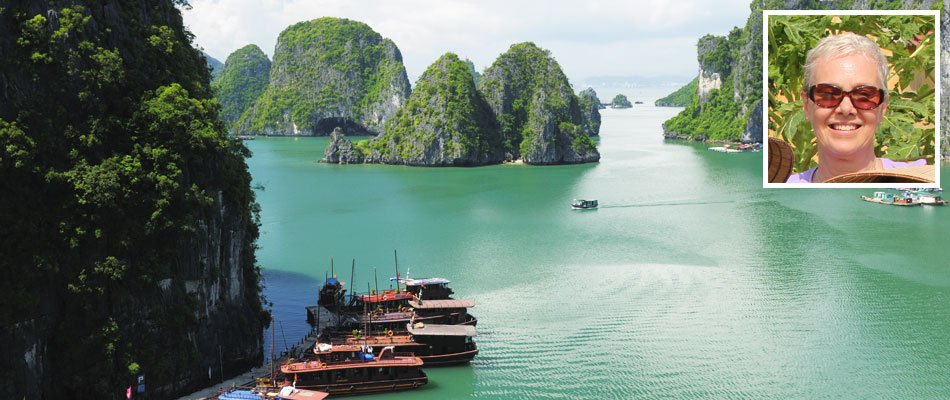 What made you want to go to Vietnam?
I had never been to that part of the Far East, and it has always been something that piqued my interest. Iíve just spent the last goodness knows how many years living in Dubai, and Iíve just left, so I decided that if I was in that part of the world, I just had to go across to the Far East. Because the chances of me being back home in Europe and then traveling east were much slimmer. So, I took a long break and travelled to three countries. As well as this trip to Vietnam, I also went to Borneo and Cambodia.
And did Vietnam live up to expectations?
It was really beautiful, and I was intrigued by its differences. Hanoi was very busy and bustling and, in a way, quite scary. And then all of a sudden, if you actually stopped and let the world go past you, it was actually fascinating. Other travelers that I had met in Borneo, just before this trip, had said to me Ďwhatever you do, when you get to the pavement and you want to cross the road, just go! If you stop and wait, youíll never get across the road.í And they were so right. It was fascinating. You just have to take your life in your hands and rush across the road because everyone just swerves around you. It is quite amazing.
Some trips do have scary moments for people. Was avoiding the infamous motorbikes in Hanoi the scariest thing you had to deal with?
Yes probably. I think the traffic all round was generally crazy. I remember coming back into Ho Chi Minh City on the bus and trying to take photos out of the windows of all of the motorbikes and all the queues. You canít appreciate it unless you have seen the hundreds and hundreds and hundreds of different motorbikes with varying numbers of people on them. We tried to see who could spot the motorbike with the most number of people on it. We actually saw one with a cow which was encased in a basket on the back of the motorbike.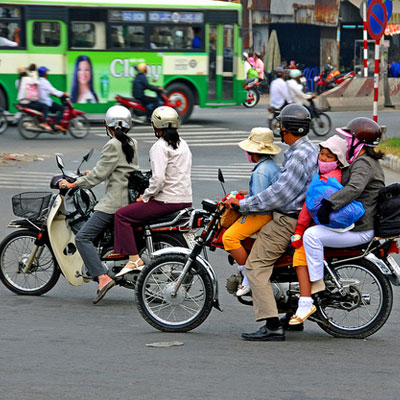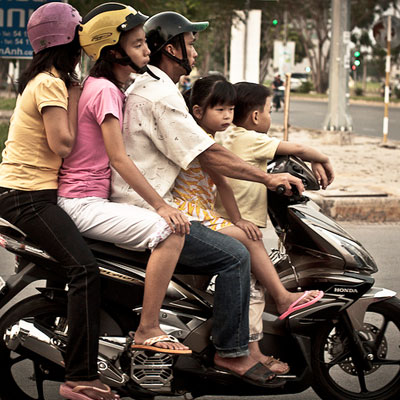 Had you been on a small group vacation before?
No, but I didnít really feel confident enough to go off on my own and negotiate it all, so I felt that this was like a half way house, if you like. I felt like I was on my own, but also had a group of people around me, and yet not too big a group. But I think they find the balance really well.
How many people were in the group?
16. I didnít really know what to expect as I hadnít done it before, and it was really good. The mix of people was good, from the point of view of age groups, and most people gelled. There was one couple who didnít really gel, but apart from that we all got on really well and had a good laugh.
What is the most useful thing you packed?
The most useful thing was a bandana-type thing that I had bought in one of the adventure stores. It was wonderful because I used it as a headband to stop the sweat falling into my eyes. And then I used it to cover my mouth and face a bit when going through Hanoi on motorbikes. So it was really useful.
What is your favourite souvenir or present?
I bought a lovely pencil drawing and some art in Hoi An. The art there was amazing, I could have spent a fortune. It was just beautiful. I bought all sorts of pictures all over the place actually, small ones and big ones. They were a little bit crumpled when I got back, but once I manage to get them behind glass I am sure they will be fine!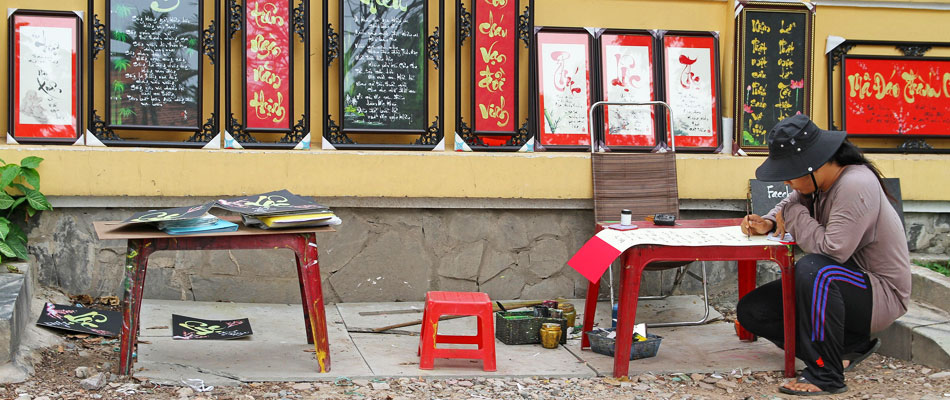 Street artist. Photos by Peter Rowley.
Were your preconceptions very different from reality?
One thing that was interesting about Vietnam was how much they wanted you to know about the war, and how much it is opening up now. The guide that we had, for example, his father was in the Vietnamese army, and these are people who have lived through it all and are still dealing with it. That was really striking, especially as it was my era. I grew up with the Vietnam War going on in the background as a young teenager, so it puts it into perspective. It is so recent, and you forget that really.
And did you find the war sites well interpreted and curated?
Yes, I think they were. The tour operator was very good at making sure you see those things, but also making sure it is as positive as possible, if that is the correct way of putting it. So, we went to the caves [Cu Chi Tunnels], and you could hear tourists shooting at the firing range there, but our guide told us that they donít take groups there, because they donít believe in that type of thing. So they make conscious decisions in that way. But yes, the War Museum is very well presented, and then the caves too.
Where was your best sleep?
Probably on the boat in Halong Bay which was just amazing. We didnít have very good weather, but it was very atmospheric with all the rain, although we did see some sunshine.
What did you think was going to be hard that turned about to be ok?
The train journey from Hanoi to Hue, which no one was really looking forward to, because we werenít very sure what to expect. But actually it was great fun. It wasnít luxurious by any means, with four in a little cabin, but we had quite a laugh. And definitely not as bad as we thought it was going to be. They did tell us that these were the first class cabins; the alternative was a wooden bench somewhere else on the train Ė which might not have been quite so much fun! We were sharing with all our fellow travelers as it had been booked in advance, and it was good fun, with a camp out feel to it.
Do you have any sense memories from your trip, other than Ďsightí ones?
There are fresh fruits everywhere which are beautiful. But out in the small villages around Hoi An they grow all of the herbs. So you have mint, lemon basil and all the different herbs that they grow in the gardens outside the city. And you can really smell them as you travel through.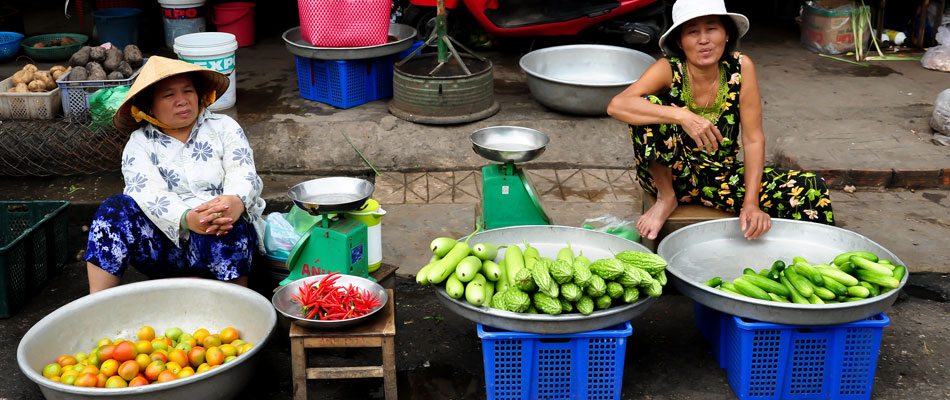 Was there one local person that you met whom you will always remember?
We didnít exactly meet him, because he was fast asleep, but I will always remember a moment outside Hoi An when we had stopped by an old bridge over the river, and there was an old man who was fast asleep. We were all on the bridge waiting for everyone to gather, and he didnít waken at all. Even though we were all chatting away on the bridge.
Was there anywhere that didnít stand out as much as other places for you?
For me, personally, I couldnít really get my head around Ho Chi Minh City. I think it is somewhere you need to stay for longer. In Hanoi I got a direct impression and it was fascinating, and Hue was amazing for the citadel of course. And Hoi An is just beautiful, with all the lanterns and everything. But Ho Chi Minh I found a bit strange. We did find an amazing restaurant there, which was quite chic, so I got the impression it is a bit of an ex patsí city.
What else did you do in Ho Chi Minh?
We did have fun there, because we went on the back of a motorbike tour around the street cafes. You stop off at all the back street bars and restaurants and eat a different thing in each one, which was really good fun. I wasnít sure what to expect, but it was brilliant. All the motorbike drivers are girls, and studying at university, so this is how they make a bit of extra money. In fact, all the employees are women, except four guys who take photos of you on the bikes as you travel through the back streets of the city. It is a very good tour.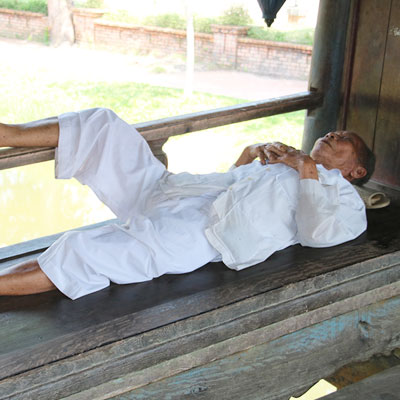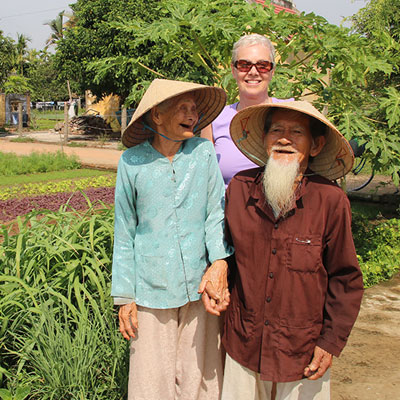 Old man sleeping & married couple. Photos by Sarah Algate.
Do you have a favourite photograph?
Well, the old man asleep on the bridge of course. And, although it is a little bit staged, we were taken to meet the old couple who have been married for 70-odd years and are 90-something. And you can take photos of them. But I took thousands of photos! I was just captured by so many things. The colours, the flowers, all of those sorts of things, and the people of course. The faces. I tried, wherever possible, to take pictures of people.
Has this trip influenced where you would like to go next?
Definitely, if I have the money! I would definitely do another small group tour with this tour operator again. Probably not in the European area as it isnít as difficult to negotiate. A lot of people on this trip had been to South America and that is somewhere I would like to go, and it was amazing to meet people on these trips who had been on many, many others. And all had good things to say about them, finding them well organised and really having enjoyed themselves.
Find out more about this trip
Continue reading about this
Hanoi to Ho Chi Minh vacation in Vietnam