Where to go cycling in Bhutan
Two wheels are far better than four when it comes to immersing yourself in both the landscapes and Bhutanese culture. You'll take in top sites like the Tiger's Nest monastery and the (relative) metropolis of Thimphu – and you may well get to experience one of the country's dynamic mask dance festivals. But for many, the best memories come from the smaller sections in-between. The villages where children come out to greet you, the mountain tracks leading past brilliant green fields of rice and potatoes, and the mountainside rest stops, where entertainment comes in the form of a cup of masala tea and a killer view. Read on for more on where to go cycling in Bhutan.
1. Bumthang Valley
Actually made up of four valleys, Bumthang is also the spiritual heart of the nation, home to some of the country's oldest temples, monasteries and landmarks, as well as quiet roads that are perfect for pedalling. The 'Burning Lake' is a sacred site of pilgrimage where it's said the sin-free amongst us are able to distinguish an extraordinary sight.
2. Gangtey Valley
You'll take on some steep climbs passing through the Gangtey Valley, also known as Phobjikha. A glacial valley, it's completely snowed under come the winter months when most of its residents up sticks and head to warmer Wangdue. The whole area is a hugely important wildlife preserve, home to muntjacs, wild boar, sambar, Himalayan black bears and leopards, too.
3. Haa Valley
Pedaling your way through the spectacular Haa Valley is unforgettable. You'll pass through vivid green fields of rice and potatoes, past traditional Bhutanese style farmhouses and stop at peaceful villages and towns, almost all of which have their own, dramatically located dzong (fortified religious building). Plus, the dramatic mountain backdrop of the Himalayas is ever-present.
4. Paro
Home of the National Museum, the country's only airport and a cluster of independent shops and restaurants, Paro is easy to negotiate by bike, and a ride out along the Paro Valley to the ruins of Drukgyel Dzong is a must if you have the time. The city's star attraction is Rinpung Dzong, a distinctive fortress characterised by huge buttressed walls that peer over the town and are visible throughout the valley.
5. Thimphu
Thimphu is a vibrant introduction to both the most advanced and most spiritual aspects of the kingdom. It has nightclubs and bars, for example, but it's also the only world capital without traffic lights, where temples, dzongs and parks make for a peaceful and contemplative atmosphere. You can cycle in the town or follow more strenuous mountain bike trails that head out into the valley and back. Who knows? You may even spot the former king.
6. Tiger's Nest
You'll have to leave your bike behind to make the 900m trek up to Tiger's Nest (or Taktsang Palphug), a hike of around four hours. Perched on the side of a sheer cliff overlooking the Paro Valley, it's the country's most iconic sight. It's said that Guru Rinpoche, the founder of Buddhism in Bhutan, arrived at the monastery on the back of a winged tigress and meditated there for three months straight, hence its more pronounceable moniker, Tiger's Nest.
If you'd like to chat about Bhutan cycling or need help finding a vacation to suit you we're very happy to help.

Valerie Parkinson, from our leading small group vacation specialists Exodus, has been leading tours in the Himalayas for more than 30 years:
Traveling on two wheels
"Traveling by bike is always special, as you travel slower than in a car or bus and you see so much more of the scenery and places you are passing through. Bhutan is special, as the roads are fairly quiet and the drivers are very polite. Cycling in Bhutan is still in its infancy and the Bhutanese are not used to seeing cyclists so you are welcome everywhere...everyone waves and shouts hello. Compared to the traffic in India or Nepal the Bhutanese roads are quiet and well tarmacked. In other Asian countries the traffic is often chaotic, but not in Bhutan so it's a pleasure cycling there."
A little different
"Tourism in Bhutan is highly organised and controlled by the government, with rules and regulations set for what tourists see and do. Sometimes the sightseeing is a bit restrictive, but being on a bike trip means you can go out of the normal sightseeing bus tour. Cycling is new to Bhutan and it means the leaders and guides have to work round the traditional sightseeing, so you get to see and do things a bit differently."
Bhutan highlights
"The main highlights of the trip are the local people we meet and the great local cycling leader who is from Bhutan and has great knowledge of the country, and, along with the mechanic and drivers, is always ready with snacks, tea and juice whilst we cycle. The local leaders are trained by myself and they cycle with the group at all times and are encouraged to eat with the group at mealtimes so they can chat and answer questions. The great, quiet roads are also a highlight, as are the wonderful forests that we cycle though and the lovely hotels after a long day's ride, which are ready with hot showers and great local Bhutanese food."
Traveling responsibly
"In the main briefing the leader will talk about responsible tourism and how to travel respectfully. Our trip notes give advice on dress code for cycling and visiting dzongs and festivals. Our clients are encouraged to carry a set of respectable clothing for when it is needed."
And some tips from a traveler

If you are cycling in Bhutan, suggest you bring a mask. The dust and fumes from the cars are not good for the lungs…

- Sauming Pang, Bhutan multi activity vacation
More about Bhutan cycling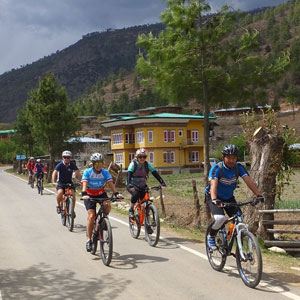 Bhutan's landscapes and spirituality are legendary – and a daily fee for international tourists has kept visitor numbers low.