Corsica travel guide
---
2 MINUTE SUMMARY
A craggy, forested mass rising sharply out of the Mediterranean, diminutive Corsica may come in a small package but it wields a mighty impact. A wonderfully diverse world-of-its-own, it offers everything from deep, dark woods, to vibrant coastal cities, to magical villages perched high on mountains or sprawled across cliffs. Ceded to the French by the Genoese in 1768, Corsica feels apart from mainland France in many ways, from the island's Genoese fortresses and Baroque churches, to its distinct language and cuisine that feel more Italian than French.
Activities are as varied as the landscape. There are enough museums, churches and castles to keep any history buff entertained, as well as beaches to suit both glitz seekers and lovers of solitude. And then there are the island's walking trails, including the renowned GR20, one of the longest and toughest walks in Europe.
Corsica is...
a paradise for walkers,
with trails to suit everyone from hardcore hikers to reluctant ramblers.
Corsica isn't...
mainland France.
Corsicans are fiercely independent, with their own culture, food and language.
Corsica map & highlights
---
MAKE THE MOST OF YOUR TIME
Wedged between France and Italy, petite Corsica contains a whole heap of highlights for its small size, from lively cities to spectacular coastline to a mountainous interior, topped off with beguiling mountain villages. The island reserves its most beautiful scenery to those who are willing to take to the trails, however. Walking vacations typically focus on the GR20, a long distance route that traverses Corsica diagonally from north to south. Trips tend to be small group, traveling with an expert guide, and provide a great overview of the region. Peruse our Corsica map and highlights to find out more.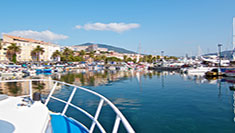 Ajaccio
Luminous Ajaccio is Corsica's most glamorous city, and the birthplace of French Emperor Napoléon Bonaparte. It's topped by an imposing citadel, and is home to a lively marina, where buzzing restaurants and cafés serve fresh local food. Historical highlights include 16th century Notre-Dame Cathedral, where Napoléon was baptised, and which contains paintings by Delacroix and Tintoretto.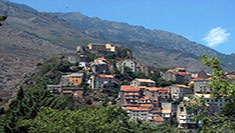 Corte
Perched on the edge of a mountain in the rugged outback, this little town was the short lived capital of the Corsican Republic from 1755-1769, and the campaign's leader, Pascal Paoli, is still a local hero. The town retains its independent spirit today, bolstered by the fact that it's home to the island's only university. It's a draw for walkers, rock climbers and other adventure seekers, who come to explore the surrounding terrain.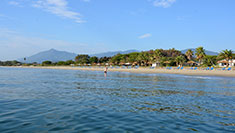 Costa Verde beaches
The beaches of the Costa Verde are wedged between the sea and the mountains on Corsica's east coast. Stretching south of the port of Bastia, 15 fine sandy beaches covering some 26km of coastline range from secluded sands backed by scrub and dunes, to family friendly crowd pleasers complete with cafes and beach showers. Head into the interior and there are rivers and mountain villages aplenty.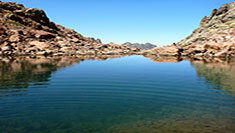 GR20
One of Europe's most challenging long distance routes, the Grande Randonnée 20 starts in Corsica's northwest and ends in the southeast, traversing tough terrain ranging from precipitous cliff top paths to verdant meadows and mountain scrambles. You need to be really fit, with plenty of mountain walking experience to tackle it – sure-footedness and a head for heights are also invaluable!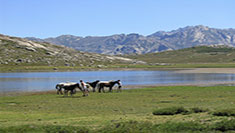 Lac de Nino
One of the best-loved lakes in Corsica, as well as its second largest, Lac de Nino, comes with an idyllic setting. It's surrounded by snowcapped mountains, and cows, pigs and wild horses often graze on the surrounding pastures. What's more it's reached by a steep hike, so you'll be able to enjoy it in relative peace.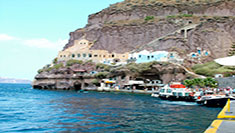 Porto-Vecchio
Sprawled across a hillside overlooking the ocean, this lively settlement is home to a yacht filled harbour, a 16th century citadel and a charming old town full of winding streets and secret alleyways. It's also close to some of the country's best beaches, including Palombaggia, whose fine white sands and bright blue waters are backed by red granite rocks and pine trees.