Fiji travel guide
---
2 MINUTE SUMMARY
Forget the Macarena; the Bula dance is where it's at, but if you're looking for a tad more authenticity then visit a Fijian village far from the resort islands and you'll soon get into the hospitable swing of things. Escaping the transient tourists in Nadi and Denarau Island is a great idea although Viti Levu still holds a few inland surprises if you're prepared to explore a little further from the port or airport. Once you bid the main island 'ni sa moce' you'll be able to take your pick of exotic locations with Taveuni Island promising a much more rustic and authentic experience to the resorts of Mamanuca, Yasawa and the Sacred Islands. Fijian people are some of the world's friendliest and if you're wishing to be welcomed with a mildly narcotic drink whilst seated on a neatly woven voi voi mat then hitch up your grass skirts and hang on to Wilson as we're about to set sail. Read more in our Fiji travel guide.
Fiji is...
all about Mother Nature
and getting off the beaten track.
Fiji isn't...
just a selfie opportunity
with a paint-daubed volley ball.
Fiji map & highlights
---
Make the most of your time
Fiji consists of just over 330 volcanic islands, about a third of which are inhabited. The two largest islands, Viti Levu and Vanua Levu, are also the most populated with the township of Nadi, on Viti Levu, offering travelers a place to get their bearings after long haul flights. Due to the relatively close proximity to Nadi, the Mamanuca Islands and Sacred Islands often appear on small ship itineraries with the films Castaway (Monuriki Island) and the Blue Lagoon (Nanuya Levu aka: Turtle Island) enticing explorers to search for set locations to see if the real thing measures up to the big screen.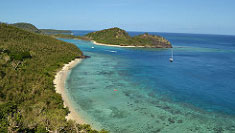 Drawaqa Island
Encountering the underwater ecology of Drawaqa Island in the company of a marine biologist is just about the best biology lesson ever, especially when combined with inland conservation projects and trips to local schools. Escorted manta ray and reef safari trips are out of this world and abseiling from the island's cliff tops will leave you in fine fettle for an evening of barbecues and Bula Bula dancing.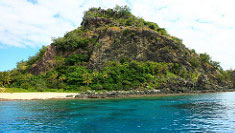 The Mamanuca Islands
At low tide the Mamanuca Islands are about 20 strong but, as the Pacific rises, numbers drop to about 13 with Monuriki and Bounty islands showcasing a couple of the chain's coral fringed crown jewels. The relatively easy access and proximity to Port Denarau make Mamanuca popular for day trippers and overnight guests with a range of shiny resorts and budget B&Bs to suit all tropical tastes.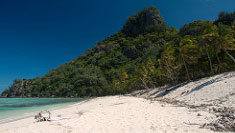 Monuriki Island
Familiarity in Fiji comes in many guises and just like spotting a yellow cab in New York City, catching your first glimpse of the coconut-dotted white sands of Monuriki Island is bound to conjure up a scene that you're sure you've seen somewhere before. Castaway was filmed on Monuriki and there's no better location to indulge your entire back catalogue of uninhabited desert island fantasises.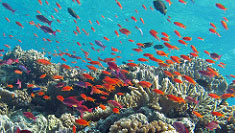 The Sacred Islands
The canoe that brought Tui Na Revurevu and his followers to Fiji, landed on the deserted shores of one of a five-island archipelago and hence the Narokorokoyawa Sacred Islands originated. Evidence still remains of the settlements and ceremonial caves that were integral to the cultural history of Fiji, and kayaking offshore will help you imagine what such a discovery must have meant to the early settlers.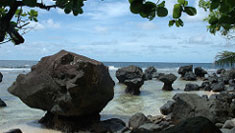 Taveuni Island
As Fiji's third largest island, Taveuni offers far more than simple seclusion and white sand loveliness (they have black sand here). This is an inhabited, fertile and lesser visited volcanic landscape that supports an assortment of indigenous animals and exciting activities; with kayaking to Nacawa River Falls, the Lavena Costal Walk and cycling in Bouma National Heritage Park all excellent alternatives to days at the beach.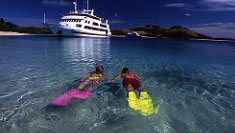 The Yasawa Islands
Due to their location, to the northeast of the Mamanuca archipelago, the Yasawa Islands require a little more effort to get to but can still be reached on a seven-night small ship cruise itinerary, no problem. The seclusion and sense of escape that you'll experience upon arrival is just magical and it's still easy to see why Nanuya Levu was chosen as the set for the 1980s desert island romance, the Blue Lagoon.