Best time to visit Grenada

The best months to visit Grenada are May and early June, after the high season crowds have gone but before the rains and the winds of hurricane season set in.

Grenada, Carriacou and Petite Martinique have a tropical climate with average daytime temperatures ranging from 25°C in January and February to 31°C in July and August. Weather-wise, the dry high-season winter months of December to April are the best time to visit. However, accommodation and flight prices are significantly higher, too. The worst months to visit are September and October – the peak of the
hurricane season
that runs from July to November. Hurricane Ivan wreaked havoc in Grenada in 2004, so it always pays to be cautious. The liveliest time to visit is the first half of August, when carnival turns the islands into a massive party.
Things to do & things not to do
in Grenada
Things to do in Grenada
A small boat can sail you into the remote bays and quiet ports that larger cruise ships can't access, allowing you to explore hidden corners, cays and communities. So take to the waters on a yacht – to the tiny island of Mayreau, perhaps, or the pristine underwater life around Sandy Island.
The reefs around Grenada are stunning, so get under the water. You could snorkel offshore from Grande Anse or Carriacou. Or get your dive on. Wreck dives are a speciality around these parts, including Bianca C, a 180m passenger ship that sank in 1961 that's now teeming with moray eels and barracuda. Alternatively, learn the ropes by taking a PADI diving course at a low-key dive center on Carriacou.
Traveling responsibly should be a major priority. Opt for small, locally run accommodation or responsibly run resorts that build a skilled local workforce, reduce energy costs and waste, and source local produce. Make sure any tour operator you travel with is committed to protecting wildlife. And – however tempting – never touch fish, coral or turtles. Despite protected status, sea turtles are still sometimes slaughtered for their meat and shells, so avoid buying turtle products. Or go one step further and take a dedicated marine conservation vacation in Carriacou.
Spice plays a large part in Grenadian culture – a third of the world's supply of nutmeg is produced here, and cinnamon, cloves, mace, and ginger are also exported. Visit the Spice Market in St George's or make for the Gouyave Nutmeg Station on the island's west side.
Things not  to do in Grenada
Forget about the island history. You can learn about the original indigenous inhabitants, slave trade and colonial period at the National Museum in St George's, plus hike up to Fort George, a 300-year-old fortress with working cannons. An hour's drive away, the Belmont Plantation offers a fascinating slice of social and agricultural history in a bucolic setting. Fixate on the coast. Grenada is ripe for hiking, with numerous rainforest trails and waterfalls tumbling down its volcanic slopes. While you're at it, look out for the rich array of birdlife, particularly tiny hummingbirds, the endemic Grenada dove and the hook-billed kite. Fresh seafood is a major part of the diet, so don't forget to eat local. Visit Gouyave for Fish Friday, when the main street is chock-a-block with stalls selling everything from fish kebabs to lobster, usually to a soundtrack of live music. Grenada's national dish is the "oil down": meat and vegetables cooked in spices and coconut milk.
If you'd like to chat about Grenada or need help finding a vacation to suit you we're very happy to help.

Vivianne McGrath, from our Caribbean vacation specialists Mot Mot Travel, says:
Best time to visit
"I always like the Caribbean in the slightly quieter months of November and early December or April to May. There are fewer tourists around and prices are a bit cheaper, but the weather is still very good. Having said that, Grenada is wonderful at any time of year!"
Grenada must sees
"There are so many wonderful beaches to choose from, but visitors should not ignore the interior of the island, where there is a superb rainforest, lots of beautiful waterfalls and some great hiking trails. St George's is probably the prettiest capital city in the Caribbean and definitely worth a visit. Grenada has won a Gold Medal at Chelsea Flower Show for the 15th time this year and there are some wonderful private gardens on the island that tourists can visit. Then for divers, there are some great sites including the Sculpture Park, which is odd but wonderful, and a 'must see' even for snorkelers."
Foodie highlights
"Try and visit one of the street food festivals for some authentic flavours. Every Friday, in the village of Gouyave, the local fisherman sell their freshly cooked catch including the local delicacy, Lambie, which is what they call Conch in Grenada."
More Grenada articles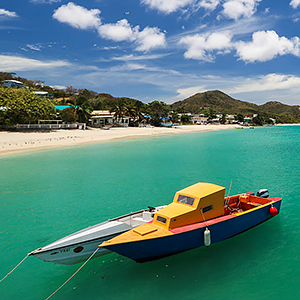 Nicknamed the Spice Island, Grenada has a lush interior that's as beautiful as its coastline.