The Seychelles travel guide
Step into the Seychelles and you'll be forgiven for thinking that this tropical island archipelago is just about the beach. Obviously, the crisp white sands of Inner Islands such as La Digue, Praslin, and St Pierre, are indeed stunning; however, explore the remote Outer Islands and it's an untamed and wilder side to nature that showcases the Seychelles at its sustainable best.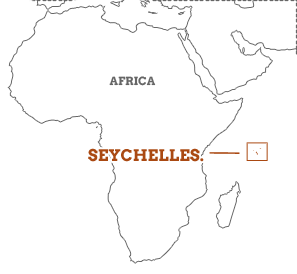 Crack the Creole or nature nut of the Seychelles and you'll discover there's much more to island life than a soft white sand beach, although that's still a great place to start.

Inner Islands, like Curieuse, Aride, Felicite, Cousin and the Sisters, are easily accessible from the main island of Mahé, and it's these gorgeous granite creations that often feature on sailing cruises, with secret coves and lush mangrove forests offering onshore adventures alongside barbecues at sunset. Under the ocean lies the final piece of the tropical jigsaw. A mask and snorkel are all that's required to peer into a profusion of colour as butterfly and parrot fish flit above clam covered coral, and sea turtles swim effortlessly by while their land-lubbing cousins crawl over sand like slowly shifting boulders.
The Seychelles is/isn't...
The Seychelles is...
an independent island nation infused with the cultural threads of Africa, Asia, and Creole.
The Seychelles isn't…
going to let mass tourism rewrite its sustainable success story.
Our top Seychelles Vacation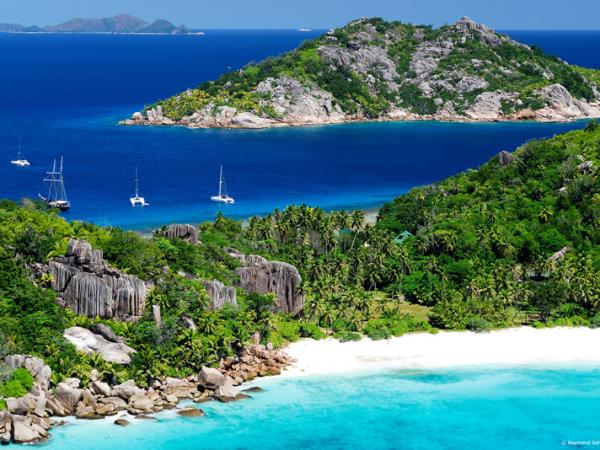 Island hop round the Seychelles in a wooden hulled sail ship
From
£

2282
8 days
ex flights
Small group travel:

If you'd like to chat about Seychelles or need help finding a vacation to suit you we're very happy to help.

The Seychelles map & highlights
The Seychelles is made up of 43 Inner Islands and 72 Outer Islands. The more remote Outer Islands are formed from five coral reefs which include the UNESCO site of Aldabra Atoll, the largest raised coral atoll on the planet. A strict environmental policy has helped to protect vast seabird colonies, free roaming giant tortoises and spectacular marine life, with Bird Island and North Island prime examples. Throughout the Seychelles, papaya, mangoes and bananas provide healthy local produce with vibrant wild orchids and endemic coco de mer palms to be found within the rainforests of Praslin and Curieuse, just to the northeast of the main island, Mahé, which is also home to the country's colonial cluttered capital, Victoria.
1. Bird Island
Noddies, terns and waders can all be found close to the shore or rising above the coconut plantations of the Seychelles' northernmost island, with sooty terns, in particular, arriving en masse from mid-March to May. Surrounding reefs support untold marine life with dugongs and hawksbill turtles gliding effortlessly through the waves whilst resident giant tortoises lumber a little more awkwardly onshore.
2. Curieuse Island
As Curieuse Island was once the setting for a leper colony it's managed to remain relatively intact from profit making interference. As such, it has been proclaimed a Marine National Park to further protect its animal inhabitants, which include rare black parrots, hawksbill turtles and over 300 giant Aldabra tortoises. A guided tour through mangrove swamps makes a great prelude to Creole barbecues on the beach.
3. Inner Islands
Inner Islands, such as Coco, Felicite and Grande Soeur, can be reached via a short boat ride from Praslin or La Digue and offer untouched desert island images to keep your screensaver catalogue ticking over for a good few years . From shimmering palms and crystal white sand to transcendent snorkelling over coral reefs accompanied by turtles and angel fish, this is pure and simple island hopping heaven.
4. La Digue
La Digue is the third largest inhabited island in the Seychelles and well accustomed to beach seeking travelers wishing to explore on foot, on two wheels or from an ox-drawn cart. The island's reefs and lagoons are home to an array of eels, rays and black tipped reef sharks whilst on land coconut crabs, sun birds, fruit bats and paradise flycatchers prefer the small, yet protected, habitat of Veuve Nature Reserve.
5. Praslin
Praslin is a fascinating location that's just as highly regarded for its beaches, such as Anse Lazio and Anse Georgette, as its UNESCO protected palm forests within the Vallée de Mai Nature Reserve. From hawksbill turtles nesting on soft sand amongst smooth boulders to waterfalls, streams and a cacophony of birds, Praslin is criss-crossed with trekking trails and sublime spots to snorkel.
6. Victoria, Mahé Island
The capital, Victoria, has long been an important export hub as well as the ideal location to learn more about the nation's relationship with the outside world. The city itself isn't very large but is perfect for a guided history tour amongst narrow streets and neglected colonial properties which sit adjacent to broader boulevards and lush green gardens surrounding the city's cultural epicenter, Victoria market.
More about Seychelles
The best time to visit the Seychelles is generally between April and October with plenty of things to do in the Seychelles around this time of year including conservation projects, island hopping and fishing.
Volunteer with marine conservation in the Seychelles to combine a vacation in paradise with an award winning effort to restore the ecosystems and native biodiversity of North Island.