BEST TIME TO VISIT SOUTH KOREA

Spring blossom and autumnal foliage create an ever-changing Korean canvas as the east coast comes alive with colourful contrasts.

Although spring signals the start of blossom season (Apr-Jun), it also finds a fair few crowds heading south on the peninsula so we recommend Sep-Nov as the best time to visit South Korea. At this time, temperatures are comfortable, there's little rain and the countryside is swathed in the most amazing umber, orange and fiery red and yellow foliage. Summers can be moist with monsoons kicking off in Jul-Aug to make for quite an uncomfortably humid experience as well as an increase in crowds during the school vacations from mid-Jul to end of Aug.
Things to do in South Korea
Things to do in South Korea
Spend a night in a temple. Slip into temple attire and spend a night in Haeinsa Temple, deep within the gorgeous Gaya Mountains. Sleeping conditions are basic, yet comfortable, with same sex dorms and shared facilities adding to the communal element of life in one of Korea's oldest temples. Silence is to be observed during meals as well as walking single file. You'll also have the option to rise with the sun and join monks for morning prostrations at 3am. Don't forget to set your alarm…
Japanese occupation, ideological differences and political corruption have formed the fiercely independent nation that you'll find today, and learning about folk traditions in Andong Hahoe Village or the tragic history of the Korean War at the UN War Cemetery will go some way to helping you uncover the history of South Korea. Follow the independence trail in Seoul's Tapgol Park or step back further into the past at the Joseon Dynasty's Gyeongbokgung Palace or Cheongwadae Museum.
On a small group vacation, orientation tours, 24/7 contact cards and domestic flight check in details all ensure you make the most of your time in South Korea – with free time factored in to explore, too. Local guides are a mine of information with advice on everything from which raw fish to try, and which to avoid, to updates on the DMZ and local politics.
Things not  to do in South Korea...
Although it's possible to get close to the observation points at Panmunjom as part of an organised tour, be aware that trips can get cancelled at a moment's notice so don't set your sights on the North without checking the most up-to-date info first. If you do get a chance to see what's on the other side, it's actually quite remarkable as this was once the location for an amazing railway station to provide a link from China to Europe via Korea. A real shame it never came to fruition. Forget your selfie stick. South Korea is one of those countries where selfie sticks don't actually look out of place, so if you want to join the hip and trendy youngsters doing the 'mobot' or photographing themselves frolicking in fields of yellow rapeseed (apparently this is an actual thing; Theresa May take note) then wield your extension with pride as you forget inhibitions and go with the flow. Stick solely to South Korea. Much of what you'll discover in South Korea stems from Japanese influence although you'll be well advised to keep such observations tucked safely in the sleeves of your jungchimak. If you really want to compare raw fish dishes, blossom-covered pagodas and philosophical or political outlooks, Osaka is less than a two-hour flight away with the delights of Kyoto, Nara, Mount Fuji and Tokyo all easily achievable as part of a two-week, bi-country tour.
If you'd like to chat about South Korea or need help finding a vacation to suit you we're very happy to help.

SOUTH KOREA TRAVEL ADVICE
Marta Marinelli, from our supplier Exodus, shares her top advice, recommendations and experiences following a recent trip to South Korea:
Discover the history
"One of the many positive things about a visit to South Korea is how far they've come since the Korean War in 1953. The country was absolutely flattened. Not a stick of anything was left. Everything that you'll find today has been replanted and rebuilt to provide an absolutely fabulous modern experience with lots of little touches, like flowers planted along the center of motorways, displaying just how much people value and respect their country; there's a real sense of civic pride."
Where to go in South Korea
"I'd really recommend a trip to the island of Jeju which can be reached by plane from the coastal city of Busan. Busan is a lovely city and well worth spending a night if only to enjoy a beach stroll over sand apparently imported from China. The highlight of Jeju, for me, was seeing the Haenyeo fisherwomen diving into the sea to catch urchins, shellfish and seaweed. The Manjanggul lava tube cave was also incredible and climbing up the steps to the top of the Seongsan Ilchulbong volcanic tuff cone was, although quite hard, really rewarding thanks to the great views from the top."
Cultural tips
"I'd definitely recommend spending a night at the Haeinsa Temple in the Gaya Mountains as although sleeping arrangements are fairly basic – you sleep in communal same sex dorms on a floor mat with one small pillow – the experience, as a whole, was uplifting. On arrival you swap your Western clothes for temple clothes and do as many 'temple activities as you wish, including getting up at 3am to take part in early morning prostrations with the monks. Food is simple fare: rice, soup, veggies and tofu, and there's no speaking at meal times. A question and answer session with a Buddhist monk with a PhD in law and impeccable English lasted about an hour. He was prepared to answer some invasive question very fully!"
Stef Studley, from our supplier Regency Vacations, shares a few of her South Korean highlights:
Festivals & events
"The Chuseok harvest festival is one of South Korea's best-loved celebrations and takes place at the end of September or early October, around the time of the autumnal equinox. Tombs and ancestral homes are visited across the country as families sit down to a traditional feast which will usually include kimchi (pickled cabbage), songpyeon (glutinous rice cakes), Korean table barbecues and plenty of rice wine. Things can get really busy around this time of year with services and transport often booked up in advance."
Seoul advice
"Gangnam and Itaewon are just a couple of the really fashionable districts to visit in Seoul for both locals and tourists, especially at the weekends, and you'll find numerous buskers and street artists performing alongside loads of different places to eat, drink and shop."
More South Korea articles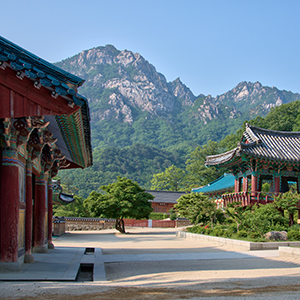 Our South Korea travel guide is packed full of highlights to help you make the most of your time including a rather handy map.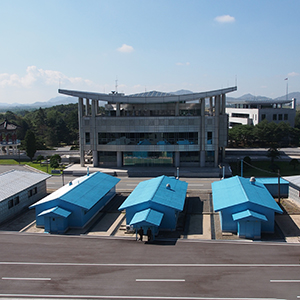 A sombre but fascinating must-visit for history buffs on any South Korea vacation, Panmunjom is a living relic of the Cold War.