Our Responsible Tourism Policy
Our mission is to make the travel and tourism industry more caring. We aim to help re-invent the industry for the long-term benefit of local people, the environment and travelers alike. The entire premise of our business is to market and distribute more responsible vacations, thereby creating more jobs for local people, greater income for local people, increased benefits for conservation and a lower environmental impact, whilst at the same time minimising negative impacts on local environments and cultures.
We take our responsibilities to the environment, local communities, customers, partners and employees very seriously and constantly review our policies and strive to make improvements where we can. As the first business in the world to use the term 'responsible travel' we have been on a steep learning curve since we launched in 2001. For us, this is a journey - we still have work to do.
Our relationship with our members
We screen tour operators against responsible tourism (social, environmental and economic)
criteria
before they can become members and be marketed on our site. Companies must be transparent in their policies for responsible tourism at a company level and on a vacation by vacation basis. Travelers can find details of how a specific vacation 'makes a difference' at the bottom of any vacation page featured on the site.
Since our launch in 2001 we have worked with hundreds of tour operators to help them develop and implement effective responsible tourism policies. Through our work with these companies we have actively encouraged the spread of best practice within the tourism industry and now work with over 400 specialist tour operators.
Monitoring responsible tourism
There is no global accreditation scheme for responsible tourism and we do not aim to be this. We have examined hotel accreditation schemes and many of the hotels on our site have been accredited by some of the best schemes out there. For us, travelers act as the eyes and ears of the industry. Our travelers are invited to comment on their experiences regarding a particular operator or accommodation's responsible tourism policies on their return from their vacation, in the form of a traveler review. There are now over 12,000 of these and these are used in three ways; they are sent to the tour companies as a form of consumer-driven auditing in order to encourage continuous improvement; they are displayed on the site for travelers to read, and they are often used in our marketing communications.
Organisations that are found to have misrepresented their practices are removed from the site but far more commonly, we have found that tour companies and hotels have listened to customers' concerns and made changes to improve the sustainability of the vacations. In these cases, evidence of such changes is then published on the site.
Industry wide initiatives
Campaigning
Many of the tour operators we work with are subsidiaries of major companies in the industry and have made changes to their businesses in order to embrace responsible tourism principles. Way back in 2004, we ran a successful campaign against Thomson Vacations, Thomas Cook and MyTravel to persuade them to publish policies on responsible tourism. As a result, The Federation of Tour Operators (FTO) - who represent 70 percent of the market - made a public commitment that their members would publish policies for responsible travel and tourism within a year. Since then we've run many more successful
campaigns
.

Our impact on society
Within tourism destinations
The entire premise of our business is to market vacations that have a greater positive impact on the local communities, cultures and people visited. Whether it is in Canada, Cornwall or Cancun, the vacations we market help create jobs for local people, greater income for local people and minimise negative impacts on cultures and the environment. All the vacations on our site increase the linkages to local enterprises, thereby increasing the multiplier effect of every £1 spent by the tourist in the destination. We require all operators and accommodations listed on the site to provide travelers with information that helps sensitise them to local cultures and different ways of life.
Staff volunteering
In the UK, where our office is based, we are active members of our community. At least once a year, as a team, we spend a day volunteering for a local cause e.g. a local conservation project working in partnership with local people. Among others, we have worked with Stanmer Park conservation project in Brighton, The Green Gym in Brighton, The National Trust near Hassocks, The Friends of Sheepcote Valley in Brighton and Lewes railway land local nature reserve.
We encourage employees to volunteer their time in the community and offer them the chance to take half a day paid time per month during work hours in order to do so.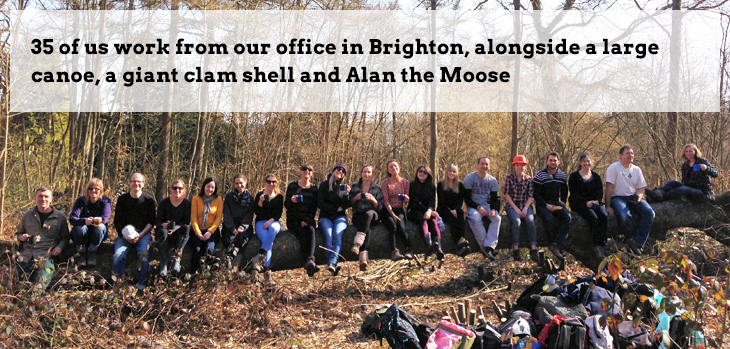 Charity donations
We regularly donate money to charity and between 2006 and 2015 this equated to 14 percent of our profits. Organisations we supported in this way include Just a Drop, The Woodland Trust, Afrikids, ActionAid in Cambodia and a small community in Ethiopia. Read more about our
charity commitments
.
In 2016 we launched our Trip for a Trip scheme: for every trip taken with us, customers can choose for us to fund a day trip for a disadvantaged child, on their behalf.
Additionally, we participate in the Payroll Giving scheme, which encourages staff to donate, tax-free, to charities.
Local suppliers
We have a policy of always using local suppliers wherever we can, so as to bring as much income to the local area as possible. We work with a locally based web developer, IT equipment supplier, usability/information architect, stationery supplier and cleaning company.
Our impact on the environment
Within tourism destinations
We market vacations that are taking steps to actively reduce the negative impact of tourism on the local and wider environment - this is integral to our business. Every vacation on the site has been screened for this.
Carbon reduction
We were among the first travel organisations to introduce carbon offsets in early 2002, and we were also one of the first to
remove them
for environmental reasons and ask our customers to fly less. Carbon reduction does not stop with the flight and we are working with our members to encourage energy saving initiatives within destinations too. We publish CO
2
information on every vacation page and propose
The Green Flying Duty
.
Office environmental, recycling and waste policy
We work under the principles of reduce, reuse then recycle. We are committed to continuous improvement in all areas within this policy and the education and training of all employees in environmental issues and the environmental effects of their activities.
Paper: We commit to being a 'paperless' office except for essential documentation, and use both sides of the paper before recycling. Printed materials are kept to a minimum and our business cards etc are printed on recycled paper/card. Our business is 100 percent web-based. We only have one small printer and no photocopier.
Single use plastic: As a team, we're working hard to find ways to eliminate plastics from our working life, particularly single-use plastics. We're definitely not perfect and we're keen to get better at this but here's some of the steps we've taken so far include replacing plastic milk cartons with the good old-fashioned glass milk bottles, we use Ecover dishwasher tablets, without plastic wrappers, buying fruit loose and plastic free from our local ethical supermarket (we're very lucky to have Brighton's Infinity Foods down the road), refilling our washing up liquid at Infinity Foods, recycling our biscuit wrappers, providing a glass water dispenser for staff to fill up with cucumber of lemon flavoured water, pens are made from recycled plastic, (we tried cardboard pens but they just weren't very good), many of us come to work with re-usable coffee cups and water bottles, as well as lunchboxes.
Recycling and composting: We recycle as many materials as possible including paper, cardboard, printer cartridges, cans, plastic and tetrapaks. We also have an office compost bin for fruit peelings, etc. We keep all stamps and donate these to a charity.
Transport: Staff use public transport (rather than private vehicles) whilst on company business wherever possible. Employees are encouraged to walk, cycle or use public transport to get to work (currently 95 percent do so). We are also part of the
Bike2Work Scheme
, enabling employees to purchase their own bicycle tax free.
Energy use: We turn off (not leave on standby) PCs and other electrical items overnight or during vacations, and we turn off our computer monitors during lunch breaks and meetings.
Purchasing: We buy recycled, biodegradable and Fairtrade products, including recycled printer toners where possible and refill containers. Old furniture and computer equipment is donated to local charities.
Our relationship with our employees
We are passionate about creating a place to work which is supportive, empowering, friendly, fun and which rewards excellence and loyalty. We offer staff flexible full-time and part-time working arrangements. We are committed to a good work/life balance for our staff. Staff are also encouraged to undertake courses as and when applicable.
For over a decade we have had a profit share scheme whereby 10 percent of profits is shared amongst staff (not including directors).