Our stance on people
It is part of our responsible travel criteria that all our members employ local staff and local guides where possible. In a few cases, such as on trips to Antarctica, local staffing is not possible. We also encourage our tour operators to use locally owned accommodation, ideally one that employs and trains local staff.
We believe that tourism should operate in partnership with local people, ultimately providing employment and economic benefits for the community as well as helping to place a value on the cultural and natural heritage of a destination.
Visiting tribal cultures
We believe that visiting tribal cultures can be an incredibly enriching experience for the traveler, and also beneficial to the community – if done responsibly. Be sure that the community you are visiting has extended an invitation to tourists. If you are in any doubt, the best advice is not to visit. Any vacation company which has built up a good relationship with a community will be happy to talk about their involvement with them – explaining how tours are conducted in consultation with the community, and how local people benefit from them. A lack of transparency over the relationship, or the inability to answer key questions, should ring alarm bells.
Read up on the culture and travel with a local tour company with a proven track record or hire a guide from the local community to ensure that you benefit from their knowledge of what is, or is not, appropriate. In addition to ensuring that you minimise any negative impacts, you'll want to ensure that local people benefit from your visit. Trading for crafts, paying for the services of local guides, or for photographs will help to benefit the community. In our responsible travel guides, we have discussed some tribal and community issues in greater depth. These include: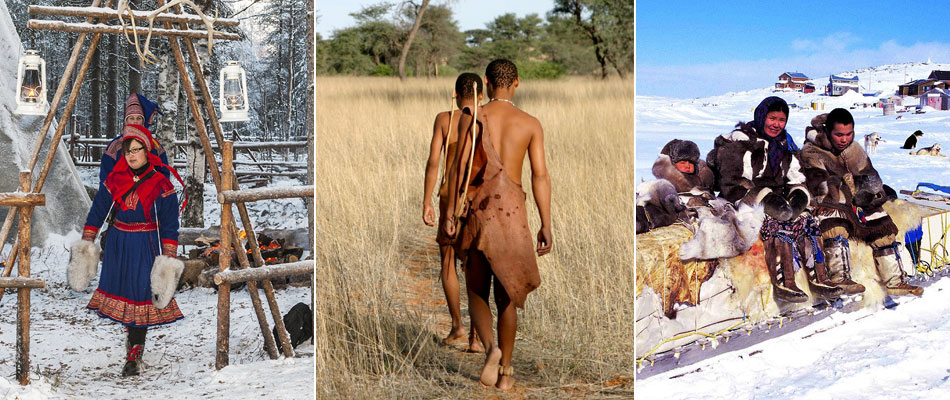 Sami people (Lapland), San (Botswana) and Canadian aboriginal people. Canadian aboriginal photo by
Ansgar Walk
Porters & Sherpas
Porters and Sherpas are essential travel companions when trekking in remote locations or mountain environments. They are really quite amazing people – capable of climbing huge mountains often twice as fast as the rest of us whilst carrying all the equipment we need. Porters and Sherpas are incredibly valuable to the tourism industry and should be treated as such.
We require all of our trekking companies to pay porters and Sherpas fairly, to ensure they are not carrying more than the maximum permitted weight, and that they have adequate food, shelter and clothing. Some of our operators have signed up to porters' protection schemes such as
International Porter Protection Group
,
International Mountain Explorers Connection
(IMEC) or the
Kilimanjaro Porters Assistance Project
(KPAP). Others have established their own responsible tourism policies, and in many cases have founded their own initiatives to support the porters' and Sherpas' families and local communities, with education and sanitation projects, for example, as well as providing additional support following the devastating 2015 Nepal earthquake.
We recommend that all trekking parties (including porters and guides) stick together, eat together and – at the very least – learn each others' names. Cultural understanding can be increased and everyone can feel valued. Learning a little of the local language (this may be Quechua rather than Spanish along Peru's Inca Trail, for example) – even if it's just a greeting, thank you, good night – will be a great icebreaker and show respect for your hosts.
Hiring local porters creates jobs in rural areas which have otherwise high unemployment levels. Some tours in Peru include the opportunity to spend a night in your porter's village – this transforms them from being someone who carries your backpack to a tour guide, a host, an authentic cultural encounter – it's highly recommended. See more information on high altitude trekking and
porters' and Sherpas' rights
.
Several of our responsible travel guides focus on trekking in developing countries – take a look at the following pages for more specific information on each region:
A group of 16 trekkers on Kilimanjaro can be accompanied by some 44 staff – it' a huge source of local employment. But porters may be wearing flip flops or carrying overloaded bags – ensure you climb right.
Peru's Inca Trail attracts thousands of trekkers each year. Numbers are capped to save the mighty ruins themselves, but porters' conditions are poorly regulated. Find out how to ensure you've booked a responsible Inca Trail trek.
Nepal is trekker mecca – home to the mighty Himalaya, and the mother of them all, Mount Everest. The porters here have an extraordinary job, carrying over 25kg at high altitude and low temperatures. Their wellbeing is the responsibility of both tour companies and trekkers – make sure you understand the issues before you go.