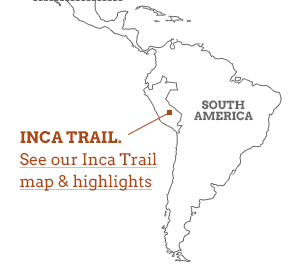 The Inca Trail is a journey and a destination rolled into one, waymarked with natural and cultural rewards. The Andean scenery – from high, windswept tundra to humid cloud forest – is one well-earned prize for those who follow these ancient paths. Another is the hidden ruins, inaccessible by other means, which build up to the final destination of Machu Picchu. For others, the reward is the chance to spend days immersed in this lost world, of traditional Quechua villages and the sensation of being a true explorer.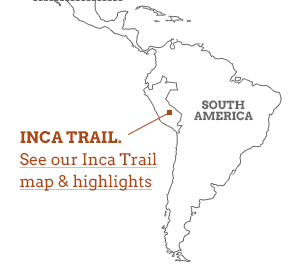 What is the spell that the Inca Trail casts over its hikers - and what lures so many modern pilgrims to this ancient pathway above the clouds?

Of course, Machu Picchu is one of the most spectacular wonders of the world – but there are easier ways to get there. The trail is a high-altitude battle against slippery rocks and erratic weather – yet its mystical Andean appeal draws thousands to hike it every year, and virtually every one of them would describe it as the highlight of their South American adventure. Whatever the reason, this pilgrimage continues to captivate as it did five centuries ago, and there is, undoubtedly, a little sparkle of magic in every strenuous step. Find out more in our Inca Trail travel guide.
Our Inca Trail trek Vacations
Is the Inca Trail for you?
Hike the Inca trail if...
... you've always fancied yourself as a bit of an Indiana Jones. Glimpsing the ruins for the first time after a four-day hike in the ancient Incan highlands is as close as you can get to imagining how the original explorers felt.
... you prefer doing to simply seeing. There are many fantastic pyramids and temples around the world, but the Inca Trail gives you the chance to follow Inca paths and be utterly immersed in the landscape and its history for four or more days.
... you are curious about the local culture. Your porters will be from surrounding communities, and you'll be passing through plenty of villages with Inca roots - so there is plenty of opportunity to meet the locals, ask questions and discover more about life in the high Andes.
... you want to hike in Peru, and not just see Machu Picchu. The Inca Trail is as much about the journey as the destination, including the phenomenal Incan and pre-Incan ruins you'll pass along the way. If you just want the final prize, take the train.
Don't hike the Inca Trail if...
... you want to get away from other tourists. There are hundreds of hikers on the trail each day, and even if you hire a private guide, you'll still be surrounded by others. Many consider this to be part of the fun and community spirit of an Inca Trail vacation, but if this really isn't your thing, you'd be better off looking into one of the alternative trails.
... you haven't acclimatised. Spend at least two days in Cuzco before starting the Inca Trail - more if possible. You'll really appreciate it when dragging yourself up to a lung-busting 4,200m on the second day.
... you like your creature comforts. You'll be camping for three or four nights in basic conditions, and you'll have a limit on your luggage - so you must be prepared to rough it.
... you don't have the right clothing. These old stone paths traverse steep terrain, so good walking boots with ankle supports are essential. Trainers just won't suffice. And make sure your outerwear is fully waterproof - if you get wet, you'll stay wet until you get back to a hotel.
Our top Inca Trail trek Vacation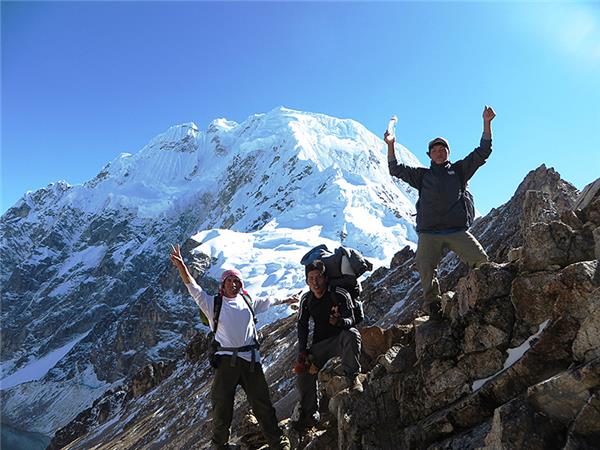 Machu Picchu, Inca fortresses and cloud forest
From
US $

3379

to

US $

3849
14 days
ex flights
Small group travel:
2023: 29 Apr, 24 Jun, 22 Jul, 19 Aug, 16 Sep, 30 Sep
2024: 27 Apr, 25 May, 22 Jun, 20 Jul, 17 Aug, 14 Sep, 28 Sep
If you'd like to chat about Inca Trail trek or need help finding a vacation to suit you we're very happy to help.

The classic Inca Trail trek involves three to four days of hiking across varied terrain. Although you don't need to be exceptionally fit to complete it, taking up regular exercise beforehand is highly recommended, as you'll enjoy the hike much more, and be in less pain! Guides walk at the front and back of the groups, so that each person can walk at their own pace - you should never push yourself more than you are comfortable with. The altitude will slow everyone down, particularly on the second day, which is by far the most arduous.

Porters carrying your luggage walk ahead of the group in order to set up camp and prepare meals in time for your arrival; you can carry water, snacks and extra items in your own small daypack. Operators usually provide two-man tents, sleeping mats and larger communal tents for dining. Basic toilets or toilet tents are available at the campsites, and several operators offer premium tours with portable showers and more luxurious camping options. Some larger campsites may also have their own showers – but be prepared to queue!

Food is plentiful and hearty, especially considering the rustic conditions, and any dietary requirements should be catered for if you request this well in advance.
The Inca Trail day by day
a sample itinerary
Day 1: This covers the longest distance at 12.5km, but the walking is relatively easy. You'll follow the Urubamba river for 5km, then ascend gently after a lunch break.

Day 2: This is easily the toughest day. You'll cover just over 8km, as you climb steeply to Dead Woman's Pass (4,200m) in around two and a half hours. You'll break for lunch here to recharge, then continue onto camp.

Day 3: Today's 7.3km trail climbs two passes and traverses cloud forest, spectacular ruins and glorious views. Some operators include a visit to Wiñay Wayna at the end of today's hike.

Day 4: If you've camped at Wiñay Wayna, you will reach Machu Picchu at sunrise. If not, this morning you'll descend 11km down stone steps to Machu Picchu, reaching the ruins in the early afternoon, before continuing onto Aguas Calientes where you can spend a final night, or return to Cuzco.
A brief history of the Inca Trail
The romantic tale states that the 'Lost City of the Incas' was rediscovered by a young explorer and Yale history lecturer named Hiram Bingham in 1911. However, most historians now claim that not only was Machu Picchu not 'lost' - as several farmers continued to live there - but neither was this the Inca City that Bingham was seeking. That was a city named Vilcabamba, whose ruins lie some 80km away in the jungle.
Read more
More about Inca Trail trek