Inca Trail responsible trekking
---
Travel right on the Inca Trail
When you start walking the Inca Trail it takes a while for it all to sink in. You are trying to concentrate on your hiking, pacing yourself, wondering if you should have brought that walking pole, or if it is too early to have that sneaky bit of snack bar. And then there is all the people watching as you join the other 499 people allocated permits that day. Not forgetting the forest covered Andes and clouds that envelop you. But really, the first thing you should do is bend down and touch the surface you are walking on. Whether you have opted for the Classic Inca, Lares or Salkantay Alternate Trek, these trailways are like ancient survivors that need to be treated with dignity and respect. Created by the Incas to link their cities, they were often used by messengers who ran great distances along these stones and paths to pass on strategic gems to their leaders. Today they are paths of peace, but there are several vital messages to take on your journey along the stones.
Remember: the Inca Trail is one of the very few international attractions to have introduced strict visitor quotas - it is a brave move by the government to curtail tourism and - potentially - income, and the result is that anyone who finds themselves hiking these roads is very privileged indeed. Here are a few to take on board and share with your fellow trail messengers, so that you can treat each step like the living museum piece that it is.
People & culture
---
Porters' rights & homestays
Mountains to climb for porters' rights
---
It is most likely you will be using the services of a porter to carry supplies such as food, sleeping bags, tents, and so on, on the Inca Trail. Luckily, porters' rights are now protected by law in Peru; however, there are many companies that find ways of getting around the law, and are still exploiting the local porters, many of whom are farmers who do this work seasonally. The minimum wage is 45 Soles a day, but reports suggest that still only a small proportion pay this and even this amount is barely a living wage. A good responsible tourism company will pay twice or three times this much. Same goes for the laws about the maximum weight they should carry. The law is 20kg max which includes 5kg for his/her personal possessions. There are weighing stations, but some companies spread the load to get through the stations and then drop the bags after the station for the porters to pick up. And then there are basics to adhere to, like making these porters are fed and clothed properly, are insured and given dry, warm sleeping areas.
What you can do:
Be wary, read up on it, and ask your trekking company endless questions about their ethical trekking policies. A great starting point is Tourism Concern's website, the human rights in tourism charity which has an ongoing campaign for porters' rights around the world. They answer lots of FAQ's on the subject
here
.
One lovely option is to stay in your porters' village the night before the hike begins. Simon Forster, from The Beyond Tourism Co., explains how and discusses other alternatives for spreading your much-needed tourism cash across some of the poorest regions of Peru:

"Abuses of porters' rights might not be as widespread as somewhere like Kilimanjaro, but it can still be pretty bad. A lot of companies don't really pay much attention because the porters on the Inca Trail are always portrayed as very well looked after. Normally, you spend a couple of nights in your hotel in Cuzco and then set off on the Inca Trail but we offer an extra day at the beginning in the porters' community. This generates more personal interaction between you and your porters, so you enjoy your trek more, but it also gives you a better understanding of the porters. The company we work with runs the tour in partnership with the porter community so we're strict with the weight carried and following the proper regulations.

We also work with a couple of family-owned coffee farms in the area so you can go and stay with a coffee farmer before or during the hike. We understand that the Inca Trail is a huge reason why people go to Peru, but there is much more to do both in Peru and even in the area around Machu Picchu."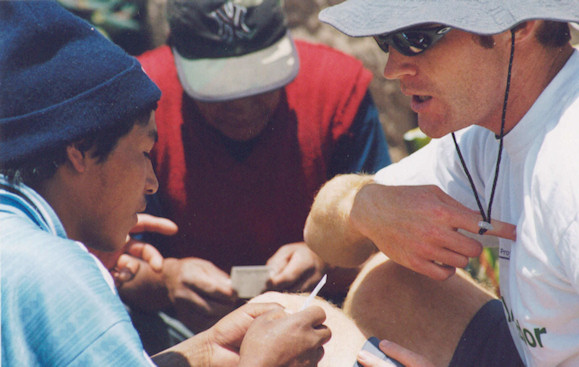 Porter learning English
Homestays - the way to stay
---
We gave the famous Peruvian Paddington a home and now Peru is returning the welcome, with homestays a plenty. As this country is so vast, and the terrain not always negotiable, this is not only the best way to put money straight into a very local economy, but it also gets you right out onto those hiking trails and remote communities. When you hike into the heart of the mountains, it makes you admire these people who live here all year round even more. You will be greeted warmly in Peru, as local people thrive on sharing their homes with guests. And that is how you are made to feel, especially in the highland villages.

What you can do:

You can find

homestays listed here

on our site. If you are planning on visiting remote villages, gifts from home are always welcome, but ensure they are useful. Don't go too over the top, as reciprocating is part of rural Peruvian culture, or "ayni", meaning "today for me, tomorrow for you". Excess gift giving waters down this ethos with time if people feel they can't reciprocate.
Responsible tourism tips
---
Travel better on the Inca Trail
Appreciate the privilege of being on the trail. Giving back along the way and spending money on crafts or supplies in local communities increases the benefits of tourism many times over. As well as helping local people, it is an important way to encourage the authorities to maintain the permit system - and to demonstrate to other countries that introducing permits does not reduce income, but rather creates a healthier tourism industry, conserving the attraction itself, and attracts the "right" kind of tourist, who is prepared to invest in protecting the environment and the people.
It is almost impossible to get a quiet day at Machu Picchu, but in order to avoid the tramplefests, which are basically throughout June to August, head there in April/May or September/October. It is also wise to keep outside the busy times of 10am-2pm when tourist droves come by train to hit the Inca Trail. Oh, and Sundays are generally quieter.
The only trek which is limited by permits is the four-day Inca Trail itself. Lares and Salkantay are the more commonly done alternative treks so if you want a quieter trek, and one that is potentially less erosive, check out alternatives.
If you leave it until the last minute to buy a trekking package in the main square in Cuzco, you are unlikely to get a responsible tourism adventure or trekking company. These sellers are about packing in the masses and often sold by intermediaries, not people who really know the potential impacts on the environment or local communities. In general, you are best to do your research well in advance and buy directly from a local, responsible organisation.
Even if you shop in advance, sourcing a tour operator with a history of responsible tourism practices - such as fairly paid local employment, environmental protection and deep seated cultural engagement - is vital in Peru. Take your time to research them, read their blogs and study their social media pages - but be aware that you might have to look under those cyber stones if you want to find a real grassroots operator. Does it have an ethical policy regarding porters? (See below for more details.) Does it really connect with the people and the place that is Peru, or is the focus purely on pushing price and value for money? Does it have a local office, and plenty of details of all its local guides? Just like the trail, this is slow, careful, step by step research.
Although the economy is on the up in Peru, with a third of the population living in poverty compared with half at the turn of the century, things are still very tough here. This is a trekking Mecca for us, but for the residents, it is home. Supporting a Peruvian based - and, ideally, Peruvian owned - trekking company makes all the difference, therefore, with 100 percent of the money staying in Peru, either to pay employees or in government tax.
If the trail fee is cheap, then you can be sure that it is the porters that are bearing not only your luggage, but also the brunt of your budget tour and being paid less than they should. Porters are people. Pay them well, chat with them, engage with them, sing songs with them, and don't patronise them.
The Trail is tough in the rain, and best avoided during the wet season as this is the worst time for erosion. However, sometimes it is hard to gauge when the rainy season is going to end, especially when you have to book your permit months in advance.
If it is rainy, it is worth considering hiring an extra guide to carry your personal luggage if you have a lot. Not only are you creating more tourism income to local guides, but this is responsible hiking as the stones are slippery and the winds can throw you. You will have more control if you have less weight to worry about.
Definitely think about walking poles, but note that you are only allowed poles with rubber tips on the Inca Trail to protect the landscape and stones.
No plastic water bottles please. Water purification tablets and a refillable bottle are best, so that you can use water from local streams as you travel.
Be responsible about your health on the Trail. Make sure you have a reasonable level of fitness before you go - you will be able to enjoy the Trail more that way too. Take a few days to acclimatise in Cuzco. Always wear sunscreen and a hat, drink plenty of water and avoid alcohol.
Take the opportunity to give up smoking and breathe the fresh air, leaving the fag ends at home. Or if you have to, bring one of those portable ashtrays.
Most people are not just going to Peru for the Inca Trail. An excellent font of information to help you sieve through the wealth of protected landscapes in Peru is Conservamos por Naturaleza, an organisation which works towards conservation of land by offering expert legal advice to local people on how to preserve their land. Their website is brimming with info about protected areas, albeit mostly in Spanish.
Rainforest Alliance has certified a lot of tourism businesses for best practice in Peru. However, some businesses have been known to use the logo which they gained some time ago even though their good practice may no longer come up to Rainforest Alliance standards. You can double check actual members on Rainforest Alliance's website.
For the hike, bring planet safe, paraben free soaps and detergents with you, as well as eco-friendly sun creams, and biodegradeable bags and tissue for when you need to do what Paddington, the original Peruvian bear, does best in the woods. Although ideally all waste should be carried out. A good hiking company will provide all of this, so ask in advance so that you can get to see if they are practising what they preach.
Leave no trace - it has survived for thousands of years without having butts and bottles dropped on it, so please don't start now. And anyway, it is said that he who drops a Mars Bar packet will forever be haunted by Incas.
Only clean burning fuel (butane gas) should be used for cooking on treks. Kerosene is not permitted due to the possible dangers to the environment caused by spillage. Camp fires are not permitted on the Inca Trail or in areas considered to be a fire risk.
The word 'gringo' is used to describe white, non Spanish-speaking people, and is not derogatory. So don't let it get to you, just let it be an incentive to learn the language! One particularly arduous section of the Trail is even called the Gringo Killer. If you are good with languages, try dabbling in Quechua, the language of the Incas and still the mother tongue of most of the porters. Most speak Spanish, but a little Quechua goes a long way.
Retail rewards for hiking the Inca Trail are a must. Alpaca is the big seller but beware of fakes. Alpaca is expensive, so if you are offered something cheap it is most likely to be acrylic or a mix. Real Alpaca feels a little greasy to touch and loses its shape a little if stretched. If it's smelly when wet - it's likely llama. And if you are offered mahogany or feathers, think rainforest, its flora and fauna, and say no thank you. The source is nearly always illegal.
Those boots that are made for walking will also be in need of cleaning, and shoe shining is a popular way for children living in poverty to earn money in Cuzco. There are various views on this, as some children are sent out to work by their parents and actually they are not street children at all. This is a common sense thing. If a child looks like they are in need, then have your shoes shone and give them a few quid. But even better, help a respected Cuzco based charity working with street children, such as Yanapay, which also has a restaurant in Ruinas 415, the proceeds of which go towards social projects in Cuzco.
Top shopping tip:
Steering away from unsustainable woods, you'll find souvenirs made of balsa or Brazil nuts, which encourages people to keep the trees alive.
While you are waiting and acclimatising for your hike in Cuzco, you might want to check out some alternative market options. The big San Pedro market has been tidied up a bit for tourists, and is still brilliant, but if you want a flavour of how they used to be, a bit rough but totally real round the edges, check out the old school market Rosaspata. You can read more about the alternative food scene in this lovely blog Cuzco Eats.
You are probably only going to go once, so the chances are you're going into super gear mode. This is your opportunity to buy sustainable hiking gear. Usually made by small independent companies, support them, tell your mates, and show them off in your selfies. You can also hire all sorts of gear in Cuzco, which is a very sustainable way to go. Quick shout for a couple of favourites. I don't go anywhere without my cashmere snood and gloves from Turtle Doves. A UK company, they make everything out of recycled cashmere - you can even send in a moth eaten old jumper and they will make some fingerless gloves for your trip. Yew might also be for you, Howies is always cool, as is Itchy Feet.