Inca Trail planning & trekking tips
Inca Trail permits
Inca Trail permits for each season's trekking are released the previous October. So For the 2020 trekking season, which begins in March, it is expected that permits will go on sale in October 2019. As with all permits, these can only be obtained via a licenced tour operator. There are a maximum of 500 permits per day for the Inca Trail, but as 300 of these are used by porters and guides, they sell out very quickly - especially for the peak trekking months of June, July and August, when it's recommended to book at least six months in advance. December, January and March tend to sell out slowest, as these are the wettest months (the trail closes for maintenance each February).

If you miss out on a permit, you can always trek one of the alternative routes to Machu Picchu, such as Lares or Salkantay. No permits are required for these.
Our Inca Trail trek Vacations
Booking tips
Adam Walker, from our supplier Saddle Skedaddle, shares his Inca Trail tips for making a booking: "The thing I would stress most about the Inca Trail is how important it is that people get their act together. They only sell 500 permits a day, and around 300 of those are for guides and porters, so people just don't realise how far in advance they have to book it. Five to six months is on the safe side. If people call us three months before the high season, it might be too late."
Inca trail planning tips
Simon Forster is the co-founder of our supplier, The Beyond Tourism Co. Here is his tip for planning your trek to Machu Picchu: "Make sure you know if you're getting a private guide or if you're part of a bigger group. People sometimes don't realise they could be added to a bigger group, even if they've booked a tailor made tour. The nature of the trail means you will always end up walking with other people anyway, but it does mean you won't have a guide to yourself."
Inca trail trekking tips
Kathy Jarvis is the director of our supplier, Andean Trails, and has recently updated Bradt's Peru Trekking guide. Here are her Inca Trail tips on preparing for the trek: "Make sure you acclimatise as much as possible. The more acclimatised you are, the more you'll enjoy it. You can suffer a lot if you try and force your body too high, too soon - as well as it being dangerous. So allow as much time as possible as you can before trekking. And then it's a case of having the right clothes - good kit, jackets, waterproofs, warm gloves, hats... It's also better to bring your own sleeping bag. There are some for hire, but it's quite a personal thing!"
HEALTH
Treat altitude with respect. It does not matter how fit you are, or how many times you've been at high altitudes before - the symptoms are unpredictable, and the only real cure is descending. Dehydration makes altitude sickness worse - you need to drink much more at high altitudes. Pay particular attention to children, even if they are not hiking. Read more in our guide to altitude sickness.
Spend as many days as you can acclimatising in Cuzco before hiking the Inca Trail - you'll really appreciate it. Be sure you travel with a responsible guide who can recognise the symptoms of altitude sickness and respond in an appropriate way.
Alcohol makes altitude sickness worse - and altitude makes hangovers worse. So it's definitely best avoided.
It may be cold in the mountains, but the sun is especially fierce up there - and you're still near the equator. Always wear sunscreen and a hat, and ensure kids are well protected.
Lima has good quality, 24-hour medical facilities. Cuzco is good but not as well equipped. Ensure your travel insurance covers medical/emergency repatriation.
Street food is a wonderful travelers' treat - but there are a few things to be cautious with. Avoid washed salads, unpeeled fruit and juices made with unpurified water or ice cubes.
Consult your doctor or travel clinic before travel - they may be able to prescribe antibiotics and antidiarrhoeal medication to take with you, as well as recommending other items such as antihistamines, rehydration salts and medication for altitude sickness which you can take with you.
You can't drink the tap water in Peru, but you can pack a filtering bottle, such as LifeStraw, or purification tablets for the Inca Trail. This will help reduce your dependence on plastic bottles.
Consult the latest health advice for Peru.
SAFETY
Thefts are not uncommon in Peru - particularly in the cities, and during local festivals, when crowds make it hard to keep an eye on bags and pockets. Remember: around half of the population lives below the poverty line, so don't walk around carelessly displaying valuables.
Crime is unusual on the trail, but do leave valuables in a hotel safe in Cuzco and keep all belongings inside your tent at night - no matter how damp and smelly your shoes may be.
Scams include someone bumping into you, fighting kids or someone spilling something on your clothes - all to provide a distraction for a pickpocket.
Avoid camping alone in remote areas.
Public transport can be dangerous, especially minibuses which are often overfilled and can drive recklessly fast along mountain switchbacks.
Tourism police (Poltur) are employed in the main cities and towns. Thanks to Peru's dependence on tourism, they are pretty efficient.
Consult the latest safety advice for Peru.
Our top Inca Trail trek Vacation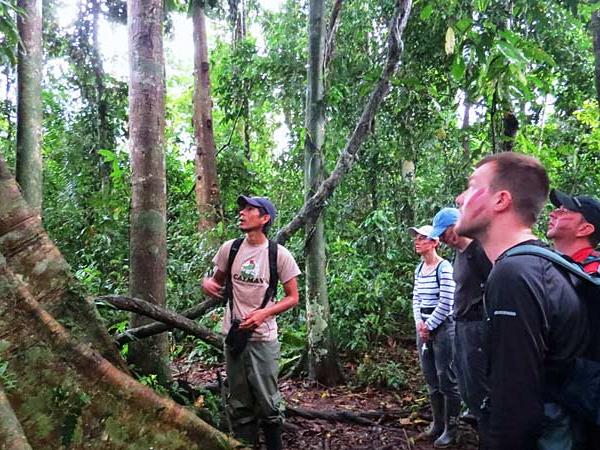 Inca Trail, Machu Picchu & rainforest
From
US $

5599
15 days
ex flights
Small group travel:
2024: 26 Apr, 10 May, 14 Jun, 28 Jun, 12 Jul, 2 Aug, 30 Aug, 13 Sep, 4 Oct
If you'd like to chat about Inca Trail trek or need help finding a vacation to suit you we're very happy to help.

Inca Trail tips from our travelers
At Responsible Travel, we think the best people to advise our travelers are often... other travelers. They always return from our tours with packing tips, weather reports, ideas about what to do - and opinions about what not to.

We have selected some of the most useful Inca Trail tips that our guests have provided over the years to help you make the very most of your vacation - and the space inside your suitcase.

Plan for a few extra days in Cuzco and around the Sacred Valley, there is a lot to see apart from the trail.

"You need your passport for the Inca trail!" - Keren Jones

"I would definitely recommend exercising before taking this vacation. It isn't overly tough, but training will allow you more enjoyment from it." - Anthony Spencer

"On the third day there's an optional detour to a set of ruins called Intipata. It only adds about 20 or 30 minutes walking but hardly anyone goes there so you have the place to yourself - definitely worth it." - Graeme Cade

"Bring lots of extra toilet paper and Pepto Bismol. Make sure you have extra batteries for cameras, since there won't be anywhere to charge them. Take a day in Aguas Calientes to recover from the hike - we did and others we spoke to who left the same day they arrived were simply exhausted." - Christy Smith


Take some gifts for the kids. We chose crayons and paper and were amazed at how appreciative they were.

"Listen to the advice of your guides who really know their stuff. As they say, it's not a race and 'the last is first'." - Linda James

"The trail was tough mainly because of the altitude - at sea level this would have been a relatively easy 'walk-up' for a fit person." - Norman Meehan

"It is nice to stay in modern hotels and travel on trains, but let your guides take you to the markets and try and fit in a stay with a local family to get an idea of life in Peru." - Chris Simmons

"Have some Soles in small denominations as change is very hard to find." - Keith Charters
More about Inca Trail trek