Traveling to Machu Picchu
Not so long ago, it was common practice for people wanting to watch the sunrise over Machu Picchu to start queuing for the shuttle bus at around three in the morning, with no guarantee of getting a seat. Those days are gone: as part of a ticketing system introduced to keep visitor numbers at sustainable levels you now have a timed entry to the site, so if you book to be there at sunrise, there's no need to get up at silly o'clock anymore.
It's estimated that over one million people visit Machu Picchu every year, an increase of around 700 percent since the early 1980s. Given the size of the site, that doesn't sound like much – after all around six million people walk past the Mona Lisa every year. But these ancient ruins are fragile, and increasingly susceptible to damage, so footfall needs to be limited. At present, visitor numbers are capped at 2500 per day, although in reality significantly more people actually get in, and the vast majority of those people arrive from Aguas Calientes, situated just below the citadel, in the Urubamba River Valley.
Our Inca Trail trek Vacations
Today's travelers are just as excited at the prospect of reaching this city as Bingham and his team were more than a century ago. Whether arriving on foot, after several days' trekking in the mountains, or by train, the first glimpse of this site never fails to astonish, thanks in no small part to its gorgeous surroundings.

The beautiful blue of the tropical sky, the varying shades of green that clothe the magnificent mountains, and the mysterious charm of the roaring rapids thousands of feet below cannot be portrayed and can with difficulty be imagined.

– Hiram Bingham, writing in National Geographic, April 1913
The jungle is now kept at bay, and while many of the structures – temples, homes and warehouses – are crumbling, the Incas' impressive stonemasonry is still evident. They carved enormous stones so precisely that they could be stacked together without the need for cement; a technique known as ashlar. Rumour has it that you can't slip a knife between these snugly fitting rocks.

Remarkable as is the architecture of Machu Picchu, and impressive as is the extent of the stone-cutting done by a people who had no steel or iron tools, neither of these things leaves more impression on the mind of the visitor than the inexpressible beauty and grandeur of the surroundings.

– Hiram Bingham, writing in National Geographic, April 1913
What to see in Machu Picchu
The original inhabitants constructed around 200 buildings on the wide terraces surrounding Machu Picchu's main square. The whole site was designed with its extraordinary topography in mind; buildings are long and narrow, and advanced irrigation systems provided water for the agricultural plots as well as the site's inhabitants; they also channelled the water away from the steep slopes and terraces, which would have been highly vulnerable to erosion. Even the ashlar stonework was appropriate for the site; the heavy, mortar-free blocks stabilised the buildings in an area known for its earthquakes. Stone stairways are, understandably, an important feature of the site, taking visitors up and down between the terraces. Machu Picchu had one district for the nobility and one for the lower class workers, and its semicircular temple honoured Inti – the sun.
Much like Egypt's Great Pyramids and England's Stonehenge, there has been much debate about how these massive stones were manoeuvred up to their precarious hilltop resting place – especially since the Incas used neither wheels nor draft animals. Hundreds of labourers would have been needed to push or roll the stones into place, perhaps using carved knobs or handles which were later chipped off the stones.

Machu Picchu... has the additional advantage of not having been known to the Spaniards, of not having been occupied by their descendants, and of not having been torn to pieces by treasure hunters seeking within the walls for the gold and silver ornaments that were not to be found in the floors.

– Hiram Bingham, writing in National Geographic, April 1913
Our top Inca Trail trek Vacation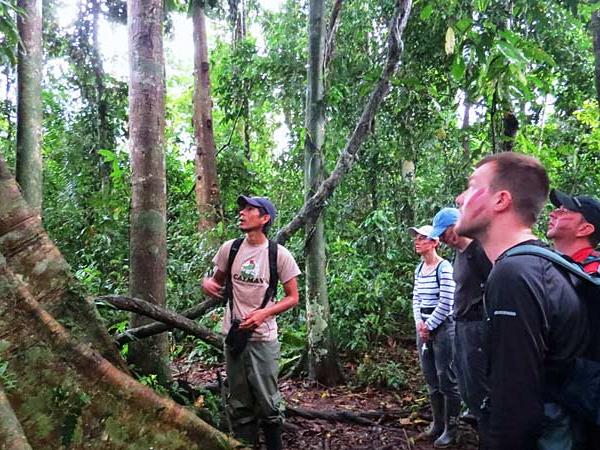 Inca Trail, Machu Picchu & rainforest
From
US $

4649

to

US $

5599
15 days
ex flights
Small group travel:
2023: 14 Jul, 4 Aug, 1 Sep, 15 Sep
2024: 5 Apr, 26 Apr, 10 May, 24 May, 14 Jun, 28 Jun, 12 Jul, 2 Aug, 30 Aug, 13 Sep, 4 Oct
If you'd like to chat about Inca Trail trek or need help finding a vacation to suit you we're very happy to help.

Hiking to Machu Picchu
There are two main ways to reach Machu Picchu: on foot, and by train. Most trekkers opt for the classic Inca Trail, a well trodden route that takes you over high Andean passes, through cloud forest and rainforest, and past a scattering of other ancient ruins left by the Incas, all following ancient stone paths. It takes four days to hike the Inca Trail, camping each night – although there are varying levels of comfort depending on your hardiness and tour budget.
However, other hikes to Machu Picchu are now beginning to grow in popularity, partly due to the limited availability of permits for the Inca Trail. Only 500 permits are issued per day; over half of these will be assigned to porters and guides, and in peak season these will sell out many months in advance. Another reason for other hikes becoming more popular is the 499 other people that you will encounter on the Inca Trail. For many people, the sense of camaraderie and opportunity to meet other hikers is all part of the fun, and can be great motivation as you are hauling yourself up to the 4,215m-high Dead Woman's Pass. Other trekkers will prefer the vast, empty landscapes of the Andes, and the chance to trek a road less travelled. For these people, the Salkantay and Lares routes are ideal; there are also no permits required, so this is great if you're after a last minute trek. Both also take four to five days, camping along the way, and on all three routes you'll travel with expert local guides, and porters to carry your pack.

The Incas were, undeniably, lovers of beautiful scenery. Many of the ruins of their most important places are located on hill tops, ridges, and mountain shoulders, from which particularly beautiful views can be obtained.

– Hiram Bingham, writing in National Geographic, April 1913
Organised tours will organise all the logistics, permits and porters, supply full packing lists and provide tents, and occasionally sleeping bags. They'll allow time before the trek begins for you to acclimatise in Cuzco, to help ward off altitude sickness, and will book your place on the train back there at the end of your adventure.
When to go to Machu Picchu
While the main Inca Trail closes for maintenance for a month each February, Machu Picchu is open to visitors all year round. February is the wettest time of year, however, so although the site will be considerably quieter at this time, you'll probably be in for a soaking – and clouds may obscure the stunning views. The rains tend to start off gently in late November and December, with heavier rainfall from January through to March.
April and May are two of the best months to visit Machu Picchu, when the rain has cleared and the landscape is refreshed. It's not as cold as midwinter (June to August), and it won't be quite as packed as the main July-August vacation period either, but do still book your trip as far in advance as possible to ensure you get hold of a permit. September and October are also generally dry and cool, especially at night, but pack waterproofs whatever time of year you travel; the weather is never predictable in the Andes.
More about Inca Trail trek