Best time to do the Inca Trail

"The climate in the high Andes varies as much by altitude as it does by season."

Descending just a few hundred metres can take you out of wind-blasted plains and into lush montane forest. So even if you're traveling in the 'dry' season, you'll need good, waterproof clothing and boots, warm and cool layers, sunscreen and a fleece. In short, the Andes never fail to surprise. The wet season falls from November-March, and at this time you're pretty much guaranteed a drenching, so this is really not the best time to do the Inca Trail. In the dry season - Peru's winter - temperatures drop close to freezing at night but days can still be gloriously sunny, and you won't have as much cloud and fog obstructing your view of some of the most glorious sights on earth.
Our Inca Trail trek Vacations
The Inca Trail month by month
Towards the end of February is the wettest month in the Andes. The Inca Trail, as well as several other national parks in Peru, is closed throughout the month for essential maintenance. Machu Picchu remains open at this time. The trail reopens in March, though the highlands are still rainy through into early April. May and October, are the best times to trek the Inca Trail as permits may sell out slightly less fast as in the peak months, plus it's dry, and warmer than June, July and August. The Festival of the Sun (Inti Raymi) takes place towards the end of June and cities, such as Cuzco, always get busier with local crowds heading towards Machu Picchu. Peru's national vacation at the end of July is also a peak time for Peruvians to tackle the Inca Trail or visit Machu Picchu by train. The dry conditions prove popular with vacationmakers all the way through August and into September. By November, the rainy season is starting up again in earnest. However, you still might get some solid trekking conditions with nothing like the crowds of the summer - and you won't need to secure your pass quite as far in advance. December is wet and attracts crowds over the vacations with accommodation and flight prices rising, despite the weather. Things ease off again in January - which is wet but without the vacation crowds.
Our top Inca Trail trek Vacation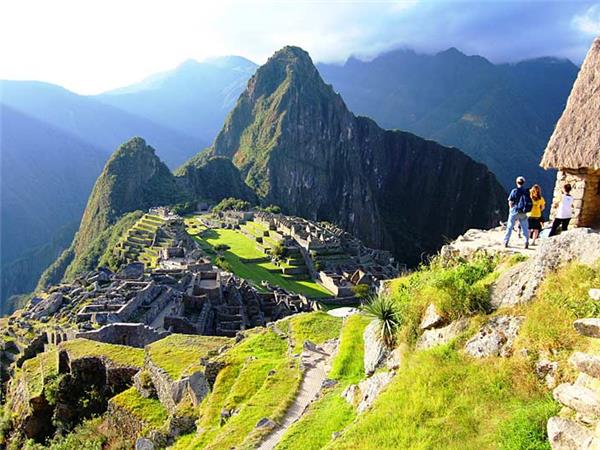 An unrivalled combination of history and spectacular scenery
From
US $

1705

to

US $

1825
9 days
ex flights
Small group travel:
2018: 19 Dec, 26 Dec
2019: 27 Mar, 3 Apr, 10 Apr, 27 Apr, 1 May, 9 May, 15 May, 23 May, 29 May, 6 Jun, 12 Jun, 15 Jun, 20 Jun, 4 Jul, 10 Jul, 13 Jul, 18 Jul, 24 Jul, 1 Aug, 7 Aug, 10 Aug, 15 Aug, 22 Aug, 29 Aug, 4 Sep, 7 Sep, 12 Sep, 18 Sep, 21 Sep, 26 Sep, 2 Oct, 10 Oct, 16 Oct, 23 Oct, 30 Oct, 6 Nov, 13 Nov, 4 Dec, 18 Dec
2020: 25 Mar, 1 Apr, 8 Apr, 15 Apr, 22 Apr, 29 Apr, 7 May, 13 May, 21 May, 27 May, 4 Jun ...
Hello. If you'd like to chat about Inca Trail trek or need help finding a vacation to suit you we're very happy to help. Rosy & team.
Elena Larkin is the Latin America Specialist from our supplier, Natural World Safaris. Originally from Lima, she tells us which is her best time to do the Inca Trail - and why:
"For me personally, the best time to go and see the mountains is mid to late April, because it's after the rainy season and everything is green. My least favourite time is in July and August when it's filled with local families as well as tourists - it's just too crowded, and very cold. Our National Day is on 28th July - so that's really a time to avoid."
Tom Brown from our supplier Natural World Safaris, talks about his favourite time in the Highlands: "July and August are very cold in the Peruvian Andes as it's winter. People think they're going to Peru, it's near the equator, and it's going to be warm - but once you get up to 3,000m it's pretty cold! April is just coming out of the summer rainy season and into the dry season - so you've still got a bit of heat there and the weather's good."
Simon Forster, co-founder of our supplier the Beyond Tourism Co., has tips on what to do if you're planning to hike the Inca Trail during high season: "The Inca Trail is very popular and it can get busy, so if you're going at a time of year when getting permits might be difficult, remember that there are other routes you can take that connect with Machu Picchu. Trails like Salkantay don't get anywhere near as busy and they're just as beautiful, so ask your operator to explain all the options available."
More about Inca Trail trek
Convert currencies