Walking vacations travel guide
Walking vacations are one of the oldest forms of tourism known to man. For centuries people have travelled by foot whether for a pilgrimage, to visit friends or family on the other side of a mountain, or simply to be at one with nature. Walking vacations have had a revival over the last decade, however, as the initial buzz of high adrenaline vacation options began to wear off for many of us, and a craving for just getting back to nature kicked in.

A walking vacation in remote areas is not just about the walking, but is a medium to see other cultures and traditions. So you can, literally, step into somebody elseís world.

Most walking vacation companies have been founded by people who live and breathe walking. They have spent years getting to know waymarked ways way off the normal tourist trails. Or befriending and then hiring wonderful local guides who know the bridle and byways inside out. It is this combination of expertise and excitement about walking as a form of relaxation that has opened a whole new walking world for the 21st century, and yet one that will almost always take you right back in time.

Our walking vacations travel guide shares information on where to go Ė and how to hike there.
What we rate & what we don't
Croatia
Known more for its coast and islands, there are extraordinary walking vacations even just an hour inland, with eight national parks to explore. There are also mountains just an hour from Zagreb, probably one of the most underrated European capital cities. And you would be mad not to walk a bit of the coast too, of course, hopping and hiking all those island idylls.
Japan
Hiking is a must when traveling in Japan, with mountains and forests covering 70% of the country. The Kumano Kodo and Nakasendo Trails are pure rapture for ramblers. The former an ancient pilgrimage route through the richly forested Kii Mountains, and the latter a 17th century historic byway from Kyoto to Edo, now Tokyo.
Canada
One of the biggest countries in the world, this is a land to walk in, wonder at and go wild in. With the Rocky Mountains at its core, you can hike through Jasper, Banff, Glacier and Yoho national parks, head with a packhorse and guide into the remote Tweedsmuir Park. Or just stay in one place and still find a different walk every day for a year.
Portugal
You donít have to forgo the sun, sea and sand that Portugal is famous for when you go on a walking vacation. Not with a 350 kms Rota Vicentina waymarked way that stretches along the coast. You can also take in the flower filled coastal valleys of the Alentejo uplands or just aim high and head to the stunning Serra de Estrela mountains.
Nepal
Which hiker doesnít hanker after the Himalayas? It has the highest mountains, bottomless gorges, and some of the greatest biodiversity on the planet. Everest is the leader of the pack, the breathtaking Annapurna range, a horseshoe-shaped, 210km route that wanders through traditional Hindu villages coming in second, with Manaslu, a long and challenging trek thatís higher than Annapurna the latest one to bag.
Patagonia
Belonging to both Chile and Argentina, Patagonia feels as if it was created especially for hikers. Because this is a land where borders donít matter. The magnificent mountains, lakes and rivers donít stop because of a line on the map, and the welcome given to hikers doesnít change either. Because this is Patagonia - the end of the world. And a pure walkersí world at that.
Morocco
This has been on the expert explorersí radar for a long time, but lovers of Moroccan souks and seaside are now starting to embark on journeys up to its magnificent peaks. Hardcore hikers head for the High Atlasí Mount Toubkal but there is superb walking to be had in the lower Atlas range too, with welcoming Berber people at wonderfully remote mountain villages.
Madagascar
Most of Madagascar's flora and fauna isnít only endemic but also entrancing, and so when you hike here, you really do feel as if you are stepping into a lost world. Parts of the island are so remote youíll often combine walking with kayaking or rafting in order to get to the otherwise inaccessible mountains and canyons of the south, or rainforest of the north.
Chokka charity climbs
They are almost a business onto themselves and, although most have great intentions, the minority have responsible tourism policies, throwing thousands of hikers on the hills, trampling and littering, often with little financial benefit for local people to boot. So, choose your charity hike wisely and consider the options of raising money for a local charity. At least, extend your stay and leave some money locally too.
The beaten track
For every packed peak, there is nearly always another empty one nearby. Same goes for national parks. 70 per cent of Japan, for example is mountainous, yet most people only want to fawn over Fuji. Switched on hikers are heading south to explore Keralaís Western Ghats instead of the Himalayas, and worshippers of the Camino de Santiago are discovering heavenly spots along Portugalís Serra de Monchique's ancient paths.
Old walking gear
Itís all very well being attached to the hiking boots your dad wore, and his dad before that. Or that daypack you have had for years, and stitched up again and again. But sometimes it is OK just to let them go, enshrine them if needs be, and acknowledge the benefits of high tech waterproof and breathable walking gear. With the exception of a fine old handed down hipflask of course.
Racing to the top
The clue is in the name ĎWalkingÖ Vacationí. They are not about getting to the top first, or rounding that distant headland before everyone else. They are for people who want to step into other natural landscapes, explore culture in remote places, and pass the time of day with people they meet en route. Who needs the top? Thereíll be plenty of highs along the way.
Our top Walking Vacation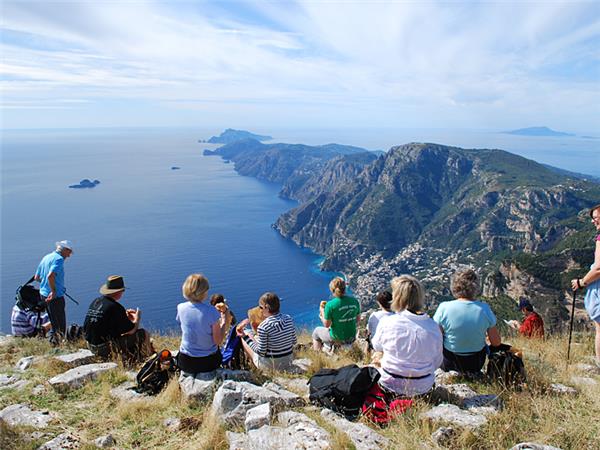 Walk in lemon groves and hillside villages
From
US $

1679

to

US $

2349
8 days
ex flights
Small group travel:
2023: 18 Nov, 30 Dec
2024: 10 Feb, 17 Feb, 24 Feb, 2 Mar, 9 Mar, 16 Mar, 23 Mar, 30 Mar, 6 Apr, 13 Apr, 20 Apr, 27 Apr, 4 May, 11 May, 25 May, 1 Jun, 8 Jun, 15 Jun, 22 Jun, 29 Jun, 6 Jul, 13 Jul, 20 Jul, 27 Jul, 3 Aug, 10 Aug, 17 Aug, 24 Aug, 31 Aug, 14 Sep, 21 Sep, 28 Sep, 5 Oct, 12 Oct, 19 Oct, 26 Oct, 2 Nov, 9 Nov, 16 Nov, 21 Dec, 28 Dec
If you'd like to chat about Walking or need help finding a vacation to suit you we're very happy to help.

Is a walking vacation for you?
Go on a walking vacation ifÖ
Life has become too much of a rush. You donít even have to rush to get your towel on a sunbed
You enjoy the company of an expert guide. Not all walking vacations are guided, but good ones take you, and your vacation, to another level
You want to explore the real rural culture of a place, not the one put on for tourists.
You have a reasonable level of fitness
Donít  go on a walking vacation ifÖ
You donít want to get wet. In the mountains, in particular, weather conditions change quickly, so you need to be prepared You are a fastidious time keeper. Walking vacations are for taking your watch off and switching off You are more into Michelin Stars than star gazing on a remote mountainside Long lie-ins and lazing by the pool are what you crave.