Self guided walking travel guide
---
2 minute summary
Walking vacations are the oldest form of tourism known to man. For centuries people have travelled by foot whether it is was for a pilgrimage or just for sheer pleasure. They didn't always have the luxury of being given all the information they need in advance, however, or having their bags transported, or a sauna and sumptuous supper waiting for them at the other end. Herein lies the luxury of the self guided walking vacation, which is a little misguided as a term, actually. Because in many ways, you are totally guided on these vacations, with everything you need sent to you in an exciting bundle before you leave. It's as if your favourite old aunt, who has walked the Alps or the Pyrenees every summer since the year dot, just sent you her travel journals. And maps. And address book. You just need to follow in her steps, but have enough independence to find a few of your own too.
See our self guided walking travel guide for where, how and when to get the most out of exploring the world by foot.
What we rate & what we don't
---
RESPONSIBLE TRAVEL'S BEST & WORST
Underrated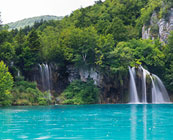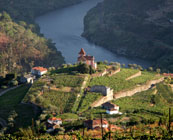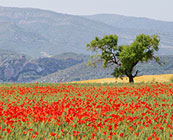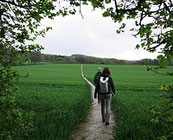 Croatia
Known more for its coast and islands, there are extraordinary walking vacations even just an hour inland, with five national parks to explore. There are also mountains just an hour from Zagreb, probably one of the most underrated European capital cities. And you would be mad not to walk a bit of the coast too, of course, hopping and hiking all those island idylls.
Portugal
You don't have to forgo the sun, sea and sand that Portugal is famous for when you go on a walking vacation. Not with the 400km Rota Vicentina waymarked way that stretches along the coast. You can also take in the flower filled coastal valleys of the Alentejo uplands or just aim high and head to the stunning Serra d'Arga mountains.
Catalonia
The famous regional pride is hardly surprising when you take in the wealth of natural Catalan beauty on offer to walkers. From the snowy Pyrenean peaks to sun-soaked Mediterranean coves, there is also a volcanic park and plethora of hiking trails. Traverse wild deserted coasts and dainty turquoise coves, or the inland Aiguamolls Nature Reserve. Polish up your boots for the magnificent cities of Barcelona, Tarragona and Girona.
Pilgrims' Way
This 72km trail follows an ancient track between Winchester and Canterbury, with a good part of it following in the footsteps of those taking on the North Downs. A popular section is from the historic cathedral town of Rochester, following the chalk ridge along the edge of the North Downs, to the medieval cathedral town of Canterbury.
Rated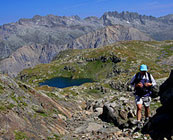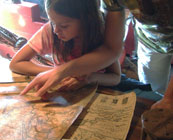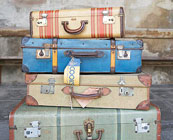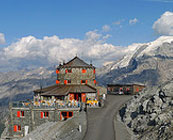 Europe
Don't overlook Europe for amazing hiking vacations, especially self-guided ones. With a superb European network of waymarked ways such as the Grandes Randonnees, you can easily spend a week just hiking without heading all the way to the Himalayas. Easy to access, you can be at your hotel in the morning and taking on a hike along the Amalfi coast by lunch.
Detailed trip notes
Even if you're not a map geek, you will still love the copious walking notes and itineraries sent in advance of your self-guided walking tour. These are detailed instructions on how to get from A to B, historic and cultural details, a list of restaurants en route and a few extra tips like "turn left down the lane to a secluded beach, which is perfect for lunch and a swim".
Luggage transfer
One of the coolest things about self-guided walking vacations that aren't based in one center is that, in most cases, your bags are transferred for you. So all you have to do is have breakfast, leave your bag at reception, and hit the walking trail. Your bag will be waiting for you at the next spot on your itinerary. All you have to think about is the weather, what to wear and walking.
Great accommodation
Hand-picked, tried and tested by tour operators and, depending on location, they are often three or four star, have pools or a spa, and are well vetted for fine food too. Which includes top picnic lunches in some cases. These are accommodations that 'get' walkers. They won't look at you strangely if you come into the foyer with muddy boots, or ask them to fill your water bottles before you hit the road.
Overrated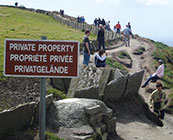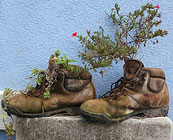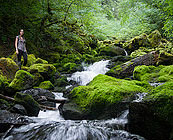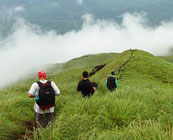 Going into private land
Just because you are self guided, doesn't give you the right to stray into people's gardens, or wander through their farmland. It is usually pretty clear when a sign means 'Keep out' whether it is in French, Italian or Turkish. Waymarked ways are managed and delicately negotiated with landowners. So, if you want to right off the beaten path, only do so with an expert local guide.
Old walking gear
It's all very well being attached to the hiking boots your dad wore, and his dad before that. Or that daypack you have had for years, and stitched up again and again. But sometimes it is OK just to let them go, enshrine them if needs be, and acknowledge the benefits of high tech waterproof and breathable walking gear. With the exception of a fine old handed down hipflask of course.
Hurrying the hike
The clue is in the name 'walking… vacation'. They are not about getting to the top first, or rounding that distant headland before everyone else. They are for people who want to step into other natural landscapes, explore culture in remote places, and chill on the hills. Who needs the top anyway? There'll be plenty of highs along the way.
The beaten track
For every packed walking trail, there is nearly always another empty one nearby. The French Alps are a huge pull, for example, but the lower Alps, around the Mercantour region, are just stunning. And worshippers of the Camino de Santiago are discovering heavenly spots along Portugal's Serra de Monchique's ancient paths. So, always look beyond the first trail in the book.
Is a self guided tour for you?
---
RESPONSIBLE TRAVEL RECOMMENDS
Go on a self guided walking vacation if…
Life has become too much of a rush. You don't even have to rush to get your towel on a sunbed.
You want family bonding time, but with all the planning done for you in advance.
You want to explore the real rural culture of a place, not the one put on for tourists.
Research and planning is not your strongpoint.
Don't go on a self guided walking vacation if…
You don't want to get wet. Be prepared for changing weather conditions, especially in the mountains.
You are a fastidious timekeeper. Walking vacations are for taking your watch off and switching off.
You are more into Michelin stars than star gazing on a remote mountainside.
Long lie-ins and lazing by the pool are what you crave.